Heating a Kitchen: The Options Explained
By Hugh Metcalf published
When it comes to heating a kitchen, there's a wide range of options available. This guide explores the pros and cons of the most common kitchen heating systems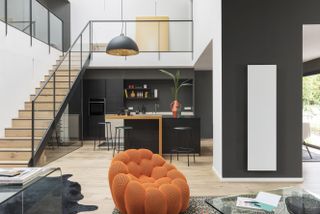 (Image credit: The Radiator Centre)
Heating a kitchen is an important consideration from the outset of a new kitchen design, especially as this space comes with its own set of considerations for choosing a heating system.
These considerations include:
Potential of less available wall space for wall-mounted heating systems
Avoiding cold spots, especially in the larger, open plan spaces that many modern kitchens aspire to
Heat generated by appliances such as the oven, hob and fridge
It's important to take measures to ensure you have as much control as possible over your heating systems too, from installation of thermostatic valves on radiators to digital controls for underfloor heating, alongside timers to ensure your heating is used efficiently as you need it.
Read on to find out about some of the best options for heating a kitchen, and the pros and cons for each.
Installing Underfloor Heating in a Kitchen
Underfloor heating (UFH) is not only a popular choice for heating a kitchen, it's probably the best choice too when it works for your project.
Underfloor heating has a lot of advantages, especially for a kitchen space. It optimises use of the space and it's energy efficient, but more than a luxury for warmth underfoot, it's also the most effective way to heat the space.
"Unlike radiators which heat the air around them through convection which leads to cold spots within a room, UFH delivers even, ambient warmth throughout the room or area," explains Mark Dowdeswell, Senior Category Manager at Uponor (opens in new tab).
There are some things to consider about your choice of underfloor heating however. First, you'll need to choose between a wet system (connected to your home's central heating) and electric underfloor heating.
Wet systems are often the preferred choice, however, unless you're self building or building an extension, they can be difficult to install in an existing kitchen. While buried pipe styles of UFH require work to dig out channels in your floor, all kinds of wet UFH will raise the floor profile significantly, meaning you might require work to dig out the existing kitchen floor to accommodate it regardless. You'll also need to find room for an underfloor heating manifold in your space.
Electric underfloor heating has a much slimmer profile and is easier to install, but it's more expensive to run, and isn't necessarily suited where you need space heating for long periods of time, like in a kitchen.
You'll also need to consider the type of flooring you use in your kitchen when choosing underfloor heating to ensure it's compatible. Solid wood flooring, for example, won't cope with the extreme changes in temperate and will become warped and damaged.
(MORE: Kitchen Flooring Ideas)
Choosing Radiators for Heating a Kitchen
If you're working on a kitchen renovation of an existing space, then you might have a radiator system as your main heating source in a kitchen.
Radiators are effective at space heating as they're quick to respond and can heat a room within 20-30 minutes. Radiators are also far better looking these days, with a range of designer radiator ideas available to suit any type of property or kitchen scheme.
(MORE: Best Designer Radiators)
Of course, radiators can't offer the same even distribution as UFH, as the heat will always emanate from where the radiator is located, meaning one side of the room will heat up quicker. In a large, open plan space, this can certainly lead to cold spots, especially if you don't have sufficient radiators (or specify radiators with sufficient BTUs) across the whole space.
Radiators also take up valuable space. Wall space is at a premium in kitchens, though vertical style radiators offer better space use than horizontal ones in these spaces, but it also may affect your floorplan and what furniture you locate where in the space. Radiators also collect dust and require regular cleaning.
Plinth Heating for a Kitchen
Plinth heaters are small heating systems that make use of the plinths in a kitchen, utilising a space that would otherwise be wasted. Much like underfloor heating, plinth heaters come in two types:
Hydronic plinth heaters, which are connected to your central heating
Electric plinth heaters
The pros and the cons for each type closely match those of UFH, with central heating connected heaters being less expensive to run than electric ones, however plinth heaters are an effective use of space and are relatively cheap and easy to specify and install.
Hydronic heaters will have a higher output than electric ones, but both will likely need some support in heating a larger kitchen, and may operate better as a supplementary heat system to round out your kitchen's space heating requirement and reduce cold spots.
It's worth noting that these heaters will create a quiet blowing sound when in use.
Discreet Skirting Heating for a Kitchen
Skirting heating is another option for adding a discreet heating system to your kitchen. This system typically sees a heating system incorporated into a skirting board design which can be run along the length of a room, but skirting heating can also be provided in a 'plinth' version to be installed at the base of kitchen units, or fitted wardrobes for example.
"Skirting heating is available in a 'wet' version for use with boilers and heat pumps, or in an all-electric version, and the heated plinth can be colour matched to suit the décor of the kitchen," explains Martin Wadsworth from Discrete Heat (opens in new tab).
"They produce an infra-red radiant heat, and often are sufficient to heat the whole kitchen space as they can be provided in any length up to 6m."
Skirting heating is especially useful when wall space is at a premium and leaving space for a radiator might compromise the kitchen design.
Although they don't heat the floor from underneath like underfloor heating, they do distribute the heat over a wider area than a traditional kick space heater or radiator as they can span the length of the room.
Heat-Storage Range Cookers
Heat-storage range cookers are designed to offer space heating and cooking all in one, however, with a vast range of makes and models available today, you'll need to do your research as to what yours offer. There are range cookers that are just designed for cooking while, on the other end of the spectrum, heat-storage range cookers available that can provide hot water and heat your whole house.
Once upon a time, living with a traditional heat-storage range cooker such as an AGA was a lifestyle choice. These 'always on' ranges provided space heating, but during the summer months, this could cause the kitchen to overheat. Today's heat-storage ranges run on a variety of fuels, from electricity and gas to LPG, oil and solid fuels. They also come with more sophisticated controls, allowing independent control over the heating, hot water and and cooking functions, both manually and automatically on a timer.
However, heat-storage ranges do still take some getting used to as an alternative way to heat your space and to cook with. These use radiant heat for both the oven and hobs, which can take some trial and error compared to more commonly found appliances.
Installing a Stove in a Kitchen
A stove or fireplace is also a good option for an open plan kitchen, where it can be used to supplement heat from another source and create a focal point across a living and dining space.
While it's unlikely to be used as the main source of heating for a space, stoves are more efficient than open fireplaces, and freestanding stove designs allow for more creative placement within a space, perfect for sitting in a corner, without hte need for a traditional fireplace surround. However, bear its need for ventilation in mind and how the stove plays a part in the larger scheme of your kitchen's design.
There are, again, choices of fuel available, including wood, gas, electricity and even bioethanol fireplaces that don't require ventilation. While the likes of gas and electric fires are easier to keep burning and offer greater control than log burning stoves, there's something undeniable about the real crackle of logs on a fire that shouldn't be overlooked.
Hugh is Digital Editor of homebuilding.co.uk and has worked on a range of home, design and property magazines, including Grand Designs, Essential Kitchens, Bathrooms, Bedrooms and Good Homes. Hugh has developed a passion for modern architecture and green homes, and moonlights as an interior designer, having designed and managed projects ranging from single rooms to whole house renovations and large extensions. He's currently renovating a Victorian terrace in Essex, DIYing as much of the work as possible. His current project is a kitchen renovation which involves knocking through walls and landscaping a courtyard garden.
Homebuilding & Renovating Newsletter
Get the latest news, reviews and product advice straight to your inbox.
Thank you for signing up to Homebuilding. You will receive a verification email shortly.
There was a problem. Please refresh the page and try again.