Handleless Kitchens: Pros, Cons and Design Tips from the Experts
By Hugh Metcalf published
While handleless kitchens offer a sleek, contemporary look, there are some practical issues to be considered. In this guide, find out how to design a handleless kitchen that is both beautiful and functional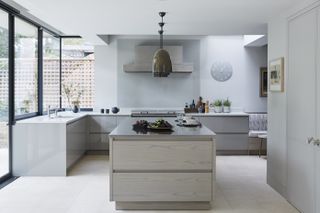 (Image credit: Mowlem & Co)
The choice between a handleless kitchen and a kitchen with handles will be one of the first you decide on when picking a new kitchen. In general, it's down to personal preference on what you think looks better and the style of kitchen you're opting for, but there are some practicalities that may play a part in your decision.
Even within the category of handleless kitchens, there are different options for ways to open your doors, each which will affect the functionality and design of your kitchen.
(MORE: Kitchen Design)
With that in mind, this guide explores the key considerations when looking at a handleless design for your new kitchen.
What is a Handleless Kitchen?
A handleless kitchen refers to a style of kitchen unit that doesn't have protruding handles or knobs on the door fronts.
There are several common mechanisms that a handleless kitchen will use as a means to open cabinet doors:
J pull kitchen doors technically have a handle, but it's recessed and hidden from view, cut into the back of the door. This will either be at the top or bottom for drawer units and integrated dishwashers, and the side for cupboards and integrated fridges and washing machines. J pull kitchens will have shadow gaps between doors to allow for your hand to access the handles.
Push open mechanisms sit on the inside of the cabinet doors, and no hardware is visible from the outside. You simply push on the door and the mechanism will spring the door open.
Handleless kitchen doors with a rail system create a recessed space between doors and drawers, allowing you to put your hand behind the door to open it, but without requiring a handle to be cut into the door in the way it is for J pull styles. This is often referred to as a True Handleless system.
Kitchen doors with cut out handles are becoming more common, especially in materials such as plywood. While they don't have a protruding handle, they do have a cut out handle which is visible on the kitchen door.
Some modern handleless doors will also feature electronic opening systems. These are coming in lift-up wall-mounted cabinets.
What are the Advantages of Handleless Kitchens?
Each of these handleless kitchen systems have their own benefits, both in comparison to each other and over kitchen doors with handles. In general, the advantages of handleless kitchens are:
A sleeker kitchen design with less interruptions to the clean lines of the cabinetry. This makes a handleless style well-suited to a contemporary kitchen.
Better for smaller kitchens where handles can get in the way.
Do Handleless Kitchens Have Any Drawbacks?
While handleless kitchens undoubtedly look great, there are some practicality issues that should be considered:
Handleless kitchens, especially push open doors, require you to touch the door directly, depositing grease, dirt and fingerprints on the door fronts that mean more cleaning will be required
Handleless doors can be slightly more difficult to open than when using external handles on door fronts. They also may be less suitable for those with mobility issues and compromised strength.
Push mechanisms may break down or require more maintenance.
Handleless kitchen may cost more
Are Handleless Kitchens More Expensive?
Given that you have to purchase a handle separately, you might assume a handleless kitchen is cheaper, but this is not the case. Because of the added complexity that goes into a handleless design, from the requirement to cut a handle into a J pull door, the addition and installation of push open mechanisms or design implications of True Handleless kitchens, a handleless kitchen will likely cost between 10-15% more.
(MORE: How Much Does a New Kitchen Cost?)
What Kind of Cabinet Fronts are Best for Handleless Kitchens?
Because handleless kitchens are particularly prone to being touched due to the nature by which they open, special consideration should be given to the material used for the door fronts so that you don't constantly have to clean them.
"The material, finish and colour all need to be carefully considered to avoid staining and a polished film which won't be fully removable no matter how much you clean," says David Conlon, founder of en masse bespoke.
"Low sheen cabinets help to prevent marks, also lighter colours are better than darker colours. Natural wood and steel make great finishes as they're easy to keep clean and any wear actually adds to the character of the finish. Both can easily be re-finished as well."
What are Handleless Kitchen Appliances?
The idea of a handleless kitchen doesn't just extend to cabinetry, as top of the line appliances are now adopting a handleless approach.
"The trend for handleless kitchen designs is still leading the way, with homeowners searching for appliances with handleless doors to deliver a sleek, seamless and uninterrupted look while helping to create a feeling of space," says Max McCormick, Product Manager for Kitchens at Miele GB. "Miele offers its ArtLine range of built-in appliances that fit flush with cabinetry, have a beautiful glass finish and are opened when lightly tapped. The trend has also migrated to wine storage with 'touch to open' controls now available."
(MORE: Essential Features for a New Kitchen)
Design Tips for Handleless Kitchens
We asked the experts for their top design tips using handleless kitchen designs.
Push Vs Pull Handleless Kitchens
"Handleless works very well on base units with doors and drawers which are easily pulled open by fingertips," advises Richard Turner, Pronorm's National Sales Manager for UK & Ireland. "Many people prefer these to push-to-open drawers as sometimes leaning up against them can trigger it to open when you don't intend to."
"Push to open is a really good option for wall units, especially large horizontal ones, because the doors glide up easily using simple finger pressure and then close again without any need to over-reach."
Integrating Appliances in a Handleless Kitchen
"Be mindful of the size of the appliances you plan on installing when choosing a handleless kitchen. Will these be built in? Or will they be on show?," asks en masse bespoke's David Conlon. "This is especially true with dishwashers where the door has to open with the appliance, some are simply too big to make this work without a handle."
"It's also worth considering the height of the kitchen. If you're going floor to ceiling, how will you open the higher cabinets? And should the recess handle be at the bottom for the higher shelves and cupboards rather than at the top for those in easy reach?"
Cut Out Handles for Handleless Kitchens
"Cut out handles are great and can add that extra bit of character to your kitchen if executed well," says Francois Damseaux, Managing Director at Woodworks Brighton. "It's important to make sure that the handles are grooved on the back side for a great ergonomic feel, as no one likes sharp square edges!"
"It's important to consider your integrated appliances to ensure that they are tucked away and can't be seen through the cut out. At Woodworks Brighton we've found that the right depth of the cut out is 25-30mm. Remember that for double doors where the handles face each other, you want to half the depth of each handle so that you don't have a large gap."
Hugh is Digital Editor of homebuilding.co.uk and has worked on a range of home, design and property magazines, including Grand Designs, Essential Kitchens, Bathrooms, Bedrooms and Good Homes. Hugh has developed a passion for modern architecture and green homes, and moonlights as an interior designer, having designed and managed projects ranging from single rooms to whole house renovations and large extensions. He's currently renovating a Victorian terrace in Essex, DIYing as much of the work as possible. His current project is a kitchen renovation which involves knocking through walls and landscaping a courtyard garden.
Homebuilding & Renovating Newsletter
Get the latest news, reviews and product advice straight to your inbox.
Thank you for signing up to Homebuilding. You will receive a verification email shortly.
There was a problem. Please refresh the page and try again.