12 Inspiring Barn Conversions
A barn conversion is one of the most coveted types of home in Britain, yet can be notoriously hard to get right. Our gallery of beautifully converted barns show what success looks like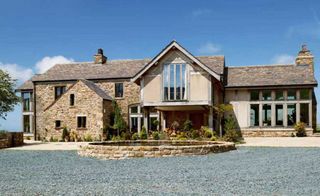 (Image credit: Jeremy Phillips)
A barn conversion is one of the most coveted types of home in Britain, yet can be notoriously hard to get right. Our gallery of beautifully converted barns show what success looks like
1. Converted Barns and Stables in the Cotswolds
The owner of this home took a group of farm buildings – including unsympathetically converted and extended barns, plus structures not touched since their agricultural days – and has turned them into a cohesive dwelling fit for a family. Original features have been embraced in this barn conversion, but the addition of a glazed link brings the separate buildings together to form one home.
With soaring ceilings, a warm family kitchen, a zen-like courtyard garden and a vast, ski lodge-style 'party room', complete with indoor pizza oven, this is a barn conversion with a difference.
2. Conversion of a Listed Stone Barn
Despite being listed and in a Conservation Area, large amounts of contemporary glazing have been added to bring light into the interior of this barn. Local planners were keen to see the building converted to residential use to save it from ruin, allowing the chance to create a unique home within the historic stone shell.
3. Barn Conversion and Cantilevered Extension
The decision to knock down one of the three stone barns in Northern Ireland and build a cantilevered replacement was a dramatic yet extremely rewarding one.
Beyond repair, the barn was demolished and a new wing in its footprint attached to the main barn — which had been lovingly restored — creating a wonderfully eccentric duality of old and new on what was once an overgrown plot.
4. Grade II-Listed Barn Conversion
This Grade II-listed barn conversion in Somerset has been carefully restored to retain its rural charm, yet has strong contemporary interiors.
The original elm beams were restored and the roof removed for essential maintenance on rotten sections, all the while protecting the clay tiles for re-use. Polished concrete flooring and repointed exposed stone walls compliment the more modernist stylings of the owners.
5. Contemporary Barn Remodel
With fewer unconverted barns available – with many converted in the 1970s and '80s – Irena Murray chose to remodel this previously renovated barn in Nottinghamshire and put right the inappropriate work that had been done before. The condemned roof was repaired and a large glazed section installed to create a light-filled living area.
6. A Dramatic Barn Conversion
This 50m-long barn has been turned into a spacious, show-stopping home. The original timbers all needed replacing, resulting in the stunning vaulted bedrooms with exposed beams on the top floor.
7. Brick and Timber Barn Conversion
An incredibly ambitious project to convert a listed timber and brick barn of monumental proportions created a dramatic transition from derelict agricultural site to contemporary and light-filled home for a family.
8. Derelict Barn to Eco Friendly Home
A 14-month search for a self build plot culminated in one family giving this listed barn a complete overhaul. The derelict building was actually the perfect shell to turn into an airtight structure — a great alternative to building a brand new oak frame home (which the family had previously planned on creating).
9. Lochside Barn Conversion
This beautiful barn conversion could not be better suited to its stunning lochside location. Careful attention has been paid to the original structure, with stone left exposed throughout the interiors. Paired with a simple white colour scheme and an abundance of natural finishes, the essence of the barn has been maintained.
10. Converted 300-Year-Old Barn
The owners of this barn were given the chance to return to the family farm where they grew up by converting a collection of agricultural buildings into a beautiful home.
They worked closely with the North York Moors Park Authority to ensure their planned scheme was befitting of its place in a National Park (and suited to a historic structure). However, they have been able to create a modern and refreshing space which complements the original building.
11. A Rebuilt and Extended Barn
When the owners of this barn took it on, planning permission was in place for its demolition and replacement. It would have been tempting to follow through on the original plans, with the barn being so dilapidated, but instead they chose to repair the structure and build around it with sympathetic oak frame extensions. The result is a stunning home.
12. Modern Makeover of a Victorian Threshing Barn
Creating a working layout in a barn, without dissecting large windows or blocking light from deeper rooms can be tricky. So architect Carl Turner created a semi-open plan layout in his converted barn using inexpensive OSB pods. Some of the furniture acts as room dividers — built on castors, they can be moved around.
Feeling inspired? Find out how to convert a barn
Homebuilding & Renovating Newsletter
Get the latest news, expert advice and product inspiration straight to your inbox.
Thank you for signing up to Homebuilding. You will receive a verification email shortly.
There was a problem. Please refresh the page and try again.