25 Inspiring Barn Conversion Ideas
By Amy Reeves
Get inspired by our gallery of barn conversion ideas to see what is possible when taking on a project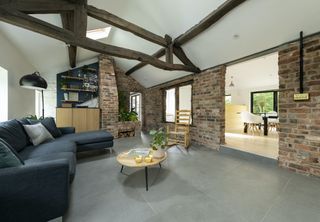 (Image credit: Jeremy Phillips)
Searching for barn conversion ideas can be inherently difficult as shapes, sizes and types of agricultural structures varies widely up and down the country, creating a tough job when looking for design and build inspiration.
Plus, while a barn conversion is one of the most coveted types of home in Britain, they can be notoriously hard to get right.
With this in mind, we've selected some amazing completed projects to inspire ideas, design and layouts that can be adapted and applied to an individual property.
Whether you're looking to add a sympathetic extension or update a barn in line with modern tastes and efficiencies, these barn conversion ideas will demonstrate what can be achieved, as well as providing some serious design inspiration.
1. Using Existing Openings for Windows and Doors
Often a planning condition, using old bay, loft or stable doors as entry points or methods to get natural light into the interiors is an ingenious method of creating something truly unique.
The beauty of this barn conversion in Yorkshire is in the bifold doors and glazed panels added to the old work opening. The original staircase and mezzanine has also been updated to suit modern lifestyle while still staying true to the building's heritage.
2. Extend a Small Barn Conversion
The majority of agricultural and industrial structures were never designed to be lived in so converting can be tricky when trying to cater for modern living. Building an extension to a barn can offer a quick way to increase space while retaining the character of the original building.
This blacksmith's forge in Shropshire was converted and extended for under £90K (more information below). Black corrugated cladding was specified to reflect the rural nature of the property, while a brass link demarcates the old and new sections.
3. Reduce Barn Conversion Costs by Working DIY
As with all projects, the more time and effort you put into a project by taking on unskilled labour or design, generally the more money saved on build costs.
Everything but the roof, plumbing and electrics was undertaken by the homeowners of this conversion, meaning their total project costs (including plot) came in at under £150,000.
(MORE: DIY: What to Leave to the Professionals)
4. Embracing Quirks in a Barn Conversion
Barns are full of odd nooks, crannies and idiosyncrasies. The best, and most interesting, projects make the most of them to create unique features that new builds just can't compete with.
In this project, the crumbling old wall of the barn has been repointed and utilised as a support for kitchen units while black corrugated metal completed the rustic look.
5. Converting a Barn with High Energy Efficiency
Rejecting the notion that barn conversion have to be draughty and cold, the homeowner who converted and jointed together these three barns worked incredibly hard to ensure his new home was an energy efficient as it could be.
Working with a fabric first approach in terns of airtightness and insulation, the barn achieved an EnerPHit certificate.
6. Working with a Listed Barn Conversion
Converting a listed barn is absolutely possible, but requires a delicate touch and a good relationship with your local planning department.
This Grade-II listed barn was converted and extended masterfully by SOUP Architects who used a pre-planning application to reveal a preference from the authority on their contemporary addition.
7. Mixing Modern Styles with Traditional Barn Ideas
In the same SOUP Architects' project, the interiors have been masterfully designed to combine a triple-height exposed granite wall with strong, contemporary details. The result is a modern family home that celebrates the building's history and personality.
8. Linking Small Barns to Larger Homes
Many older cottages have outbuildings, sheds and small barns on their land which can be a great opportunity to spread out and create some extra space.
A glass-front on this flat-roof link extension makes the connection from the workman's cottage to the granary barn seem completely natural.
9. Designing Interiors for a Barn Conversion
While unassuming from the exterior, the interior design of this barn conversion in Kent makes sure thee house makes an impact.
The layout was determined by the existing structure and the main rooms of the house fall between the five king post trusses while the kitchen and mezzanine spaces (below) take advantage of the vaulted ceiling and a single storey 'arm' provides space for the bedrooms.
As much of the original barn's paraphernalia has been reused throughout the house and materials like polished concrete, timber and stone are utilised to stay true to the building's history.
10. From Agricultural Shed to Contemporary Home
Leanne and George Chandler bought a derelict rabbit breeding shed and battled with many planning permission restraints (due to the property being in a AONB) in their quest to convert it into a home for modern living.
Both fans of contemporary design, the shed has Siberian Larch timber cladding while triple glazing and an air source heat pump improve the building's efficiency.
11. Getting the Layout Right in a Modern Barn Conversion
Like most barn conversions, the interiors of this home was essentially a large, empty space and the homeowners struggled to know how to design the layout to suit modern lifestyles.
The deVOL kitchen is beautifully understated and by embracing the visible structure of the building, the homeowners have created a characterful open-plan living space with magnificent views out to the Kentish countryside.
12. Adding Glazing to a Barn Conversion
This beautiful barn conversion and extension project features multiple sliding door systems to punctuate the entrance courtyard.
Two sets of over-sized doors replace the barn's original openings and allow natural light to flood into the interiors, while solar control coatings mean the space can combat overheating issues.
(MORE: Bifolds vs Sliding Doors: How to Choose)
13. Extending a Barn with a Contemporary Kitchen
Two gorgeous stone barns have been sensitively linked and extended with an oak frame structure housing a bright and modern kitchen.
Carpenter Oak and BBH Architects worked together to produce a design which looked in keeping with the agricultural nature of the property, while maximising on the views with large amounts of glazing.
14. Listed Barn Converted into a Characterful Home
Architect Craig Beech worked to transform these grade II-listed timer frame barns in Suffolk into a five-bedroom home with his wife, Ruth.
The complex work involved planning and listed building consent before a total renovation was able to take place. Care was taken to restore the traditional materials (lime render, mortar and paint) while modern renewables and conveniences (air source heat pump and underfloor heating) were added.
Inside, the large space has been divided beautifully using a large double-sided fireplace (below) while the original openings have been used to introduce glazing.
15. Converting Small Barn and Stables
The owner of this home took a group of farm buildings – including unsympathetically converted and extended barns, plus structures not touched since their agricultural days – and has turned them into a cohesive dwelling fit for a family. Original features have been embraced in this barn conversion, but the addition of a glazed link brings the separate buildings together to form one home.
Key aspects of this project to apply to your own barn conversion idea include soaring ceilings, a warm family kitchen, a zen-like courtyard garden and a vast, ski lodge-style 'party room', complete with indoor pizza oven.
16. Barn Conversion Planning Permission: Converting in a Conservation Area
Despite being listed and in a Conservation Area, large amounts of contemporary glazing have been added to bring light into the interior of this barn. Local planners were keen to see the building converted to residential use to save it from ruin, allowing the chance to create a unique home within the historic stone shell.
17. Combine Old and New in Your Barn Conversion Idea
The decision to knock down one of the three stone barns in Northern Ireland and build a cantilevered replacement was a dramatic yet extremely rewarding one.
Beyond repair, the barn was demolished and a new wing in its footprint attached to the main barn — which had been lovingly restored — creating a wonderfully eccentric duality of old and new on what was once an overgrown plot.
(MORE: Building an Extension: A Beginner's Guide)
18. Converting Multiple Barns into a Home
This Grade II-listed barn conversion in Somerset has been carefully restored to retain its rural charm, yet has strong contemporary interiors.
The original elm beams were restored and the roof removed for essential maintenance on rotten sections, all the while protecting the clay tiles for re-use. Polished concrete flooring and repointed exposed stone walls compliment the more modernist stylings of the owners.
19. Remodelling a Barn Conversion
Barn conversions have been popular for decades so you might happen up a previously converted barn in need of attention. Remodelling might include knocking down internal walls, renovating the kitchen and giving attention to any structural issues.
This homeowner chose to remodel this previously renovated barn in Nottinghamshire and put right the inappropriate work that had been done before. The condemned roof was repaired and a large glazed section installed to create a light-filled living area.
20. Create a Show-stopping Home with a Barn Conversion
An incredibly ambitious project by David Nossiter Architects to convert a listed timber and brick barn of monumental proportions created a dramatic transition from derelict agricultural site to contemporary and light-filled home for a family.
21. Transforming a Derelict Barn to Eco Friendly Home
A 14-month search for a self build plot culminated in one family giving this listed barn a complete overhaul. The derelict building was actually the perfect shell with which to improve airtightness — a great alternative to building a brand new oak frame home (which the family had previously planned on creating).
22. Think Big in Small Barn Conversions
This beautiful barn conversion could not be better suited to its stunning lochside location.
Careful attention has been paid to the original structure, with stone left exposed throughout the interiors. Paired with a simple white colour scheme and an abundance of natural finishes, the essence of the barn has been maintained.
23. Converting an Old Barn for Modern Layouts
The owners of this barn were given the chance to return to the family farm where they grew up by converting a collection of agricultural buildings into a beautiful home.
They worked closely with the North York Moors Park Authority to ensure their planned scheme was befitting of its place in a National Park (and suited to a historic structure). However, they have been able to create a modern and refreshing space which complements the original building.
24. Repairing and Extending a Barn
When the owners of this barn took it on, planning permission was in place for its demolition and replacement. It would have been tempting to follow through on the original plans, with the barn being so dilapidated, but instead they chose to repair the structure and build around it with sympathetic oak frame extensions. The result is a stunning home.
25. Giving a Old Barn a Modern Makeover
Creating a working layout in a barn, without dissecting large windows or blocking light from deeper rooms can be tricky. So architect Carl Turner created a semi-open plan layout in his converted barn using inexpensive OSB pods. Some of the furniture acts as room dividers — built on castors, they can be moved around.
Assistant Editor Amy began working for Homebuilding & Renovating in 2018. She has an interest in sustainable building methods and always has her eye on the latest design ideas. Amy has interviewed countless self builders, renovators and extenders about their experiences for Homebuilding & Renovating magazine. She is currently renovating a mid-century home, together with her partner, on a DIY basis, and has recently fitted her own kitchen.
Homebuilding & Renovating Newsletter
Get the latest news, reviews and product advice straight to your inbox.
Thank you for signing up to Homebuilding. You will receive a verification email shortly.
There was a problem. Please refresh the page and try again.