EnerPHit: The Ultimate Guide to Passivhaus Standard Retrofit
Meeting the EnerPHit standard is the peak achievement for retrofitting an existing property to be energy efficient. This is what you need to know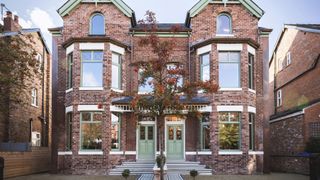 (Image credit: Zetland road by Rick McCullagh)
You're unlikely to have heard of EnerPHit unless you've got a special interest in energy efficient homes, but you may already be familiar with the idea of Passivhaus.
However, where Passivhaus standards are only applied to new builds, EnerPHit looks to meet similarly high levels of energy efficiency when retrofitting an existing property — whether you're renovating the fabric of the building, remodelling or extending.
The term 'retrofit' refers to a form of renovation, typically undertaken to greatly reduce energy consumption. As such, retrofit involves a significant improvement in the thermal performance and comfort of your home. More specifically, it is about improving the building fabric rather than simply the introduction of renewables.
This is where EnerPHit comes into play — creating a set of guidelines for retrofitting a property to the highest of standards. Here's what you need to know.
What is EnerPHit?
The creation of EnerPHit is an admission that a retrofitted house while never meet the same levels of energy efficiency as the Passivhaus standard. That's because when you're considering a retrofit, many of the elements like geometry, orientation and structural approach are already decided.
You may also have thermal bridges (or cold bridges: a path for heat to escape through gaps in insulation) that are difficult to completely eliminate.
The EnerPHit standard recognises this difficulty and sets the required performance at a lower level than Passivhaus to accommodate working with existing buildings.
(MORE: 10 Brilliant Home Renovation Ideas)
To meet EnerPHit standards, you must achieve:
A space heating and cooling demand of 25kWh/m2/year (compared to the Passivhaus standard of 15kWh/m2/year)
Instead of an airtightness performance of 0.6 air changes per hour you need to achieve 1.0 (the Building Regs for new homes require between 5 and 15 according to the Chartered Institution of Building Services Engineers)
This might use more energy to achieve the same comfort levels as the Passivhaus standard, but is still a huge improvement on most existing homes and even new builds.
EnerPHit offers a benchmark for renovators to work to. Like with a Passivhaus, the Passivhaus Planning Package (PHPP) design tool is used when designing an EnerPHit scheme. This helps to deliver more efficient buildings at an early design stage, considering orientation and geometry.
The PHPP also allows us to make informed decisions about where to spend money and to understand what cost and energy implications there are in various retrofit measures and the alternatives that might be being considered.
Retrofitting is not easy, however, and EnerPHit is a tough standard to achieve; the thermal and airtightness strategies are likely to be more complex and more difficult on site than with a new build.
You may have to balance the pros and cons of internal or external insulation, and potential moisture issues that come from changing the building fabric. More so than ever, it demands a skilled and informed design team.
That said, perhaps the ultimate benefit of aiming for the EnerPHit standard and for full certification is the rigour and quality assurance it demands. Following the criteria ensures that the works are completed in the way they are designed; that the airtightness performance is achieved and that there are no fudges along the way.
What's Involved in an EnerPHit?
When carrying out an EnerPHit, there will be a list of measures required in order to meet the standard. These will involve:
High levels of insulation — either internal or external, although internal needs more care in terms of moisture risk
High performance triple-glazed windows and external doors.
Careful consideration of window installation
An airtightness reading of 1.0
A Mechanical Ventilation with Heat Recovery (MVHR) system
As the standard you're working to is a recognised benchmark, in order to receive EnerPHit certification, the process is exactly the same as working towards Passivhaus certification. To meet these requirements, the project must be designed using the PHPP and must be certified by an accredited Passivhaus certifier.
Although the products you're including within the house do not need to be certified for Passivhaus, it does help, especially with MVHR equipment.
To make EnerPHit retrofit more accessible, the Passivhaus Institute has introduced a step-by-step certification process called the EnerPHit Retrofit Plan. This means that payments for certification can be made in stages, helping funding for a a retrofit project.
How Much Does an EnerPHit Retrofit Cost?
The cost of an EnerPHit retrofit will vary as the more complex an existing house is the more complex the retrofit will be. It is wise to budget around £800-£1,000/m2 for deep retrofit/EnerPHit — plus the VAT as you're dealing with an existing building.
For typical component or system costs, however, you can expect to pay around £10,000 for a MVHR unit installed in an average-sized house, and approx £400-£600/m2 for windows and doors.
The big costs, though, are in labour — the installation of the insulation and airtightness measures is time-consuming and needs to be done with care.
Insulation and Retrofit
Perhaps the biggest issue facing retrofitters is where to place the insulation that's needed to bring the old house up towards current energy-efficiency levels. Wherever it is placed, it is likely to cause issues.
One of the biggest worries about internal wall insulation concerns the possibility of condensation and mould growth. Placing insulation inside an existing wall is bound to make that wall colder.
Now, if the existing wall has a tendency to hold moisture (many do, for instance if the brickwork is slightly porous), insulating the inside of the wall may upset the balance which had previously enabled moisture in the wall to evaporate.
As a result, the insulation now acts as a moisture barrier and water gets trapped within the new wall assembly.
Just how big a threat this is can be hard to fathom, but it is one that has been highlighted by the Society for the Protection of Ancient Buildings (SPAB). They have been carrying out research to ascertain when and where interstitial condensation may occur with a view to making some more certain recommendations.
Generally, the advice seems to be that if the wall is in a very exposed location (i.e. one that is likely to see a lot of driven rain) and the external surface is not inherently waterproof (such as stone work and some brickwork too) then internal wall insulation is best avoided. This goes for buildings of any era, not just the 'ancient' ones which SPAB seeks to preserve.
Is EnerPHit Right for My Home?
Create a Whole House Plan
Create a whole house plan from the beginning of your retrofit so that each measure works together in the long-term, giving you the end result of a high performing home.
An EnerPHit retrofit makes most sense when you're already considering renovation or remodelling work to your house.
Particularly in cases where you're looking to make changes to your home and already considering improving its energy efficiency, EnerPHit makes perfect sense.
The economic argument for improving the performance of the roof when it needs replacing, or installing triple glazing rather than double-glazed windows when they need changing, is a much easier one to justify and often the numbers stack up.
If you're considering an extension, this may not be the time for you to undertake a retrofit, but it's a great time to make a long-term whole house plan that ensures the extension works as an integral part of that strategy; it would be frustrating to find that your expensive and beautiful extension has created a barrier to a more in-depth retrofit in a few years' time.
So if you're considering renovation or repair works to your home with a view to achieving high levels of comfort and thermal performance, then now could be the time to plan for an EnerPHit retrofit.
Get the Homebuilding & Renovating Newsletter
Bring your dream home to life with expert advice, how-to guides and design inspiration, direct to your inbox.
Architect Paul is the director of HEM Architects and a specialist in low-energy design. HEM Architects are well-versed in designing sustainable, energy-efficient new builds and extension schemes. He has also just completed an eco retrofit to his family home.
He taught the technology course for the MArch in Architecture at Sheffield University, and is a tutor for the Sustainable Architectural Studies Masters course.