Verandas and Covered Outdoor Spaces
Enjoy the outdoors all year round with a protected space to relax in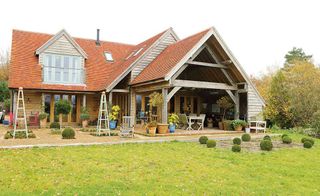 (Image credit: Richard Parsons)
Covered outdoor living spaces actually come in many different guises and have many different terms applied to them — including verandas, but also decks, covered patios, loggias, porte cochére and living porches being among the most popular.
Whatever you choose to call them, these are semi-indoor/outdoor spaces which have been designed as part of the main building, as opposed to a separate structure in the garden. They range from those that are supported on pillars to those which are enclosed on all but one side — offering a far more permanent look than a pergola. However, what they all have in common is that they offer not only shelter, but warmth, light and a space to enjoy your garden in total comfort whatever the weather — somewhere in between a living room and a patio.
Designed well, a covered outdoor living space can add a whole new element to the overall design of a home, lending the house a sense of somewhere to relax, socialise and unwind. Think balmy evenings spent on the veranda of a Colonial-style home, or staying warm next to an outdoor fireplace on the extended porch of a snow-covered Alpine-style home, or even enjoying the view from a covered terrace, Mediterranean-luxe style. Whatever your preference, sheltered outdoor spaces make a great addition to the home.
Verandas
Perfect for those seeking a Colonial-style home, a veranda is a porch with a roof, usually partially enclosed by posts or rails. It often comes off the entire front of a house, as well as sometimes extending around the sides.
Covered Patios
As the name suggests, a covered patio is a paved seating area, extending out from the house (usually through French or bi-fold doors) and at the back or side rather than the front of the property. They are usually covered by a roof that extends out from the house and in a design that blends in with the main building. Often, they are timber framed structures, or simple jutting contemporary flat roofs.
Loggias
With their roots in Italian architecture, loggias are corridor or gallery-like spaces that can run at either ground or first floor level. They are open to the elements along one side and supported by columns or beams coming out from the wall of the house.
Design Considerations
Being an integral part of the house, these are structures that need to be incorporated from the design stage of a project — not as an add-on. This type of outside space often has an impact on the roofline of the main house and the positioning of windows and doors. In the case of loggias, they are very often indented into the building – as opposed to extending out – sitting beneath a section of the upper storey, and they often feature pillars — making them part of the main footprint of the building.
When it comes to covered verandas and porches, the junction where they join the house is important so you should take the following into consideration:
Will the roofline continue down to the front of this space? In which case the pitch and the roof covering will need to be taken into account.
Perhaps the indoor/outdoor space will have a flat roof and, if so, how will the roof covering sit with the tiles or slates of the main roof, will the view from the rooms above be adversely affected, and will it block light from internal areas?
These are all factors that you will need to discuss with your architect from the off.
Orientation is another important factor to consider at the early design stages of a project. It is all very well planning for a veranda to sit out on during the summer evenings, but if the sun sets over the other side of the house, it won't be used as much as you had hoped.
Think about how you intend to use the space. If you want somewhere you can enjoy even in the middle of a cold winter, you will need to be able to close it off to the elements somehow, and will require a heat source – be that a stove, fireplace or some kind of central heating – and insulation. If, on the other hand, you just want somewhere to enjoy the views without getting wet or only plan on using it in fair weather, then a partially enclosed veranda or seating scattered within a loggia will do.
Finally, it is important from a design perspective that these structures blend in and are seen as part of the overall house, as opposed to extensions or separate add-ons, and as such they tend to work best when designed in a style that ties in with the rest of the building — rather than standing in complete contrast.
Shutters and Glazing
If you are determined that your indoor/outdoor space is usable in all weather and seasons, at least one or two of the walls should be enclosed, or be capable of being screened in some way. For some this means permanent glazing, while others choose shutters or screens that slide, open or fold as required.
Contemporary enclosed outdoor spaces look great teamed with panels of glazing and slim frames to either side, as this often echoes glazing seen elsewhere in the design, although sleek screens fit in well too.
Timber shutters are also the perfect choice for those who are after a more Colonial feel to their home.
Of course, there is no requirement to have any windows or screening at all — providing you are not out there during gale-force conditions, a roof should usually be enough.
Heating
While fire-pits and chimineas are both good sources of heat in an indoor/outdoor space, in terms of looks and helping to make the space feel more than just a patio, an outdoor fireplace is a great idea. But there are a few considerations to bear in mind if this is something that you are interested in.
Some people opt for gas fireplaces which are specifically designed for outdoors and are vent-free with no flue required (take a look at those from Urban Fires). They come with weathershields to protect the gas burners and a choice of fuel beds, from contemporary pebbles to more traditional-looking ceramic logs.
Outdoor Fireplaces
Getting a fireplace to draw properly in an outdoor space can be a challenge. You will also need to check with the planners and Building Control and use a heating engineer to advise on opening sizes.
Try to include a 'smoke shelf' in the design which will break downdrafts.
The fireplace must be constructed from a non-combustible material such as masonry, stone, concrete or bricks, and you will require a standard flue too.
Ceiling
Don't forget to give some thought to the 'ceiling' of your new space.
Will it be boarded and plastered?
Perhaps you might like the rafters to be exposed, to be more in keeping with the rustic nature of a semi-outdoor area.
How will any lighting fit into your new ceiling?
Those planning a contemporary space might want to look at fibre cement panelling as a ceiling cladding option, while sloped roofs (very common in this type of structure) look great with timber tongue-and-groove panelling fixed to the underside.
Getting the Roof Right
One of the main design elements that warrants some serious thought with these covered outdoor spaces is the roof and how it will sit with that of the main house. Of course this will depend on the overall design of the main building, but in general there are several main approaches.
The Overhang
In this scenario, the new roof is an extension of that on the main house — that is to say it carries on from where the main roof would finish if the porch or veranda was not there.
This type of roof often features pillars or columns as a way of supporting it (given that there is no house beneath) and the material used will, in most cases, be the same as that used on the main building.
The Flat Roof
In many cases, the sheltered outside space is created by a roof that is entirely separate from the main roof, extending out from under the first floor windows and over the main ground floor rooms to create a covered yet exposed extension to the main house — often one that wraps around two or more of the elevations. It is usually the case that this type of design will feature pillars, posts or beams to support it.
The Barely There Roof
Contemporary homes in particular look great when paired with outdoor spaces covered with a brisé soliel, slatted louvres, sails or some other covering that offers glimpses of the sky above. On the downside, they are not waterproof in the same way that those with a solid roof are and so are restricted to use on drier days only.
Get the Homebuilding & Renovating Newsletter
Bring your dream home to life with expert advice, how-to guides and design inspiration, direct to your inbox.
Natasha is Homebuilding & Renovating's Associate Content Editor and has been a member of the team for over two decades. An experienced journalist and renovation expert, she has written for a number of homes titles. Over the years Natasha has renovated and carried out a side extension to a Victorian terrace. She is currently living in the rural Edwardian cottage she renovated and extended on a largely DIY basis, living on site for the duration of the project. She is now looking for her next project — something which is proving far harder than she thought it would be.