Polished Concrete: Your Expert Guide
By Natasha Brinsmead published
Polished concrete can be the ideal material for many surfaces in the home — we look at the ins and outs of using it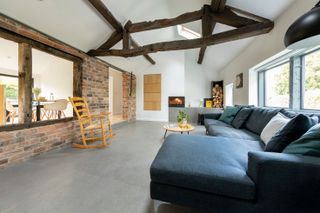 (Image credit: Jeremy Phillips)
Polished concrete is not just a material used by those after a super contemporary industrial look — new techniques and finishes mean is now being used by those after all kinds of interior schemes, after a sleek, easy-to-care-for floor.
Polished concrete comes in a variety of colours and finishes and is perfect for use with underfloor heating too — as well as being a good retainer of heat.
And despite some common misconceptions, it need not look or feel cold.
(MORE: Types of Flooring)
What is Polished Concrete Flooring?
Polished concrete flooring is achieved using concrete – cement, gravel, sand and water – with chemical densifiers added to it. These densifiers act to fill the holes and pores in the concrete. The poured concrete is then ground down with diamond polishing tools, which get progressively finer until the level of sheen and smoothness you are after is achieved.
Polished Concrete Advantages
Polished concrete has a lot of benefits, including being:
A smooth and sleek flooring type that suits the minimalist interiors of many contemporary homes
A low-maintenance, easy to clean flooring. This flooring is perfect for households with pets and in rooms with high levels of foot traffic as it is extremely hard and durable and simple to keep clean
A non-slip finish. Despite its 'sheen' polished concrete is a non-slip type of flooring so is ideal in kitchens, bathrooms and utility rooms
A seamless look between inside and out. Polished concrete flooring is also suitable for exterior use so is ideal where a level threshold is required between indoor and outdoors spaces, for example where bi-fold or sliding doors have been incorporated into a design.
Underfloor heating. Concrete is an excellent heat conductor and is easy to pour over an underfloor heating system
A floor than benefits from solar gain. In spaces where the sun is allowed to shine in, a polished concrete floor will absorb and hold the heat well.
You should be aware that polished concrete floors will occasionally require resealing. There are a range of stain-removal treatments and aftercare products available to keep your floor looking its best.
(opens in new tab)
What Does a Polished Concrete Floor Cost?
As a guide, a new polished concrete floor, poured, finished and sealed, will cost around £120/m²-£150/m². If you have an existing concrete floor that you wish to have polished, the cost will be approx. £50/m².
There are several factors that will influence what you pay:
the area you are in
the quality of the existing floors (in renovations) and whether any repairs are necessary before work can begin
the size of the house
the type of finish you are opting for (those with exposed aggregate finishes will cost more)
How is Polished Concrete Flooring Installed?
The most common way for a domestic floor to be poured and finished is using the 'flooded bay' method. According to polished concrete specialists Lazenby (opens in new tab), the largest area or 'bay' they can pour is 5m x 5m. For areas larger than this, inducement joints will be cut in the day after the floor has been poured, using a neat saw.
These joints will also be used in doorways. They create a weak spot meaning the concrete will shrink and crack in a straight line. This joint can then be filled with a flexible sealer such as polyurethane in a similar colour to your floor.
The ready-mix concrete will be poured on site, usually reinforced with steel mesh and fibres. This mesh is used to minimise the risk of the floor cracking. The concrete should be poured after insulation and underfloor heating has been put down to a depth of 100mm.
The whole space is filled and levelled using a laser, rakes, vibratory screeding machines and bull floats. Once the surface has been screeded colour, if required, is applied to the surface. Over the course of the day, the concrete surface is refined and flattened using hand floats and power floats.
The final surface is closed off and densified by hand trowel and/or power trowel machines. This brings the cement paste to the surface, smoothing and hardening it until it develops a sheen. This can take anywhere from four to 14 hours, and is partially dependent on the weather conditions ' too cold (5°C or lower) and fresh concrete can be permanently damaged; too hot and there is a risk of the concrete shrinking.
Once poured and prepared, the concrete will need to be polished and sealed — something that must be carried out at least a month after pouring.
Polishing either comes from cleaning and buffing the floor with a scrubbing machine or, better still, light diamond polishing to remove minimal laitance to bring out a medium sheen. For highly polished floors, the surface can be further enhanced using diamond-encrusted flexible buffing pads.
The floor will then need to be sealed. A penetrative sealant that allows the concrete to breathe is used.
(opens in new tab)
Some suppliers offer alternative, although less commonly used, methods of installation, for example where the finished floor is poured as a ground-bearing slab. These floors usually have a minimum thickness of 150mm and come with heavier reinforcement.
The floor is poured onto well-compacted MOT Type One (an easily compacted aggregate), blinding sand, DPM (damp-proof membrane) and insulation. A polished screed already has the ground-bearing slab in place and is poured over the insulation sitting on the slab below.
The polished ground-bearing slab has the added advantage of producing the finish in one go, but will have to be poured earlier and may suffer damage as other heavier work is carried out afterwards.
Using Polished Concrete for Stairs
(opens in new tab)
Whether you are creating a split level layout or like the idea of a statement staircase, it is quite possible to form both with poured concrete for a totally seamless look.
According to the experts at polished concrete specialists Lazenby, "a formwork is first created to pour the concrete into. As the concrete goes off the shutters are struck and the surface trowelled by hand to achieve the same mottled variation as the floor. Steps are generally poured at a 100mm depth over a block work sub-base."
(MORE: Staircase Design)
At What Point is Polished Concrete Installed?
When building from scratch, or using polished concrete when building an extension, the majority of in- situ polished concrete flooring is put in place prior to doors and any door tracks which may be fitted.
It is possible to produce the floor with these elements in place, but there is a great risk as cement corrodes aluminium and the process is not delicate. Doors can also cause a hindrance to the contractor and not allow for threshold details to be incorporated.
A 10mm-thick brick-foam material is fitted to the perimeter of the floor to allow for any movement. This needs to be hidden by skirting or similar, so the floor must be poured before this stage of decoration too.
In the case of shadow gaps, recessing it behind the wall build-up will hide the expansion material, and the floor should then be poured before the final wall finishes are built out.
Any partition walls, kitchen units, etc., should ideally be constructed on top of the finished concrete floor.
It is not necessary for windows and external doors to be fitted prior to fitting, but the inside should be protected from the elements in extreme weather and cold.
How Long Does Polished Concrete Flooring Take to Install?
According to Lazenby; "a concrete floor will be installed in three days. This includes all setting up and the final protection layer."
However, the concrete must be left to cure sufficiently before the grinding (polishing) process can begin — at least 14 days generally, although temperatures will affect this.
Polished Concrete Floors Facts
These floors are diamond ground and then treated with a chemical densifier
They are polished with diamond-polishing tools, using polishing pads specifically for using on concrete
Polished concrete will most commonly be finished to a grit level of 800, 1,500 or 3,000 depending on the level of shine required
Concrete is not considered polished before 400 grit. This is called 'honed' concrete
Polished concrete floors are best designed in early on in a project
They are most commonly 100mm thick
They often tend to be specified with underfloor heating
Thanks to GreyMatter Concrete (opens in new tab) and Lazenby (opens in new tab) for advising on this piece.
Natasha is Homebuilding & Renovating's Associate Editor and has been a member of the team for over two decades. An experienced journalist and renovation expert, she has written for a number of homes titles. She has renovated a terrace and is at the end of the DIY renovation and extension of her Edwardian cottage. She is now looking for her next project.
Homebuilding & Renovating Newsletter
Get the latest news, reviews and product advice straight to your inbox.
Thank you for signing up to Homebuilding. You will receive a verification email shortly.
There was a problem. Please refresh the page and try again.