How to Choose Engineered Wood Flooring
By Natasha Brinsmead published
With such a wide selection of timbers and finishes, not to mention prices, we explain the costs and durability of the options for your project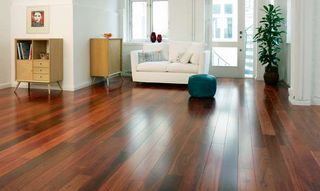 (Image credit: Junckers)
So what is engineered wood flooring and how does it differ from solid wood flooring?
Engineered flooring consists of a top layer of solid wood — the veneer. This ranges in thickness depending on the quality of the flooring, but is typically between 3-7mm, although thicknesses of up to 15mm are available. Underneath the veneer are several more layers of thin wood, all glued together to form a plywood-like sandwich base.
These layers run at 90° to one another for stability, making them less prone to movement, caused by humidity, than solid boards.
What will it cost?
The quality and cost of engineered flooring varies and it is often a case of you get what you pay for, with some of the cheaper versions being made up of a very thin top layer of solid wood. Generally plank or one-strip designs are more expensive than two-strip, or three-strip wood floors as the surface layer is sawn from a single log.
Despite what many buyers expect, engineered flooring is not necessarily less expensive than solid. Designs with surface treatments – such as metallic finishes, stains, hand-scraped, bevelled and brushed finishes – tend to cost more.
Prices start from around £30/m² but can go beyond £90/m². The variety of wood you choose will also affect the price. Paying for quality in an investment and will increase the resale value of a home.
Why choose engineered wood flooring?
More and more people are choosing to fit engineered wooden flooring as opposed to solid timber floors — and there are many reasons for this decision.
Engineered flooring is available in an extremely wide range of timbers to suit any home, with various effects, such as 'aged' and 'sun bleached', available. They are also suitable for laying over many types of existing floor, such as concrete, unlike most solid boards.
In addition, most engineered flooring now comes pre-finished, meaning no waxing, lacquering or oiling for you, and a floor that is ready to walk on as soon as it has been laid. Plus, it is simple to lay on a DIY basis, so labour costs are saved.
Furthermore, it's suitable with underfloor heating.
Which wood?
This really is down to personal choice more than anything else. However, some woods do tend to suit certain interior styles more than others. Although in recent years it has been the dark, exotic timbers such as walnut, jarrah and merbau that have been chosen by owners of contemporary homes, more recently lighter coloured woods such as ash or boards that have been given a white/silver finish have begun to rise in popularity.
Oak is a timber which can work equally well in traditional settings as it can in modern rooms, depending on the finish and tone it has been given, for example 'brushed'. Timbers such as beech and maple work well in more country-style interiors.
How long will it last?
This very much depends on what kind of wear the floor sees and how thick the top layer of solid wood is. Guarantees vary from ten to 30 years.
The number of times a floor can be sanded and refinished also varies — the manufacturers' recommendations should be taken on this one. Some may recommend sanding no more than three times for thicknesses of 15mm. Generally, a professional sanding will remove around 0.5mm of the surface layer. However, bear in mind that some beautiful hardwood floors won't ever have been sanded and that dents and scratches can add to their character.
You get what you pay for… The cheapest floors tend to have a very thin top layer – as thin as 0.6mm – a minimal number of veneers in the core and fewer finishing layers.
The general rule is, the more layers the floor is made up of, the better.
At the lower end of the market, boards have a three-ply construction, are around 1/4 inch thick in total, have a 1-2mm topwear layer, and around five finish coats.
Next best are of five-ply construction, with a 3mm top layer, around seven finish coats, and a total thickness of ½ inch.
The best quality floors are made of up to nine plies, have a 7mm plus top layer, have around nine finish coats and are a total thickness of approximately ¾ inch.
Key questions about engineered wood flooring answered
Boards are available in a whole host of finishes, from 'brushed' which highlights the texture of the grain, to 'distressed' which gives the wood a more vintage feel. In addition, some companies offer boards with bevelled edges. This is a good option for those worried that a new engineered floor may look a little too perfect and pristine in a period house.
Surface treatments vary, too. Matt lacquers leave boards looking very natural, almost untreated, whilst oils bring out the grain of the wood, but will require a little more care and maintenance than lacquers. Satin lacquers add a sheen and tend to increase the durability of the wood.
In certain situations engineered flooring is not the best option. As with any wooden floor, engineered flooring – despite its resistance to movement caused by moisture, and however well treated it is – is best avoided in the bathroom, where it will be constantly subjected to a damp atmosphere and probably puddles of water from time to time. It is fine for use in cloakrooms, however.
Measure your room, then, to get the area in metres square, multiply the length by the width, and allow a small amount for wastage — around 10% should suffice. If your room is not square, it can be easier to measure it in sections then add these together to get the total area required.
There are several alternatives to engineered flooring, the most obvious being solid wood floors. These are available as plain planks that require either nailing or screwing and gluing down, or with tongue-and-groove edges. Most solid wood floors will, however, need to be laid on a subfloor as opposed to an existing floor. They can be refinished more times than engineered due to their solid nature.
Despite what many people think, laminate floors actually have nothing to do with wood flooring — they mimic wood's appearance. Laminate floors are a photograph of wood which has been transferred onto a resin surface before being glued to fibreboard. Remember, laminates cannot be refinished.
Natasha is Homebuilding & Renovating's Associate Editor and has been a member of the team for over two decades. An experienced journalist and renovation expert, she has written for a number of homes titles. She has renovated a terrace and is at the end of the DIY renovation and extension of her Edwardian cottage. She is now looking for her next project.
Homebuilding & Renovating Newsletter
Get the latest news, reviews and product advice straight to your inbox.
Thank you for signing up to Homebuilding. You will receive a verification email shortly.
There was a problem. Please refresh the page and try again.