How to Convert a Barn: The Essential Guide
Deciding to convert a barn presents the perfect opportunity to create a unique countryside home packed with character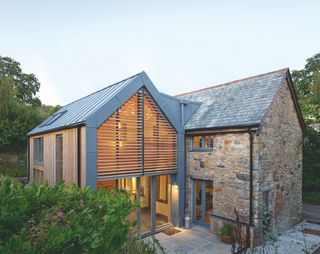 (Image credit: Matthew Smith)
For those who want to convert a barn, there is the undoubted potential to create a unique one-off home that already comes packed with character and available space.
When it comes to barn conversions ideas, if there is only one rule that you follow, it is to be 'true to the building'. Ignore that rule, and you will lose the wonderful character and form that a barn conversion offers.
Bear this rule in mind across every area of the design, from walls and windows to doors and the internal layout, and you'll not only maintain the integrity of the form, but also please the local authority planners in the process.
Here, we explore how to go about your barn conversion project — from finding a barn through to the design solutions that will make the most of the opportunity.
How to Convert a Barn into a House: The Process Explained
No two barns are alike so a schedule of works will vary from project to project, but there are general requirements and jobs that will always need to be enacted.
Typically, a barn conversion schedule will run similar to this:
Arrange a mortgage/finances
Find barn
Carefully plan a budget
Surveys
Purchase property
Find an architect
Design (also fine-tune the budget to include specific labour and materials)
Planning permission
Contact building control/Regulations
Apply for services
Contract to tender
Organise warranty and insurance
Start on site
Structural fixes (repairing external walls/timber beams etc.)
Make weathertight (roof, damp proofing, windows)
Internal structure
First fix (plumbing and electrics)
Plastering
Second fix
Decoration and snagging
1. How to Find a Barn to Convert
JOIN THE PLANNING HUB
The Planning Hub is a new online resource that will help you understand how to get to grips with complex planning rules. Join today for access to easy-to-read guides which will provide you with key information to help you secure planning permission.
Given the strict planning permission rules limiting the building of new dwellings in the countryside, barn conversions are popular for those looking to move to the country.
"Barn conversions provide a fantastic way of finding a house in the open countryside," begins planning expert Ken Dijksmann. "Old barns are usually redundant for modern agriculture and worth a great deal more to the farmer as a house than as a storage building."
The types of barns available will often depend on the area of the country you're looking to reside in.
Timber barns, for instance, are predominantly found in the south and east of the country and offer vast volumes of space, while stone barns (which are the most expensive to convert) are more common in the north and west, and tend to feature small openings — as do brick barns.
There are several ways to find a project:
Go to the local authority and check for any planning permissions granted or pending for these types of dwellings
Look through local papers
Make contact with estate agents
Research using online services — websites such as barnsetc.co.uk and plotfinder.net are both good starting points.
It can also often be the case that these types of buildings are not currently on the market, so it will be down to you to investigate. Take a tour of the area (either by driving or even making use of the handy Street View tool on Google Maps) and look out for any redundant buildings.
Should you come across any, you can then seek out the owners with whom you can discuss the possibility of selling. However, never buy a building on the assumption that you will be able to gain planning permission to convert it.
2. Always Commission a Building Survey Before Buying
As with any property, it is important to have the building surveyed before exchanging contracts.
"The critical thing with barns is to research the ground conditions and the stability of the structure from the start," comments Nicolas Tye.
While you can use architects or structural engineers to carry out the survey for you, most surveys will be carried out by a building surveyor who is a member of the RICS (Royal Institute of Chartered Surveying).
From this, you will be able to gauge how much work will be involved, the costs and what problems you may face throughout the project. Bear in mind though that until you begin work on the conversion, you cannot be sure of exactly what you will find.
Many rural sites, especially those with existing buildings, will require a professional ecological assessment to determine if the work will have any impact of trees, owls, bats or newts.
"Bat surveys can be terribly frustrating because not only is there the expense of hiring a professional but there is often an inbuilt time delay," says self-build expert Mark Brinkley. "The resultant actions that need to be taken are often relatively minor: it is not uncommon to spend far more on the survey than the solution."
3. Budgeting for a Barn Conversion
Estimating the costs for a conversion project can be difficult given that every project of this nature will be wildly different from the next, and the condition of the building will have a big impact on expenses.
Checkatrade estimate that the average barn conversion costs around £1,700/m2, but the amount will very much depend on the location, condition of the barn, quality of the materials used while converting and the amount of DIY you're willing to put into the project.
"As with any build, budget is always going to be a significant discussion and will dictate what you can achieve," advises Nicolas Tye, director of Tye Architects. "Having a specialist quantity surveyor checking what you're doing will help guide you in the right direction, as well as helping you to prioritise and manage costs accordingly."
4. Financing a Barn Conversion
Financing conversion projects is also not as straight-forward as standard renovations. Your best bet might indeed be to target mortgage specialists, such as the Ecology Building Society, who lend on out-of-the-ordinary projects which significantly improve a building's eco credentials.
Much like self-build mortgages, the funds will be released at significant stage completion.
One of the most attractive features of conversions is that like new builds, they are largely free of VAT which you will be able to reclaim under HM Revenue & Customs Notice 431C.
This means that if you use a VAT-registered builder, they will invoice their work and materials at the reduced rate of five percent, while any materials you buy yourself will be charged at the standard VAT rate.
5. Getting the Design Right
A successful conversion will be a sympathetic transformation, reflecting the building's heritage and former purpose, with the interior offering the perfect mix of dramatic, double-height open plan spaces and cosier areas for much-needed privacy. Celebrate the barn's history while creating a 21st-century home is key.
"Take advantage of the impressive scale of spaces in a barn. Wherever possible, see if a plan can be resolved with a minimum of structural intervention," advises architect David Nossiter, founder of David Nossiter Architects.
"The barn form lends itself to so much of what we want in a modern home — space, height and massive openings for walls of glass," continues Charlie Luxton, founder of Charlie Luxton Design.
"They allow for experimentation in affordable, interesting materials, too. Metal, timber, fibreboard, rubber, you name it, pretty much anything goes with these buildings — except trying to make them what they are not."
Essential design pointers to follow when converting a barn, may include:
Preserve the building's original form and character
Apply a light touch
Reuse materials wherever possible
Use like-for-like materials and traditional techniques
Minimise the subdivision of internal space to preserve openness
Keep the roof structure open and visible
Use existing openings and minimise the formation of new ones
Avoid 'domestic-style' windows and 'off-the-peg' joinery
Minimise the addition of rooflights and use conservation models
Avoid creating a suburban garden — keep appropriate boundary treatments
Keep any new additions sensitive in scale and style
Avoid infilling — keep any links transparent using frameless glazing
Avoid inserting floors that cut across window openings
Keep flues and soil vent pipes hidden or on minor elevations.
6. Converting a Barn: The Planning Rules
"If you can locate a barn and do a deal with the landowner, there are two ways to turn it into a self build project," says Ken Dijksmann.
"Until recently, the usual route would be to make a planning application for change of use, but the majority of councils reject proposals to convert all but the most at- tractive vernacular stone built or timber-clad oak framed early buildings. But there is another way to get barn conversion planning permission that has only been possible in recent years.
"In a nutshell, the government introduced new Permitted Development (PD) rights, known as Class Q, which allow the conversion of any existing agricultural buildings into houses. This is potentially a real bonanza for self builders and small building companies, not to mention the lucky landowners who suddenly find half-forgotten old barns can be turned into valuable new homes."
Once you have found a barn, you will need to gain detailed planning approval before you can start work.
In order to gain favour with the planners, carefully read their guidelines in the local authority's Local Plans, available to view on their website.
You should also consider the following:
Where older buildings are concerned, planners don't like to see significant alterations to the external appearance. This could limit the number of new windows, doors and openings, as well as changes to exterior cladding.
Planners may ask for drawings of the internal elevations to assess how modern additions such as insulation can be fitted without harming the building.
Try to ensure that the character of the building remains intact while accommodating modern lifestyle demands.
Plans are often handed to historic buildings officers for further inspection. This may mean independent structural surveys to prove that the building can be converted without compromising or damaging the original structure.
Listed buildings and those in conservation areas may be granted consent for conversion only if you adhere to certain restrictions.
Derelict barns will, quite often, be home to various types of wildlife – bats and owls in particular – and so a protected species survey will need to be carried out to ensure that any wildlife is not disturbed.
7. Adding an Extension to a Barn Conversion
Building an extension which is on the large side is unlikely to be acceptable to the planners in most instances, but smaller subordinate additions may be, especially to the minor elevations.
A good justification for such an addition is that it will house facilities like a cloakroom, utility room, boiler room or other ancillary rooms, and thereby prevent too much subdivision of the main space, avoiding the subsequent loss of character this would entail.
Ideas for extending a barn in a sympathetic way could include:
Lean-to-style additions with a simple monopitch roof, designed to look like an existing addition to the barn, can be a good option
Extensions that link barns and other outbuildings may also be acceptable if designed appropriately: infilling is unlikely to be acceptable, but as with a listed building, a frameless glass link would be difficult for planners to object to
Additions such as porches, conventional conservatories or attached garages are not likely to be appropriate. A modest green oak frame extension may be more acceptable. It may also be easier to gain consent for an extension at a later date, once the initial conversion has been completed
Garaging is best provided through the conversion of outbuildings, or the construction of new, sympathetically designed outbuildings. These could be styled to look like shelters, open cart sheds, stables or other agricultural buildings
8. How to Connect a Barn to Essential Services
The chances are that the barn you have found will have been left unused for some time, and given the non-domestic nature of its former purpose, will not be connected to the mains — so getting water and electricity will be a top priority, as will sorting out a sewerage system.
This will all need to be considered when you're assessing a barn for conversion as it will need to be factored into the budget.
If the barn is off-mains, this provides the converter with the opportunity to consider adopting a greener approach to energy and off-mains heating. Open plan spaces, for instance, may be best-served by underfloor heating which works well with a heat pump.
Should you be able to incorporate a high degree of insulation without disrupting the natural fabric of the building, this will also up the eco-credentials of your conversion.
9. Improve the Fabric of a Barn's Structure
"With a timber frame barn you're likely to be retaining the skeleton of the building externally, but internally the barn might not be structurally sufficient and therefore an independent structure might need to be built within the timber outer shell — keeping the historic character visual rather than structural," explains architect Nicolas Tye.
"If you're erecting a new steel structure within the barn's shell, for instance, this offers more flexibility in terms of layout, so you don't have to conform to a rigid arrangement of rooms, and can create the varied and cathedral-like ceiling heights that successful barn conversions are known for.
"Likewise, the barn might be sound internally, but the outer skin might need to be saved from ruin. It all depends on the fragility of the building in question, which is why early research is so important. As with any build, budget is always going to be a significant discussion and will dictate what you can achieve."
Case Study
Collections of barns converted to EnerPHit standards
Richard Clayson has converted this collection of barns in East Sussex to EnerPHit standards.
Using the Passivhaus Planning Package and a Passivhaus designer, a plan was formed to create a highly-insulated timber frame structure within each of the barns. "It's a house within a house — the new timber frame sits inside the walls of the barn, with insulation wrapped around all of it," Richard explains.
Mineral wool was also squeezed into the studwork and rafters for insulating the walls while the mud floors were dug out, levelled and insulated with Celotex.
10. Repairing Walls in a Barn Conversion
Should you need to repair any of the existing exterior walls, this should be done on a like-for-like basis. As brick or stone walls tend to be of solid construction, to meet Part L of Building Regulations, insulation will need to be added to the internal face of the external walls.
An alternative to this could be adding new partition walls built in matching brick or stone, or to achieve a seamless blend between originals and repairs, it may even be possible to repoint the whole wall — using lime mortar to retain breathability, ensuring that the removal of any original mortar is kept to a minimum.
Insulating timber frame barns is less of a problem for converters as the existing cladding can often be removed and a layer of insulation added in between the frame. Again, make up any repairs by matching materials and where possible, re-use the original cladding.
11. Repairing a Barn Conversion's Roof
When converting a barn, it is likely that years of being left to the elements will mean you will have to research how to repair a roof. In most cases, the existing roof covering will need to be removed to allow for any repair work to be carried out, as well as the addition of insulation and a membrane installed to improve airtightness and weatherproofing.
Be aware that should you insulate between or over the rafters, this will raise the height of the roof.
The roof covering of the barn will also possess a certain vernacular style in context with local buildings (such as limestone, sandstone, local slate, thatch or even local handmade clay). It is an intrinsic part of the barn's character, so it is important to salvage these materials where possible — sourcing replacements for any missing pieces.
Part of the charm of a barn conversion can be the irregularity of the roof shape where the original timbers may have bowed, twisted and warped over time. Although evening out the roof will help the roof covering sit flush and weathertight, a completely symmetrical new roof, laid with replacement tiles, can lack character. With care, the roof can be repaired but the undulations carefully maintained.
Vernacular roofing, such as limestone or sandstone tiles, local slate, thatch or local handmade clay tiles, is often an intrinsic part of the character of a barn. It is, therefore, worth salvaging as much as possible of this material and sourcing replacements to make up for any shortfall.
Where new and original roof coverings are mixed together, the original material can be used on the main 'public' elevations and the new material on less prominent, minor roof planes, or alternatively on outbuildings.
Like-for-like replacement will often be a requirement when buying a listed building, but for less sensitive situations planners may be more flexible, especially where the material is very expensive or unavailable, or if the replacements are used on a less prominent elevation.
12. Convert a Barn's Layout for a Domestic Living
The subdivision of the interior space will usually be informed by the limitations of the barn (the positioning of internal structural walls), as well as the opportunities it presents for open plan living (voluminous double-height spaces).
"It's a good idea to resist any desire to maximise the number of rooms by dividing the space into domestically-sized cells," explains David Nossiter. "This approach will destroy the scale of the existing barn. Instead, create privacy using strategically placed screens, build-in furniture and partitions."
Barns are usually long and narrow so a central hallway is often the best solution to providing access and circulation, as well as being the ideal place to show off the volume of the space.
You could alternatively opt for two separate staircases, allowing the bedroom accommodation to be divided into two, with the guest bedroom arrangement to one side (accessed by the main staircase in the hub of the home), with the master bedroom served by a private staircase located at the far end of the barn.
13. Create New Floors, Mezzanines and Bridges
If the barn is of particularly great volume, it may be possible to take advantage of this by creating additional storeys. You may be restricted by the slope of the roof or the collars on roof trusses, but it may be possible to alter the trusses to create access to first floor rooms.
Excavating the existing floor will usually be necessary in order to lay a new floor structure and it may even be possible to use the existing brick or stone walls to help support new floor structures. Should there be the need for underpinning, a steel or timber frame could be employed.
With a double-height feature in the central hallway, the first floor is best linked across here, with a galleried landing or 'bridge' walkway being the ideal solution. This will also help you to avoid cutting across the main barn door opening.
However, these additional storeys may not always be appropriate for every barn. "Existing heights may not be tall enough to create two levels," explains David Nossiter. "A poorly-designed mezzanine can result in a dark ground level space with restricted daylight and low ceiling levels. Added to this, many barns have steeply pitched roofs restricting the usefulness of the spaces beneath the eaves.
14. Utilise Existing Barn Openings to Introduce Light
One of the key considerations when converting barns is the use of natural light. Barns are typical for having either small openings for ventilation purposes or enormous cart door openings, so lack of light can be a problem.
On the main elevations, window and door openings will often be restricted to those that already exist. On secondary elevations some additional window openings and doorways may be allowed.
If there are any original windows left intact, then it is worth considering salvaging and repairing these, or at least using them as a template for replacements. If there are no surviving windows, look at local farm buildings in the vicinity for clues as to the tradition. Off-the-shelf window styles are unlikely to be suitable for size or design.
Narrow ventilation slits are common in agricultural buildings in some areas, and these can be glazed with a fixed double-glazed unit. Other openings can also be fitted with fixed glazed units, as these may read as unaltered open voids.
Frameless glazing is an option that can be used to fill even the largest opening and – when set well back into the opening – can be unobtrusive.
15. Adding New Openings: What is Possible?
If a new opening is to be inserted, sympathetic proportions and detailing should be used, following existing patterns on the building, or other similar farm buildings in the area. In some instances, subject to careful design, new openings could be contemporary in style, though different local planning authorities will take different views on this.
Windows and doors need to be simple, robust and functional in style. Setting the windows back into the walls also helps to maintain the shadow lines of the original openings and limits reflections.
Creative solutions to bring in natural light include:
adding conservation-style rooflights on less prominent elevations
using glass pantiles or discreet ridge glazing
glazing entire gable ends
applying full-height glazing to cart openings
Get the Homebuilding & Renovating Newsletter
Bring your dream home to life with expert advice, how-to guides and design inspiration, direct to your inbox.
Michael is Homebuilding & Renovating's Director of Content, Vice Chair of the self build industry body, the National Custom and Self Build Association (NaCSBA), presenter of multiple property TV shows and author of Renovating for Profit (Ebury). He also runs an architectural and interior design practice, offering design and project management services. He is one of the country's leading property experts and has undertaken over 30 building projects including two self-builds and the renovation of a Grade-II listed farmhouse.
Michael has presented over 150 property shows for BBC, ITV1, Channel 5, UK TV Style, and Discovery RealTime, including I Own Britain's Best Home; Don't Move Improve; Trading Up; Good Bid, Good Buy; Build, Buy or Restore?; How to Build A House; and Hard Sell.
Michael is also a regular expert at the Homebuilding & Renovating Shows. He has written for leading British newspapers, including The Daily Telegraph, Sunday Times, Daily Express and The Independent and has appeared on news programmes such as BBC Breakfast.