Bifolds vs Sliding Doors: How to Choose
By Sponsored Content published
Looking to add glazed doors to let in light and connect your home and garden, but aren't sure what to opt for? Here's what to consider to help you choose the best option for your project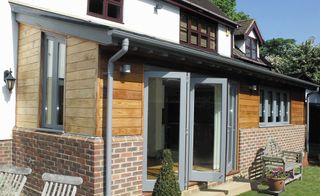 (Image credit: Kloeber)
CONTENT SUPPLIED BY KLOEBER
Whether you're extending, renovating or building a home from scratch, windows and doors play a big part in the overall aesthetics of your build. But, as well as looking the part, you'll want them to let in enough light, be functional and practical, too.
Deciding whether bifold or sliding doors are best for you will be down to personal choice, but to help make your decision that little bit easier, we've pulled together some key areas to really think about before you commit.
1. The View
If you want uninterrupted views of your garden and beyond then sliding doors (opens in new tab) are a popular choice because there's less frame and more glass. That means you get a good view, more light flooding in and a sleeker aesthetic.
But, if you crave a more seamless connection with the great outdoors, then bifold doors, which open up 90% of the aperture creating a wide opening onto the garden when concertinaed back, are the most popular choice. A level threshold with similar flooring inside and outside will also help create a cohesive living space that connects with the garden.
2. The Space
If indoor space is limited and you don't want a stack of bifold panels (opens in new tab) encroaching the floorplan, you can choose for the system to stack outwards. But, this does mean you might have the same problem outside! So, if space is an issue, sliding doors are a better option.
3. Access
This is an important point to consider. There's a real desire to want to throw open (or fold/slide back!) glazed doors (opens in new tab) to harness a wonderful connection between inside and out. But do think about the practicalities here. The British weather isn't always the best so if you're in a windy exposed spot, for example, then bifolds might be closed more than they are open.
But, bifolds are versatile — you can of course open up around 90% of the opening (as mentioned above) and with some configurations, you can install a standard door that can be opened independently of the concertina system: a great option if you have children and dogs and need easy, regular access to the garden.
Sliding doors are a good choice if you want/can have large panes of glass and larger doors. Even though sliding doors don't open up fully, the side that's open will be large enough to offer a connection between inside and out, the limited frame profiles won't hinder the view and air will be able to circulate in and out of the space.
4. Materials
Before buying….
See the doors at showrooms and speak to experts to ensure you are making an informed decision. They will be able to offer guidance on what would work for you and your property, and they can give you a better understanding on frame materials and glazing options.
Both bifold and sliders can be made with a timber or aluminium frame to match the overall aesthetic you want to create or need to match with existing window frames, for example. Contemporary, sleek and modern — then aluminium delivers, plus there's little maintenance. If you're after a more natural look, then stained timber (opens in new tab) is the way to go, but bear in mind any timber will require maintenance. If you want the best of both worlds, pick alu-clad sliding doors with a warm timber interior and a low maintenance exterior.
Contact the experts at Kloeber who will be able to advise you on the pros and cons of bifold and sliding doors for your home. Call them on 01487 740044 or visit www.kloeber.co.uk (opens in new tab).
Homebuilding & Renovating Newsletter
Get the latest news, reviews and product advice straight to your inbox.
Thank you for signing up to Homebuilding. You will receive a verification email shortly.
There was a problem. Please refresh the page and try again.