Is this the UK's Most Energy-Efficient Barn Conversion?
By Alison Wall published
Richard Clayson has converted a derelict barn into a home that's not only full of character but achieves EnerPHit standard for energy efficiency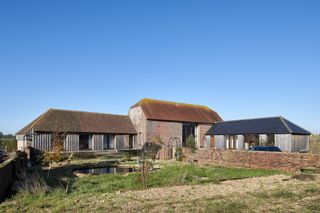 (Image credit: Alistair Nicholls)
As a youngster living in Cambridge, Richard had walked past a barn and outbuildings and was struck by how the different elements could be joined to make a house. "I can still remember that in my mind's eye. That was my own 'grand design' and now it's appeared in real life," he says.
For Richard, a chartered surveyor and, now, Passivhaus consultant, serendipity didn't so much nudge him as send him spinning towards his childhood dream. After exploring – and rejecting – options in Scotland and Devon, Richard, then living in London, settled on East Sussex so that he could be close to family members.
"I was looking at five other properties and a satnav error took me to this dilapidated barn with two outbuildings at either end; as I was looking at it, a barn owl flew out of the main barn. It was dawn and the whole place felt very calm and peaceful," he remembers.
Richard would go on to project manage the barn conversion to create his new energy-efficient home.
(MORE: Want to learn more? Check out our guide to Eco Houses)
Image 1 of 4
Image 2 of 4
Image 3 of 4
Image 4 of 4
Starting Work on an EnerPHit Conversion
Project notes
Homeowners
Richard Clayson and Lucy Dunn
Location East Sussex
Build time Nine months
Size 172m2
Construction system Timber frame
barn cost £480,000 (2015)
Build cost £310,000
Current value £850,000
Finding the barn (with planning permission already granted) may have been a happy mistake, but getting the project completed in just nine months, within a modest £310,000 budget, is testament to his skills as a project manager.
It's even more remarkable when you hear that, one month into the build, he had to go into hospital to have a major operation. "I was paying the bills from my bed with my phone every week — but it all worked OK in the end!"
First, Richard brought essential services to the barn: water, electricity and telephone lines (the latter a long "horrendous" process) but no gas or oil, in keeping with his plans to be as carbon neutral as possible.
Then, the barn's original mud floor was dug out, levelled and insulated with Celotex.
Image 1 of 4
Image 2 of 4
Image 3 of 4
Image 4 of 4
Next, the most time-consuming part of the project: a team of three carpenters were on site for 12 weeks to create a timber frame structure within the barns and to rebuild the flint byre walls. "It's a house within a house — the new timber frame sits inside the walls of the barn, with insulation wrapped round all of it," Richard explains.
"We insulated the walls with mineral wool — it's not very nice stuff to put in but it's easy to squeeze between the studwork and rafters. It was a no-brainer to me to put as much insulation in as possible, and what we have is a building that, when modelled in the Passivhaus Planning Package (PHPP) is three times better than a Building Regulations' standard in terms of energy required to heat it."
With the timber frame in place, the project could really speed up. Two plasterers arrived to complete the plasterboarding in just one weekend, working from scaffolding and a platform to reach the eaves of the barn.
"At that stage I really felt that progress was being made; it was the same with the triple-glazed windows, which came from Estonia — once they were in, everything felt much more homely," says Richard.
Choosing Natural Interiors
Image 1 of 2
Image 2 of 2
Richard was keen that the barn and outbuildings should keep to their agricultural roots. "I was not looking for an architecturally designed house, I wanted to enhance what was already here and keep the external appearance as honest and natural as possible," explains Richard.
Internally, the original rafters of the barn are on display, along with the original carpenters' marks; on the exterior, the original clay tiles have been kept where possible, with reclaimed tiles added where needed.
Remarkably, the single-storey cowshed that sits at a right angle to the main barn was originally built with a flint wall, with every flint laid carefully at 45 degrees; these too have remained untouched. The slates on the cowshed were beyond repair though and have been replaced with new Spanish ones.
(MORE: Take a Look at our Gallery of Barn Conversion Ideas for Further Inspiration.)
Image 1 of 1
An Energy-Efficient Barn: Achieving EnerPHit Standard
When it comes to contemporary standards of energy efficiency, the conversion has jumped several centuries. In fact, it was only the seventh property in the UK to reach certified EnerPHit Standards [the Passivhaus standard for retrofits] at the time of certification.
Heating is provided by an air source heat pump, connected to underfloor heating and a mechanical ventilation with heat recovery (MVHR) system which recovers about 90% of the warm air in the house.
Richard also planted 1,000 trees on his two-acre plot, which will eventually provide biomass fuel and increase the biodiversity of the local area. "Eventually I'd like to be zero carbon," he says.
Now that Richard and his partner Lucy are settled in their new home, is there anything he would change? "All in all, not much. We have begun to add some more shading to the bedroom windows, to reduce heat gain in the summer and there are plans to put shading on the outside of the cowshed.
"On a practical level, the house is more efficient than the PHPP modelling originally predicted. And on a personal level, it is a warm, quiet, peaceful and magic place. There is space to breathe and the main barn is still awesome — the whole process has been life changing!"
Homebuilding & Renovating Newsletter
Get the latest news, reviews and product advice straight to your inbox.
Thank you for signing up to Homebuilding. You will receive a verification email shortly.
There was a problem. Please refresh the page and try again.