From Derelict to Dazzling: A Blacksmith's Forge Converted on a Budget
By Amy Reeves published
Philip and Elly Handley converted and extended a run-down barn on a budget of £85k, resulting in a versatile home which confidently utilises every inch of space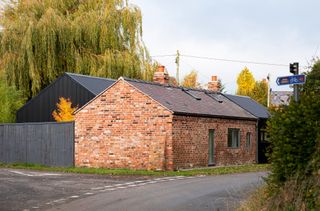 (Image credit: Jeremy Phillips)
After years of living in Singapore, Philip and Elly Handley were ready to return to the UK and to build a life closer to their families. As first-time buyers with a limited budget, they kept an eye out for unloved projects with opportunities to extend or renovate before landing on The Forge — once a derelict blacksmith's barn in Shropshire with a Grade II-listing and plenty of potential to make their own.
"The barn dates from around 1890 and had been turned into a village supply shop for a little while, but had been empty for about 15 years and was going to ruin," says Philip.
(MORE: Barn Conversion Ideas)
Now beautifully restored and extended, in no doubt thanks to Philip and Elly's endless patience and vision, The Forge is a very worthy winner of both 'Best Conversion' and 'Home of the Year' in The Daily Telegraph Homebuilding & Renovating Awards 2020.
Gaining Planning Permission
The couple bought the barn while still residing across the globe and quickly got to work designing and working with the planning department to achieve a plan that would gain planning permission.
"We wanted something contemporary so did a pre-application first just to gauge the reaction from the planners on the materials for the extension," explains Philip.
(MORE: How to Find a Good Renovation Project)
"Although the process took quite a few months, they were mostly receptive because we wanted to keep a lot of the materials, structure and character of the workshop so we were able to get to work as soon as we moved back."
"It was a bit of a shock seeing it for the first time and more than a little daunting," adds Elly. "There was no roof, ferns growing all through the floor and signs all over saying 'unsafe structure', but we could really see the potential.
Extending the Property
The resulting new home has a timeless quality, thanks to Philip's careful and confident design which sees the old blacksmith's forge meet two new timber frame extensions.
Clad with dark corrugated metal — both a nod to the building's history and a signal of the modern additions — one extension replaces bolted-on lean-to workshops and, as Philip explains, "acts as a shadow to the brick building", while the other elongates the barn to house a generous main bedroom.
Inside, clean and simple living spaces, including a bright kitchen-diner leading to a courtyard garden, make the most of every inch of space available on the compact plot.
Perhaps most importantly, the original structure has been sensitively restored by the couple. Boasting a new roof, concrete floor and plenty of insulation, the original fabric of the building — including repointed brickwork, the original timber trusses, still bearing the blacksmith's burns, and window openings — has been exposed throughout the living space.
Keeping Down Costs
The Forge is a money-savvy build, with the build coming in at £85k, or just £858/m2.
To manage such an efficient budget, Philip oversaw trades who restored the old structure and constructed the new extensions before taking on much of the work himself with Elly and a few family and friends to help along the way.
(MORE: Inspiring Budget Renovation Projects)
"It was all hands on deck because we did everything from the first fix onwards ourselves," says Elly. The couple credit their decision to source materials themselves, a flexibility for delivery dates and a readiness to take advantage of second-hand goods as the key to staying on their tight budget. Doing much of the work themselves also let them make changes and adapt to new ideas without losing money as they went along.
"I really like that we've been able to make the old building come alive," says Philip. "It was a really tight, small barn so we were trying to make the most of it and it works really well to have the modern extension with the large windows to let light in."
Assistant Editor Amy began working for Homebuilding & Renovating in 2018. She has an interest in sustainable building methods and always has her eye on the latest design ideas. Amy has interviewed countless self builders, renovators and extenders about their experiences for Homebuilding & Renovating magazine. She is currently renovating a mid-century home, together with her partner, on a DIY basis, and has recently fitted her own kitchen.
Homebuilding & Renovating Newsletter
Get the latest news, reviews and product advice straight to your inbox.
Thank you for signing up to Homebuilding. You will receive a verification email shortly.
There was a problem. Please refresh the page and try again.