Bright Ideas: 15 Ways to Introduce Light From Above
By Daisy Jeffery published
Add these glazing ideas to your architectural moodboard and bring natural light into the heart of your home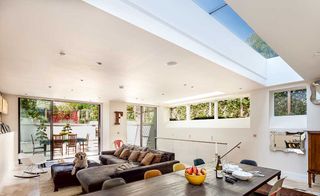 (Image credit: Jeremy Phillips)
An abundance of natural light is high on the wishlist of many homeowners looking to create their dream homes. But many often overlook the benefits that come with bringing light in from above. Here are 15 ideas that should be considered if you want to reap the benefits that natural light can offer.
1. Clerestory Windows
Clerestory windows (shown in main image above) are an ideal solution for bringing in natural light while maintaining a degree of privacy. These high-level windows can be put to good use in solving issues, such as overlooking in new extensions (a particularly useful device to help with planning permission applications), and are a great feature for drawing the eye upwards.
2. Structural Glazing
For contemporary extensions, introducing structural glazing into the design can turn what would be a standard room with minimal daylight into a bright, light-filled space. Whether you specify a glass ceiling, wrap-around corner glazing, or go for full-height glass walls, you will benefit from plenty of daylight and maximise on the views.
3. Glazed Gables
An excellent means of introducing light from above is to utilise the space within the gable by filling it with glazing. This design feature can make for a great focal point both internally and externally, and can be adopted in traditional schemes, as well as more contemporary homes with large expanses of frameless glazing. Combining with timber is a good idea (think oak frame structures and timber-clad ceilings, as here in this extension to a Listed cottage), as the material softens large areas of glazing.
4. The Open Tread Staircase
An often overlooked feature in the home, the staircase can play a big role in the way light moves between the changing levels. Whether you opt for a rising, helical or zig-zag design, choosing open treads will give a greater sense of space and allow light to trickle down. Combine with a glazed ceiling (as here, in this extension scheme designed by AR Design) or rooflight above to maximise natural light. Better still, selecting a glass balustrade will bring added wow factor.
5. Glass Roof Tiles
A great idea for barn conversions – perhaps where a few old tiles need replacing – glass pantile or roman roof tiles can be a means of introducing pockets of natural light from above without the 'obvious' presence of a rooflight. This design idea is subtle yet highly effective, as this example by Hudson Architects goes to show.
6. Double-Height Spaces
It might sound obvious, but planning in a double-height space – with a hallway and galleried landing, or living space with mezzanine level, for instance – is one of the simplest ways of poaching light from above. A good design solution here is to include circulation space with glazing on the first floor galleried landing, allowing light to flow down into the rooms below in the centre of the home that might not otherwise receive enough light.
7. The Glass Floor (or Ceiling)
Introducing light from above doesn't have to stop at rooflights — why not think outside the box and take glazing a step further with glass flooring or by introducing a panel of glass to the floor. This design idea not only lends additional light to the rooms below, but adds a real talking point to a home, as shown in the glass walkway of this coastal home. Best of all, this solution isn't just for new builds, with glass flooring being an effective retrofit solution too.
8. The Atrium
Adding wow factor upon entry, the glazed atrium is a great design idea for new builds and renovations, creating circulation space from which other rooms lead off. Formerly an open-air design concept common in ancient Roman homes (known as atria), the atrium has developed into a glazed structure, perfect for modern homes. In this project by PGB Architectural Services, the double-height glazed walls and roof flood the hallway with natural light.
9. Roof Lanterns
Perfect for more traditional schemes, roof lanterns not only fill a space with natural daylight, but can add drama and height to the interiors. They're a particularly great addition to new kitchens and sunrooms. Companies also now offer conservation roof lanterns if your home is in a Conservation Area or is a listed building, allowing you to brighten your home and be sensitive to the existing building.
10. Rooflights
Rooflights have been popular for many years, and the latest offerings can make all the difference to your home. Placed above a staircase, in a living or dining space, over a kitchen island, or in a bathroom, a rooflight will bring in twice the amount of light of the average window, and is perfect for rooms where side glazing may not be possible — or simply if you're just keen to free up wall space.
Given that many models now offer features including built-in blinds and remote-controlled opening – some models even allow the glazing to slide right back for a real 'open air' feel – you can find ones to best suit your needs.
11. The Glazed Link
Using glass to signpost the transition between the existing home and a new space can prove a highly effective design tool in extension projects. Not only does this device add a real sense of drama to the home, but it can pull natural light into the heart of the floorplan (often an issue when extending an existing home).
12. Sun Pipe
Borrowing light from adjacent rooms is one thing, but what about spaces where devices such as rooflights and windows aren't practically possible (for instance, for basements, or rooms in the centre of a floorplan)? The sun tunnel – also referred to as a sun or light tunnel – is an ideal solution for introducing natural light into those awkward spaces.
In this example, architect Matt White of MATT Architecture chose to use a sun tunnel in his home office which sits at the basement level of his family home. It allows light to reach this space, which could otherwise feel claustrophobic and dark if served by artificial light only.
13. Internal Glazing
Who says windows have to be on the exterior of the building? Internal glazing can provide a dual purpose as both a great point of interest and a source of light borrowed from a room above.
14. Lightwells
A key consideration when building a basement is how to introduce natural light below ground. The lightwell comes into its own in this situation, offering the opportunity to not only bring in light to the basement accommodation but also to include a sunken courtyard space for the homeowners to step out onto, and even an external staircase leading back up to the garden level. Here, this dramatic lightwell brings natural light to all three storeys of this London home.
15. Fanlights
A staple found in many Victorian and Edwardian houses, there's a lot to be said for introducing glazing above the front door — namely, that it is a foolproof way of bringing light into what could otherwise be a dark hallway. This is a common problem with some period homes and developer builds where the hall is a box-like space at the centre of the floorplan. It's also an ideal means of introducing light without compromising security or privacy.
If you're planning a contemporary home, why not think big with a dramatic frameless panel sitting above a pivot door — adding real wow factor.
Daisy was Features Editor on Homebuilding & Renovating for more than five years and had a passion for all things design. She has since moved on to pastures new.
Homebuilding & Renovating Newsletter
Get the latest news, reviews and product advice straight to your inbox.
Thank you for signing up to Homebuilding. You will receive a verification email shortly.
There was a problem. Please refresh the page and try again.