Renovating a Victorian House: 10 Top Tips
By Natasha Brinsmead published
Anyone renovating a Victorian house knows there are quirks and issues unique to this style of property — we show you how to make the most of these features.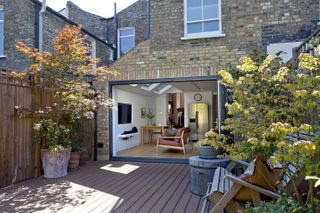 (Image credit: Fraser Marr)
Anyone renovating a Victorian house will not need convincing of the character and charm this style of house can offer. With their soaring ceilings, pretty mouldings, decorative woodwork and countless other alluring details, so it isn't hard to see why so many would-be renovators are won-over by them.
However, renovating a Victorian house is not without its challenges and the layouts of these homes do not aways suit modern-day homeowners.
Even though all houses – and their owners – are different, there are some common themes among the opportunities and difficulties presented by Victorian homes (that is, those built from 1837-1901.)
In our guide to renovating a Victorian house, we take a look at the best design and remodelling ideas, whether your house is a modest terraced home or a sprawling detached number.
(MORE: Renovating a House: The Complete Guide)
1. Add a Contemporary Victorian House Extension
While building an extension onto a Victorian house in a style that matches the original architecture can be a great way to add space and reorganise an existing layout, it is worth thinking about adding a more contemporary extension as an alternative.
Some of the most successful Victorian house extensions are those that sit in complete contrast to the original building, celebrating the fact that they are part of the evolution of the house, rather than aiming to mimic the original architecture. The key to the success of a contrasting extension is to ensure that it in some way echoes the shapes or proportions of the original house, perhaps through materials or window shapes, for example.
Aim to include plenty of glazing – perhaps through bifold or sliding doors – in order to draw light into the often dark central rooms in this style of house.
2. Remove Internal Walls
Victorians had very different ideas to us about what they wanted from their homes. So it should come as no surprise that one of the main bugbears modern-day homeowners tend to have with their Victorian properties is that the layouts can feel like a maze of small, separate spaces, with no obvious connection to one another — very much the antithesis of how many of us like to live these days. For most of us now, it is preferable to prioritise an easy flow, natural light and an open, spacious feel.
Look at the existing layout and consider knocking down internal walls that carve up spaces that could easily work as one or that block natural light from percolating between rooms. A common renovating project in Victorian houses is to remove the wall that separates a small kitchen from the dining space in order to create a large sociable kitchen diner.
3. Open up the Staircase
It is common for staircases in Victorian houses to have walls on either side, boxing them in and making them feel claustrophobic and dark.
In addition, many Victorian terraces had no hallway at all, with the stairs leading up directly in front of the front door.
Consider opening up the staircase by taking out a wall, either to one or both sides, to create a more open, brighter feel. Not only will the staircase benefit, but so will the spaces around — natural light will be able to flow through the open spaces and an all round airier feel will be achieved.
4. Make a Design Feature Out of Internal Windows
If you are extending a Victorian house and thinking about blocking up any now redundant windows, thinking again.
Instead, consider keeping them as an interesting feature. Not only can they add character, but it is also a good way to ensure that your extension doesn't interfere with the flow of natural light reaching inner rooms.
5. Missing Original Features? No Problem
While original features might be highly desirable in any Victorian home, there are many cases where they have long been missing, the victims of some poor misguided attempt to modernise the house during the post-war era when they were seen as unfashionable.
Although you could indeed seek out replacements at reclamation or salvage yards, or try your luck at auction, you might like to see this lack of original features as an opportunity to embrace the bare bones of the building instead – high ceilings or large window openings perhaps – and highlight these with a more contemporary interior scheme that looks to the future as opposed to the past.
6. Dealing With a Dark Landing
Landings are often the gloomiest spots in Victorian houses, where the principal, more public, spaces were often prioritised when it came to natural light. There are several design ideas that can help here; you could bring in light from above using a rooflight or, in the name of keeping disruption to a minimum, a lightpipe.
Lightpipes are nifty little solutions in these situations, weaving their way from the roof – where they can be fitted flush with the roof tiles – to the ceiling; their reflective inner coating shining bringing in light to dingy spots. However, if it is views of the sky or treetops you are after, a rooflight will be a better option.
If you are keen to leave the ceiling or roof well alone though, consider replacing solid doors with glazed or partially glazed ones to allow light from other rooms to penetrate the landing. Alternatively, swap solid balustrades for more open or glazed versions.
7. Add a Side Return Extension When Renovating Your Victorian House
Many Victorian house renovations are carried out to terraced or semi-detached properties. The ideal way to add space to these types of houses? A side return extension of course.
They deal with that awkward narrow space that often runs down the side of these properties, opening up narrow kitchens while offering the opportunity to flood those darker, inner rooms with light when fitted with large glazed openings that look out over the rear outside space, or via banks of rooflights.
While you may be able to extend under Permitted Development, a side return extension often requires the removal of walls, so you will need to consult a structural engineer.
8. Or How About a Two-storey Extension?
If you plan on extending your house, how about going for a double storey extension? Many people shy away from the idea, thinking they can't afford it, but a two-storey extension is actually a much more cost-effective way of adding space than a single-storey structure.
The reason for this is that you potentially get twice the space offered by a single-storey extension, but the cost of the foundations and new roof remain pretty much the same. Given that the roof and foundations tend to be the most expensive part of any extension, it makes sense to add two storeys where space and permissions allow.
A two-storey extension can often make perfect sense in Victorian houses with ground floor bathrooms where they create an opportunity to move it upstairs without having to sacrifice a bedroom.
9. Make the Hall a Focus When Renovating a Victorian House
Many terraced and semi-detached Victorian properties were built with either a very tight entrance hall or without one at all. Family homes work best with hallways, where coats and shoes can be removed and stored, and guests welcomed in.
There are several ways to create one in these spaces. Some people choose to remove the wall that separates the staircase from an adjoining reception room or outdoor rooms, such as an old coal store and use it as one open space. Otherwise, it might be possible to shave a section off a room that lies next to the front door and use it as self-contained hall space instead.
10. Convert the Loft in a Victorian House Renovation
Many Victorian houses were built with generous attic spaces and pitched roofs, making them ideal candidates for loft conversions. A loft conversion is a really economical way to squeeze more space out of a house and will almost certainly add value to it.
At the cheapest end of the market lie simple rooflight conversions, while dormer and mansard loft conversions will cost considerably more — although will also add much more space, and are often required where head height is an issue.
You will also need to think about how to make space for the new staircase that will be needed to link the loft to the rest of the house. One of the best ways is to make the existing landing a little bigger by stealing a sliver of space from an adjacent bathroom or bedroom, then build the new stairs sitting above the existing flight.
Natasha is Homebuilding & Renovating's Associate Editor and has been a member of the team for over two decades. An experienced journalist and renovation expert, she has written for a number of homes titles. She has renovated a terrace and is at the end of the DIY renovation and extension of her Edwardian cottage. She is now looking for her next project.
Homebuilding & Renovating Newsletter
Get the latest news, reviews and product advice straight to your inbox.
Thank you for signing up to Homebuilding. You will receive a verification email shortly.
There was a problem. Please refresh the page and try again.