Listed Building Consent: A Guide to All You Need to Know
By Douglas Kent published
Listed building consent ensures any changes or alterations made to listed buildings are done sympathetically. Here's what you need to know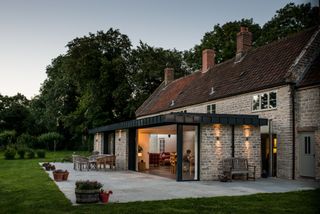 (Image credit: Orme Architecture, photographer Marc le Galle)
Listed building consent is the permission required from a local planning authority before making changes that affect the character or appearance of a building that is statutorily listed as nationally important for its architectural or historic interest.
The purpose is to legally protect the special interest of the building through the planning system. When considering whether to grant or refuse an application for consent, the planning authority must give particular attention to the desirability of preserving the building, its setting and those features that make it special.
(MORE: Buying a listed building)
What's Classified as a Listed Building?
A listed building is one that is statutorily listed as nationally important for its architectural or historic interest. There are various gradings to listing: I, II* (two star) and II, in order of importance, in England and Wales; in Scotland, A, B and C; and Northern Ireland A, B+, B1 and B2. Listed building consent is required for material alterations to a listed building regardless of its grade of listing.
Some local authorities also maintain a list of locally listed buildings. Listed building consent is not required for work to a locally listed building but its status is a material consideration in determination of planning applications affecting it.
Is Listed Building Consent Different to Planning Permission?
Listed building consent is different from planning permission, which may also be required. Whereas listed building consent is intended to protect only the special interest of a building and its setting, the need to obtain planning permission brings into consideration broader considerations to deter inappropriate development, such as overdevelopment or the impact on highway safety.
Unlike with planning permission, there is no fee to apply for listed building consent or a subsequent application for discharge of planning conditions attached to such consent. Planning authorities may charge for pre-application advice, however, relating to either planning permission or listed building consent.
What are the Principles of Listed Building Consent?
Listed building consent is required to undertake a 'material' alteration to a listed building as opposed to a like-for-like repair. Material alterations include partial or complete demolition, extension and other changes that affect the character of the building. There are often 'grey areas' concerning what counts as an alteration rather than a repair. If you are in any doubt, check with the local planning authority.
Contrary to common belief, the whole building is normally listed and not just the exterior or certain features. Listing can also cover attached structures or features, as well as buildings, objects or structures within the curtilage (the land immediately surrounding it).
Extending a Listed Building — What do I Need to do First?
When considering an extension to a listed building, it is advisable to discuss your proposals with the local planning authority and/or conservation officer there, at the earliest opportunity. It is often sensible to seek such advice formally by making a pre-application submission to establish whether the proposals are likely to receive support.
Listed building consent will almost certainly be required, for which it will be necessary to produce a heritage statement assessing the significance of the building and likely impact of the extension on this. Planning permission may well be needed, too, where 'Permitted Development' rights automatically allowing an extension if specific limitations and conditions are met have been restricted, for example, in a conservation area or area of outstanding natural beauty.
(MORE: Do Designated Areas Make Good Building Plots?)
Renovating a Listed Building or Separate Building in the Grounds - What do I Need to do First?
As when thinking about an extension, it is prudent to consult the local authority at an early stage when considering the renovation of a listed building or building within the grounds where the work involves alterations. Buildings within the grounds, or 'curtilage', of a listed building may also be considered as listed where they pre-date July 1948.
If listed building consent is required – for instance, when renewing fabric such as plaster – a heritage statement will need to be included to assist the local planning authority with understanding the impact of the proposals on the significance of the building. Planning permission may also sometimes be required where renovation work will materially affect the external appearance of a listed building, as with the replacement of windows.
Demolishing a Listed Building
Listed building Consent is required to demolish (all or part) a listed building. Consent for outright demolition is unlikely to be granted except where there is exceptional and strong justification.
(MORE: Planning Permission to Demolish and Rebuild)
No Outline Planning Allowed
It is not possible to make an application for 'outline' listed building consent. Any application must give sufficient detail; including a plan and other drawings necessary, to allow the impact of the works on the building to be assessed properly. However, many councils have a pre-application advisory service for alterations to listed buildings, their landscapes and settings for which a fee is payable.
Can I do any Works on a Listed Building Without Consent?
General maintenance and minor 'like-for-like' repairs do not normally need listed building consent providing they do not affect the character of a listed building. Such work includes redecoration, replacement of modern kitchen and bathroom fittings, renewal of concealed services and repointing (refilling) small areas of mortar joints in walls.
More substantial repairs may require consent depending on their extent and nature. While, for example, patch pointing to fill a localised area of open mortar joints in a wall using matching lime mortar will not usually require listed building consent, wholesale repointing of an elevation or the use of a cement-based or alternative mortar type could well do. Inappropriate cement-based mortars would not gain consent.
How do I Find out if my Building is Listed?
To find out whether a building is listed, contact the local authority or relevant national heritage body:
The usual pre-purchase searches carried out by a conveyancing solicitor should also pick up whether a building is listed.
(MORE: Conversion guide: what's involved?)
Continue reading this article
One-off payment: £4.99 for six months full access to The Planning Hub
The Planning Hub offers in-depth guides to planning permission in England, brought to you by Homebuilding's planning experts
Instant access to planning permission information, vital to the success of your project

Independant advice from leading Homebuilding & Renovating planning experts

Discover what you need to know to get your plans approved with minimum hassle

Get to grips with complex planning rules with our easy-to-read guidance
Continue reading this article
One-off payment: £4.99 for six months full access to The Planning Hub
Homebuilding & Renovating Newsletter
Get the latest news, reviews and product advice straight to your inbox.
Thank you for signing up to Homebuilding. You will receive a verification email shortly.
There was a problem. Please refresh the page and try again.