How to insulate your house: The best ways to improve the efficiency of your home
If you're renovating your house, how should you tackle insulating the roof, walls and floors? Energy efficiency expert Tim Pullen shares his advice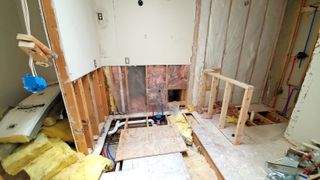 (Image credit: Future)
How to insulate your house is about making your home more comfortable to live in, thereby preventing the urge to ramp up the heating. It's therefore also about saving energy, and saving money and carbon — particularly important in present times. And having insulation installed will usually repay the investment many times over. Better, in that respect, than any form of renewable energy.
But if you're renovating a house how much are you likely to have to budget to insulate it well? And if your budget is restricted, should you invest in one thing above the other — for example, is insulating walls more important than insulating than the roof? Or should you strike a balance between insulating the whole house?
Here's our energy efficiency expert Tim Pullen's advice on how to insulate your home, and where best to invest.
How to insulate your house: Where to start?
For a new build, the Building Regulations set a minimum standard of insulation for each element – roof, walls and floor – so in one respect, decision making is easier. Many self builders creating their own homes tend to go above and beyond those standards.
However, in existing house it is more often the house itself that sets the standard by limiting what is actually possible. "What's more, factors such as the how the walls, floors and roof are constructed will all have a bearing on how you insulate as well what level of insulation is included. As such, there's 'no one-size-fits-all' approach to insulating existing homes," says Homebuilding & Renovating editor Claire Lloyd.
Here we'll look at the common approaches to insulating roofs, walls and floors and some of the opportunities and challenges presented. Insulating an accessible loft space is a far easier and cheaper task than externally insulating a wall, for instance.
It's also important to note that smaller measures, such as draught proofing around openings such as windows, doors, open chimneys and letterboxes, for instance, and insulating pipes and so forth, should not be overlooked. They are typically inexpensive ways of helping to regulate internal temperatures and helping to save energy.
What is the best way to insulate your roof?
For insulating a roof the Building Regulations require a minimum of 270mm of mineral wool (or similar natural insulation). In most cases it will not be a problem executing this in an existing house.
If there is some insulation already in place it may be that this can be topped up but if the old material breaks up easily in the hand then it is probably not doing a lot of work and needs replacing.
You should bear in mind that about 25% of the heat in an uninsulated house escapes through the roof. The typical cost of 270mm mineral wool insulation for a four-bedroom house is around £700, which could save around £500 per year.
The exception to this is with vaulted ceilings or insulating a loft which will become a habitable room, where dropping the ceiling may be needed to allow rigid foam insulation to be installed between the rafters (leaving an air gap between the insulation and the underside of the roof ). The thickness of the insulation will vary depending on the depth of the rafters and the headroom available.
Aim for 150mm (200mm would be good) but you may have to settle for less. Unless, that is you're looking to reclad the roof.
It's also worth paying attention to insulating a loft hatch to ensure no heat is lost there.
What is the best way to insulate walls?
Walls are a different proposition as what can be achieved is dictated by the construction of the wall – whether it is solid, cavity or timber frame – the external look of the walls, the internal dimensions of the room and whether there is already some insulation in an existing cavity.
Again, the Building Regulations give us a minimum standard to aim for when insulating a wall and that is a U value of 0.3W/m2K, achieved with 80mm of rigid foam insulation or 120mm mineral wool.
When it comes to insulating walls in existing homes, there are several options: external, cavity or internal. We'll explore each in a little more detail here.
1. How to insulate your house walls externally
External wall insulation only works with a solid wall and is the most effective because it literally wraps the house in insulation. But this method is not always possible as the look of the wall may need to be retained.
And it is the most expensive option, with typical costs for a four-bedroom house in excess of £12,000, bringing an annual saving of around £600.
2. How to insulate your house's wall cavity
The cavity in a cavity wall is likely to be only 50mm wide (when we actually need to introduce 80mm of insulation) and it may not be suitable or clean enough, to enable cavity wall insulation to work properly.
This becomes a key issue in that if the cavity is not suitable (and that situation is quite common) then filling it with insulation opens up the possibility of cavity wall insulation problems such as introducing damp patches. The solution to this is to get the cavity inspected by a reputable installer.
The likely cost of injected cavity insulation is upwards of £2,500, which is estimated to save around £400 per year.
If the cavity is not suitable alone but external insulation is a possibility then installing both would provide the desired thickness and a rainproof barrier. (Opting for external insulation has the added benefit of providing a rainproof barrier.) Though it is effective this is not a cheap option.
3. How to insulate your house walls internally
If all else fails and the cavity is not suitable (or there is no cavity) and external insulation proves just too expensive, then internal wall insulation is the only option available.
It's likely to be the least effective solution in that it is usually difficult to find room to install even 50mm when we actually, ideally, need substantially more. In this case it's about just doing the best that's possible in an existing house, and accepting that anything is better than nothing.
Even 20mm will have an impact on heat loss but less than that is barely worth the effort (and the cost) of installing it.
Does insulating your floor make a difference?
About 20% of the heat in the house will be lost through the floor, which is less than escapes through the roof but not by a great deal.
When it comes to insulating floors, ideally we want almost as much insulation as is needed in the roof, but this can be extremely difficult to achieve, especially where there's a solid concrete floor in an existing home. In that case, the insulation will necessarily be thin and consequently only have a small impact on overall heat loss.
Again, anything is better than nothing and it will at least make the floor feel warmer, reducing the urge to turn the heating up.
Insulating suspended floors provides better opportunities but that in turn increases cost. There are a number of options here – from sheep's wool between the joists, to putting rigid foam insulation in and sealing the joist, to robot-applied sprayed foam.
In a four-bedroom house it is likely to cost in the order of £1,500 to £2,500 and likely to save around £130 per year.
The importance of continuity
Once you've chosen where and how to insulation and which material to use, whether it be mineral wool, wood fibre insulation or other eco insulation, it's important to plan how to insulate your home without leaving any gaps. With an existing home, the roof insulation needs to meet the insulation in the walls, which meets that in the floor. There must be continuity.
Gaps between each element, or indeed between each sheet or roll of insulation will leave a cold bridge, a quick exit route for heat, which will significantly impact on the overall effectiveness of your investment so these should be eliminated as much as possible.
DRAUGHT PROOFING
Draught proofing also has DIY potential and around 10% of the heat in the house is lost through draughts. The cost is likely to be around £100 to £150 for a DIY job or £250 to £300 if a tradesperson needs to be called in and the savings can be up to £110 per year.
It also makes the house feel warmer, presenting the possibility of turning the heating down a bit, which is the main aim, after all.
This includes the window and door reveals, where it is difficult to get a full thickness of insulation in without impacting the look (and operation) of the window but there are specialist products for just this. The Proctor Group provides a number of options with its Spacetherm range. Very thin, very effective, but not very cheap.
If the budget is pretty tight, then it is better to install less insulation on each element – roof, wall and floor – than to blow all the budget on just one element, again thinking of continuity. This approach won't necessarily cut the cost as much as we might hope because the labour cost will remain largely the same, however much insulation is being installed.
One way of looking at it is that when it's cold, just putting on a pair of gloves only keeps your hands warm; wrap your whole body up and you reap the benefits from head to toe.
But while wall insulation will remain a professional job, it is quite possible for loft and floor insulation to be a DIY job.
Get the Homebuilding & Renovating Newsletter
Bring your dream home to life with expert advice, how-to guides and design inspiration, direct to your inbox.
Tim is an expert in sustainable building methods and energy efficiency in residential homes and writes on the subject for magazines and national newspapers. He is the author of The Sustainable Building Bible, Simply Sustainable Homes and Anaerobic Digestion - Making Biogas - Making Energy: The Earthscan Expert Guide.
His interest in renewable energy and sustainability was first inspired by visits to the Royal Festival Hall heat pump and the Edmonton heat-from-waste projects. In 1979
this initial burst of enthusiasm lead to him trying (and failing) to build a biogas digester to convert pig manure into fuel, at a Kent oast-house, his first conversion project.
Moving in 2002 to a small-holding in South Wales, providing as it did access to a wider range of natural resources, fanned his enthusiasm for sustainability. He went on to install renewable technology at the property, including biomass boiler and wind turbine.
He formally ran energy efficiency consultancy WeatherWorks and was a speaker and expert at the Homebuilding & Renovating Shows across the country.