Hallway Design: How to Set the Tone for Your Home
By Natasha Brinsmead published
A well-designed hallway will set the right tone for the rest of your home. This guide explains how to go about it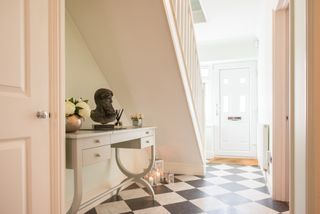 (Image credit: getty images)
As the first area of the home you are greeted with when you walk through the door, the hallway is more important than it is often given credit for. It establishes what awaits beyond, but it also has a practical role.
Your hallway needs to be able to cope with a number of tasks. First and foremost, it should provide a buffer zone between outside and inside to protect the living areas from the cold.
Additionally, it should be able to withstand muddy shoes, as well as providing a space for both them (and coats) to be stored. The more space you can get into your hallway the better - it'll make getting large items such as pushchairs, deliveries and furniture in and out of the house much easier.
Plan in Storage
Great storage solutions are key to this space working well. Even if you are limited on size, wall hooks and shelving, along with pigeon hole-style cabinets, will revolutionise busy mornings when you are searching for coats, scarves and keys. Shoe storage is a must and if you have the space available, a bench or some seating works well too.
Consider one of the newest trends for storage staircases, which can include a bottom step/storage drawer or those with open treads designed to hold shoes, books or whatever you need to store. Incorporating storage into the staircase or above doorways are clever ideas that take up zero floor space.
(MORE: Staircase Design)
Design in Natural Light
One of the most common problems that people face when designing a hallway is how to get natural light into what is often a room with few windows. Ensure there is plenty of natural light coming into the space so that the hallway isn't dingy.
If there is no scope for including a window, a partially glazed door or one with a fanlight or sidelights will bring light in. If privacy is an issue, using frosted glass or a stick-on window film will solve the problem.
Likewise, high-level clerestory windows, lightpipes, (which bring light down a reflective tube from the roof,) and even rooflights, depending on the design of the house, are all great ways to draw in plenty of light without attracting the gaze of passers-by.
When it comes to artificial lighting, wall uplighters and downlighters are good in narrow spaces, highlighting the ceiling and floor to distract the eye away from the fact that the space is confined.
(MORE: Lighting Design Ideas)
"Consider Width, Daylight and Views" says Architect Niall Maxwell, Rural Office For Architecture (opens in new tab)
Hallway design tends to be the poor relation in most contemporary housing. It performs the essential role of entrance, but never gets seen as a habitable room in its own right. Hence why, with many houses, this space ends up being cluttered with bikes, bags and shoes, and is usually an afterthought once the main spaces have been planned — rather ironic when it's the first thing you encounter upon entering a property.
Hallways need to be considered as the fulcrum to a property — the centre where everything happens and from where you orientate yourself.
Choosing a Floor Covering for Your Hallway
Carpet rarely works well in a hallway. The flooring you choose in this area of the home needs to be durable and easy to clean, and for this reason hard floors are best.
Both wooden flooring and stone look great in this area. Hardwood flooring withstands heavy traffic better than softwood. If you are worried about the hall looking too sterile, a rug well inside the front door or a stair-runner softens the look.
Although not quite as easy to clean as hard flooring, natural carpet is pretty hardwearing. Coir is particularly durable, whilst the slightly waxy nature of seagrass makes it stain resistant.
(MORE: Types of Carpet)
"Hallways Should Regain their Status" says Architect Robert Evans, Evans Vettori Architects (opens in new tab)
When designing houses, nowadays there is often pressure to minimise the hallway in favour of larger living areas and bedrooms. The hallway in many modern houses is no more than a three foot-wide corridor with the staircase off, resulting in the inevitable game of 'sardines' when the family arrive to visit.
A squarer space, with a wide front door and enough room to hang up your raincoat while talking, makes all the difference — even better if there is enough space for a piano, from whence music can waft through the house!
A generous hallway can create an overall impression of space without necessarily having a large floor area.
Consider Available Space
In terms of space and location, a centrally located hallway is the ideal, with all rooms leading off this area — Georgian house designers had this down to a fine art.
However, this is not always possible — particularly in semi-detached houses or in renovations. If you have nothing more than a claustrophobic space in front of the staircase, aim to steal space from elsewhere. Knocking down the internal wall dividing the hallway and an adjacent room, creating a side extension or a garage conversion may all be options, as can doing away with the conventional entrance hall in favour of a dining hall.
If you are working on the design for your self build, give some thought to the hallway and aim for a more square-shaped hallway as opposed to one reminiscent of a corridor. This way you will easily be able to include storage units and hanging space, as well as give yourself some breathing space.
However, just because you might have the space available, do not make the mistake of designing the hallway to be overly large — it should remain in proportion to the rest of the house.
Those renovating a smaller house with no hallway – common in compact Victorian terraces – should consider building in some form of lobby, to provide a space between the front door and the reception room, ensure enough space to take off shoes and to shelter the living space. Even erecting a partial stud wall to create some division is a great idea.
"Mix Style and Storage" says Architect Darren Bray is Associate Director PAD Studio (opens in new tab)
Hallways have to be both practical and stylish. They must contain storage for coats, shoes or bags and achieving this by hiding storage within panelled walls is a great idea.
Opening up hallways to the first floor and roof, by creating a double-height space, can add drama. Bringing visitors through a low-entrance ceiling into these volumes can create an explosion of space with a double-height galleried element.
Lighting is also critical — you don't want to overpower a hallway with artificial light. Contemporary pendant lights can be really effective.
Dining Halls
Does this American interior design standard work as well in our homes?
One of the most recent house design trends in the UK – and one that has been around for some time in the US – is to eliminate the separate entrance hall altogether, combining the entrance with another room of the home, commonly the dining room — hence the term 'dining hall'.
The idea behind this layout is that much circulation space in the home (hallways, landings, corridors etc.) is wasted space that could be put to better use.
However, the success of this setup largely depends on the lifestyle of the homeowners and also on how well the design is executed.
Dining halls work best where plenty of space is available and when a sense of grandeur can be achieved. In small spaces, having the front door open directly into what is essentially a living area can feel intrusive and also be impractical in terms of muddy shoes, hallway clutter and that unpleasant blast of outside air that will enter the room every time the door is opened.
In order for a dining hall to work well in a smaller space, some form of division is necessary, be it a central fireplace, a change in floor levels or in ceiling height, a partial wall or even a moveable room divider/storage unit.
(MORE: 30 House Design Ideas)
Natasha is Homebuilding & Renovating's Associate Editor and has been a member of the team for over two decades. An experienced journalist and renovation expert, she has written for a number of homes titles. She has renovated a terrace and is at the end of the DIY renovation and extension of her Edwardian cottage. She is now looking for her next project.
Homebuilding & Renovating Newsletter
Get the latest news, reviews and product advice straight to your inbox.
Thank you for signing up to Homebuilding. You will receive a verification email shortly.
There was a problem. Please refresh the page and try again.