Fabric First: How to Limit Your Home's Reliance on Heating
Fabric first is an approach to building a home that has gained traction with architects in recent years. We explore what it means, how it's achieved and why it may be the future of our homes...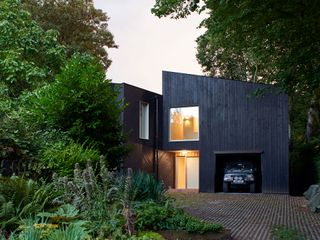 (Image credit: Facit Homes)
While a fabric first approach to building is applicable to all new homes (and to retrofitting existing properties too), it is self builders and their architects who have so far paved the way for fabric first eco houses here in the UK.
However, fabric first building is likely to become an increasingly important approach in the years to come, with suggestions that the idea will be included in the Future Homes Standard, due to be implemented in 2025, through the Fabric Energy Efficiency Standard (FEES).
This would put the fabric first approach as the default for new build homes, and help to dismantle barriers which stand in the way of a wider scale adoption, including higher than average costs at present.
With that in mind, we take a look at what the fabric first approach is, and why it's the way forward for self builders and renovators.
What is a Fabric First Approach to Building a Home?
A fabric first approach is a relatively simple concept — by focusing on reducing a home's heat loss, you can achieve a low carbon, sustainable house that's affordable to heat.
Space heating makes up about 60% of the energy an average home consumes, so even when using renewables to heat your home, without a fabric first approach you're not creating a low energy home.
"Fabric first prioritises heat conservation over heat generation," says Rhys Denbigh, Director at Facit Homes, "with the theory being that no matter how renewable your energy may be, it is always best to use as little of it as possible."
"This is best achieved through insulation, good windows, airtightness and optimised design to passively capture as much of the sun's heat as possible," explains sustainability architect Charlie Luxton.
Charlie describes renewable heating sources without a home's fabric being prioritised as "the equivalent of having a slow puncture and obsessing about how to blow up the tire, rather than simply fixing the hole.
"If you want to fix the hole (or stop your building losing heat) you need to be far less interested in generating heat, because a thoroughly insulated, super-airtight house with a good ventilation system requires, in many instances, no heating system at all."
In a fabric first home, attention also needs to be given to how the building can remain cool during warmer months using natural ventilation methods. This avoids the need for air conditioning, which can consume huge amounts of energy too.
How to Design a Fabric First Home
Unlike other eco houses strategies, such as Passivhaus, there are no official guidelines or targets you need to meet to qualify as a fabric first approach — however, there are key principles to follow in creating a sealed envelope for the basis of your building:
"Whilst building regulations performance requirements have increased over the years, a fabric first approach should be exceeding them in all areas such as U-value and airtightness," says Rhys.
A side effect of an airtight fabric first home is the additional need for introducing fresh air into the home. The most popular choice at present is a Mechanical Ventilation with Heat Recovery (MVHR) system.
"Stack ventilation is another method that we often employ to bring fresh cooler air into the home during the night in warmer months," continues Facit Home's Rhys Denbigh. "It involves including a central rooflight above the stair that opens to allow warm air to pass up and out of the building, drawing in cooler air from ground floor windows set to a locked ventilation opening."
Much like in Passivhaus designs, triple glazing would be the ideal for a fabric first home, while a well insulated constructed system would also likely be chosen.
Thermal bridging refers to how an element of the building conducts heat from inside to outside. Steel is common source of thermal bridging in a build, but there are many other details which can contribute to thermal bridging.
Modern prefabricated homes are going to be following a fabric first approach by default, and may offer a higher quality of the sealed envelope. Panel products such as structural insulated panels can ensure high levels of insulation and fit together snugly on site to improve airtightness.
When designing a fabric first home, an architect may use a modelling system to test how a design is affected by its environment and approximate its energy usage as a baseline to make further reductions.
"There are several computer programmes that do this," says Charlie Luxton, "the Passive House Planning Package (PHPP) being our office's weapon of choice."
Orientating a Fabric First Home for Solar Gain
While not technically related to the fabric of the home, a fabric first designed house will look at optimising solar gain to reduce reliance on space heating.
Where possible, each home is carefully orientated at an angle that captures free, renewable energy from the sun. This, in particular, is where modelling systems come into play, allowing the architect to look at the angle of the sun at different times of year to see how the home is exposed to solar gain.
"In winter, low angle sunlight hits south facing windows and creates warmth in the home," says Rhys Denbigh. "On the flip side, in the summer we need to prevent overheating from the powerful high angle sunlight by shading the openings. This can either take the form of an overhanging first floor or projecting solar shades or 'brise soleil'."
How Much Will a Fabric First Approach Add to the Build Cost?
Building to a fabric first specification will increase your build cost, as it will require more materials and materials of a higher quality.
"It will demand a high level of detail and quality of build in order to realise the benefits of the approach," says Rhys. "It's hard to estimate exactly how much more though, as we only follow the fabric first approach and do not offer a low performance option!"
However, the fabric first approach can lead to a longer term payoff, reducing energy bills to offset this initial expenditure.
Get the Homebuilding & Renovating Newsletter
Bring your dream home to life with expert advice, how-to guides and design inspiration, direct to your inbox.
Hugh is Deputy Editor of sister title Livingetc.com and former Digital Editor of homebuilding.co.uk. He has worked on a range of home, design and property magazines, including Grand Designs, Essential Kitchens, Bathrooms, Bedrooms and Good Homes. Hugh has developed a passion for modern architecture and green homes, and moonlights as an interior designer, having designed and managed projects ranging from single rooms to whole house renovations and large extensions. He's currently renovating his own Victorian terrace in Essex, DIYing as much of the work as possible. He's recently finished his kitchen renovation, which involved knocking through walls, and landscaping a courtyard garden, and is currently working on a bathroom renovation.