10 Landing Lighting Ideas for the top of the Stairs
By Hugh Metcalf published
These landing lighting ideas will help you brighten up this tricky area in your home, ensuring it's well-lit and looks good too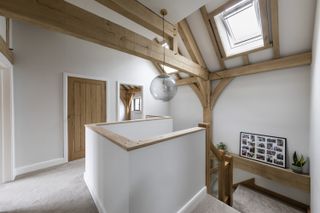 (Image credit: Jeremy Phillips)
If you're stuck when it comes to landing lighting ideas, you won't be the only one. Landings present a bit of a challenge when it comes to lighting design, for several reasons:
Upstairs hallways can be narrow, and any lighting needs to not hinder you from using the space.
Unless you have high ceilings or arrange your lighting cleverly, pendant lights may get in the way on a landing.
Landings often lack sources of natural light, especially in narrow period homes, so artificial lighting is even more important for these areas.
Of course, the type of landing you have to illuminate will very much depend on the type and style of home you live in. With that in mind, we've picked out some of the best ideas for lighting a landing for different set-ups and layouts, so you can take stock of which works best for your home.
1. Flush Lighting is a Bright Landing Lighting Idea
Pendant lights in a hallway are not necessarily the best landing lighting ideas. Unless you have really high ceilings, you'll have to make these lights artificially high when installing them, which can look odd for light designs that are meant to be dropped dramatically over furniture or a kitchen island.
Instead, look into flush lighting for your ceilings on a landing where space is tight and you need small hallway ideas for lighting. Flush lighting will not only not get in the way, but case an even glow across the space, keeping your landing well illuminated.
2. Or Choose a Semi-Flush Pendant for Landings With a Little More Ceiling Height
The only problem with flush lighting is that it can sometimes lack a little of the design drama that pendant lights offer as a hallway idea. The compromise? Semi-flush lighting.
Semi-flush lighting still doesn't have the lengthy flexes of pendant lighting, but they protrude a little more from the ceiling, allowing for more decorative, interesting designs. Spotlights tend to be semi-flush, giving you options for directional, accent lighting too.
3. Drop a Pendant Lighting Over the Stairwell
If you can't resist a dramatic dropped pendant light for your landing, one idea for making it work is to drop it over your stairwell. Whether this is at the top of the stairs or over the central volume of your staircase design, this ensures that the pendant isn't in a place where anyone needs to walk.
This beautiful cluster design from Original BTC just wouldn't work overhead on a landing, but by re-locating the light in between the landing and the next flight of stairs, it's possible to drop it lower and make a real design feature of it.
4. Or Create a Stunning Chandelier With Multiple Dropped Pendants
If you have a wide staircase with a central light well, a tiered chandelier can be used to create not only a bold staircase lighting idea, but also offer practical lighting across the different storeys of your home.
While some retailers offer stairwell lighting that'll meet most briefs, for an extra large stairwell across multiple storeys, you may have to look into bespoke options for this landing lighting idea.
5. A Statement Pendant is the Best Landing Lighting Idea for the Right Home
If space allows, an oversized statement pendant light is the perfect idea for the top of the stairs. This lofty, open landing in this oak frame home by Welsh Oak Frame demanded a chandelier to fit the proportions of the pitched roof, but has been paired with some more practical lighting in this landing area too — the perfect lighting idea for vaulted ceilings.
6. Pick the Right Wall Lights for Narrow Landings
The same principle that applies to pendant lights also needs to be thought of for wall lights on a landing. In a narrow space, wall lights should be as close to the wall as possible to avoid you and your family knocking into them.
If you do choose to use more decorative wall lights on your landing, consider their placement. Putting them over occasional furniture, or even radiators, can help avoid knocks and ground them in your space.
7. Accent Lighting Is a Super Effective Idea on a Landing
Lighting on a landing can be both decorative and functional. You don't need specific task lighting for a hallway, so accent lighting can be used to not only draw attention to art and the architecture of the space, but also provide enough lighting for using the landing at night time.
Uplights, spotlights or downlights are all effective for accent lighting. Consider their placement carefully though. While downlights might usually be used in the middle of the ceiling, in this design by John Cullen Lighting, they've been used at the edges, creating dramatic shapes on the walls.
8. Simple Downlight Might be Just Enough for Your Landing Lighting
In certain instances, downlights are all the lighting you need for a landing. This modern self build, which has a raised platform landing open to the ground floor, is perfectly well lit during the daytime thanks to large windows and rooflights, while during the evening, it benefits from the ambient light from the ground floor lighting fixtures too.
Simple, unobtrusive downlights offer practical lighting for getting to bed in the evening, and even for jobs like cleaning the glass balustrades, while preserving the clean lines of this modern landing.
9. Illuminate the Floor for a Low-Lit but Safety Conscious Landing
There's nothing worse than having to get out of your bed in the middle of the night and put on a super bright overhead light in order to make it across your landing. While installing low-level lighting might be a dramatic solution to the problem, it's super effective, and can create a landing with real wow-factor while you're at it.
10. Use LED Strips for a Modern Landing Lighting Idea
Another option for discreet lighting for a landing is LED strips. These can be recessed, either along the floor or the ceiling in a shadow gap so that your landing light is almost imperceptible when not switched on. These strips will offer an even lighting across your space and not take up any valuable space, making them especially suited to narrow landing spaces.
Hugh is Digital Editor of homebuilding.co.uk and has worked on a range of home, design and property magazines, including Grand Designs, Essential Kitchens, Bathrooms, Bedrooms and Good Homes. Hugh has developed a passion for modern architecture and green homes, and moonlights as an interior designer, having designed and managed projects ranging from single rooms to whole house renovations and large extensions. He's currently renovating a Victorian terrace in Essex, DIYing as much of the work as possible. His current project is a kitchen renovation which involves knocking through walls and landscaping a courtyard garden.
Homebuilding & Renovating Newsletter
Get the latest news, reviews and product advice straight to your inbox.
Thank you for signing up to Homebuilding. You will receive a verification email shortly.
There was a problem. Please refresh the page and try again.