Porch Ideas: 10 Beautiful Ways to Frame Your Front Door
After some exciting porch ideas? Prepare to be inspired, our our gallery has porches to suit every style of house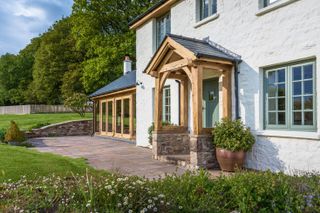 (Image credit: Welsh Oak Frame)
Whether you are looking for porch ideas because you plan on including a porch as part of a self build project, are hoping to replace an existing eyesore or are renovating a house that could do with another dimension to its façade, a porch is a fantastic design element to include.
As well as presenting the opportunity to really 'lift' the exterior of your home, a porch is also a practical feature.
Depending on its design, a porch can provide shelter from the elements whilst unlocking the front door, a covered area in which to store outdoor footwear or firewood or, in the case of enclosed porches, act as a decompression space between inside and out — somewhere to keep wet coats and muddy boots.
Scroll down to see our round up of the very best porch ideas we've seen, from contemporary statement porches, to oak frame designs sure to add character to any home.
(MORE: Thinking about replacing your front door at the same time? Get a quote from one of our partners)
1. The Enclosed Porch
This traditional-style porch from Anglican Home Improvements, with its tiled gable roof, is a great example of an enclosed porch.
Where hallway space is limited, an enclosed porch like this acts almost like a small extension, where muddy boots and wet outerwear can be shed and stored. Including plenty of glazing in the design ensures the spaces beyond are not dark and gloomy.
2. The Oak Frame Porch
Even those without an oak frame home can benefit from the warmth and character that a timber framed porch can add to a house.
This design, from Border Oak, is self-supporting, like all their porches, meaning it stands against the house as opposed to being structurally integrated.
Kits are prefabricated off site, ready to be assembled by your builder or even on a DIY basis.
3. The Overhang Porch
A simple overhang can be visually stunning. This design, seen with a striking textured bronze pivot door from Urban Front, has been planted on top — a brilliant porch idea to steal.
Consider incorporating lighting within your canopy porch (integrated spotlights work well) and security cameras.
(MORE: Green Roofs)
4. The Statement Porch
This jaw-dropping porch idea is from Ion Glass. The structural glass porch has been added to a heritage barn conversion, proving that traditional buildings can really benefit from a striking contemporary addition such as this.
Fully frameless glass has been used in order not to detract from the traditional characteristics of the barn, whilst the steeply sloping roof of the porch follows the same line as the original barn roof.
5. The Verandah
A full-width porch, or verandah, is a staple design feature of many New England-style houses, but is also a practical and beautiful addition to any country home.
The verandah is definitely one porch idea worth considering, providing protection from the elements along with a practical space in which to store logs and house Wellies and boot racks.
A verandah can also provide the perfect spot to sit and watch the sun set (or rise), so include some kind of seating too.
This oak framed verandah was designed by Border Oak.
6. The Glazed Porch
Proving that owners of listed buildings need not give up on porch ideas that might be less than traditional in their appearance, this glazed porch from IQ Glass has been added to a Grade II listed building as part of its renovation.
The design has not only extended the internal space, but the glazing also ticks all the boxes from a conservation point of view, in that it allows the original brick exterior to show through and clearly delineates the old from the new.
7. The Grand Porch
Those after porch ideas for a Georgian-style properties should most certainly be considering stone as a material for the structure.
This design, made from cast stone, by Haddonstone, frames the grand entrance to this historic renovation project perfectly.
Ensure the style of the columns and portico match the era of the house you working on.
8. The Built-in Porch
As part of the overall design of this contemporary home, the porch has been incorporated into the façade.
This has resulted in a generous covered space that really draws the eye towards the front door — an oversized iroko design from Urban Front.
An front door that is built into the overall form of a house helps to create a seamless, unfussy design.
9. The Simple Canopy Porch
Some new houses can suffer from a distinct lack of depth and appear a little 2D. Adding even a simple canopy-style porch can really elevate the exterior, injecting character and individuality.
This small oak-framed canopy, from Border Oak, features characterful clay roof tiles to tie in with the main house — its dainty proportions ensure no light is blocked from the internal entrance beyond.
10. The Timber Porch Kit
This elegant timber porch is from The English Porch Company.
This particular design, The Ascot, can be specified to extend right the way across the front of a house, and can also be designed to incorporate glazing and a front door.
The porch is supplied in kit form, and it is estimated that it should take a competent DIYer around a day and a half to install, with a little assistance in areas.
You get to choose sizes, the type of wood used and play around with the design until you are completely happy.
Natasha is Homebuilding & Renovating's Associate Editor and has been a member of the team for over two decades. An experienced journalist and renovation expert, she has written for a number of homes titles. She has renovated a terrace and is at the end of the DIY renovation and extension of her Edwardian cottage. She is now looking for her next project.
Homebuilding & Renovating Newsletter
Get the latest news, reviews and product advice straight to your inbox.
Thank you for signing up to Homebuilding. You will receive a verification email shortly.
There was a problem. Please refresh the page and try again.