20 beautiful porch ideas to welcome you home in style
Treat porch ideas as something of a priority — not only does a porch have an enormous effect on the appearance of your house, but it can also influence how it performs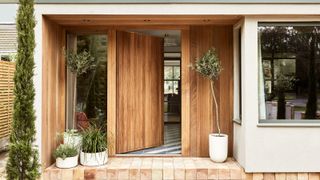 (Image credit: Urban Front)
It is surprising how common it is for porch ideas to be left as something of an afterthought — when in fact they should be given careful consideration and form part of the overall design plan for your home.
In the same way that your front door ideas will really shape the appearance of the façade of your house, so too will the way to choose to construct and finish your porch.
Porches come in all shapes, sizes and styles, but what they all have in common is that they help to frame the entrance to your home, creating a sense of depth to a flat-faced house, as well as providing some protection from the elements.
While a simple open porch might help you stay dry while trying to open your front door, an enclosed porch extension can provide an 'airlock' to help prevent mud and dirt from being tracked into your home.
Whether you're searching for porch ideas for a self build project or are looking to add or replace a porch on your existing home, there are plenty of designs available to enhance your home's kerb appeal — and our gallery features some of the best around.
Which type of porch ideas will suit my house?
VISIT THE HOMEBUILDING & RENOVATING SHOW
Need more advice or inspiration for your project? Get two free tickets to the Homebuilding & Renovating Show
Whether you are building from scratch or renovating a house, it can be hard to know where to start when it comes to selecting a porch that will do your home justice.
"The first question to ask yourself about any entrance is how it fits into the existing building design (if you're renovating) and whether that doorway/entrance could have a strong impact on the balance of the building," says Elizabeth Assaf, co-founder and designer at Urban Front.
You should begin by listing what you want from your porch. For example, do you want it to provide covered storage? Or perhaps your house is looking rather two-dimensional and you feel a porch could be the solution? Would you like your porch to be able to accommodate seating? Would an enclosed porch in which to throw off outdoor clothes and shoes be more practical?
Once you have your list, you will be in a better position to start narrowing down your options.
1. Use your porch to flood your hallway with light
If you are after hallway ideas that will brighten up a gloomy entrance then this one is for you.
There are many different ways in which your choice of porch can help brighten up an entrance hall. You might choose to keep the side of the porch open and fit sidelights either side of your front door, for example.
However, we love this porch design which features a striking catslide roof and has been fitted with a huge rooflight that brings light flooding into the space within.
2. Build an enclosed porch for storage and shelter
This is the perfect solution for those with smaller hallways. An enclosed porch acts almost like a small extension at the front of the house, where muddy boots and wet outerwear can be shed and stored. Including plenty of glazing in the design ensures the spaces beyond are not dark and gloomy.
Porch planning permission will not normally be required, providing the new structure falls within your Permitted Development rights.
This traditional-style porch from Anglican Home Improvements, with its tiled gable roof, is a great example of an enclosed porch.
3. Pair contemporary architecture with a simple overhang
It should go without saying that the style of your porch should perfectly complement the style of your home — so if you are lucky enough to have a sleek and simple contemporary house, your porch needs to be equally pared-back and modern in its design.
Here, a stunning oversized front door from Urban Front, is sheltered by a matching overhang porch — this is a brilliant idea and will also allow for you to explore porch lighting ideas that can be recessed fully into the underside of the structure.
4. Use your porch as a wind shield on an exposed site
While it is true that open-sided porches can help to protect your front door (and visitors) from the rain, wind is quite a different story. If your home is located in a particularly exposed location, you need to think through how your porch design could address this — and if a fully enclosed porch doesn't appeal, you will need to find another solution.
Here, a porch by Oak Designs Co has been used. It features glazing on one side to protect the door from the wind, making it less likely for the homeowners to get blown about when entering the house, as well as saving the door furniture from rattling in strong gusts or the door blowing open.
5. Enjoy the character an oak framed porch brings
Anyone can benefit from the warmth and character that oak frame porches can add to a house — even those living in houses not built using timber frame.
You can have an oak framed porch built for you by a specialist or buy an oak frame porch kit. These are designed to be installed on a DIY basis and can be a cheaper option.
This design, from Border Oak, is self-supporting, like all their oak frame porches, meaning it stands against the house as opposed to being structurally integrated.
Kits are prefabricated off site, ready to be assembled by your builder or even on a DIY basis.
6. Match your front door colour with your porch
If you are after really striking entrance design ideas, then you should consider painting your front door and porch in a matching shade — the brighter the better.
This isn't only an idea that works with contemporary homes either — period properties look fantastic with a splash of colour, plus bolder shades can really draw out any decorative elements of the porch or woodwork.
Here, the beautiful Victorian front door, with its pretty stained glass, has been brought to life thanks to the zingy lemon-shade of paint — Tilton front door paint by Annie Sloan. Every single detail of the porch now stands out thanks to the eye-popping hue.
7. Create a simple overhang porch
A simple, chunky overhang can be visually stunning, as well as practical, providing shelter from the rain and sun.
Overhang porches such as this one can also have other uses. This design, seen with a striking textured bronze pivot door from Urban Front, has been planted on top with a green roof — a brilliant porch idea to steal.
8. Turn your porch into a wow factor
Want to inject instant character and interest into your house? Choose a porch that really stands out from the rest of the building. This could be down to using a material that is a complete contrast to those used elsewhere, or shapes and forms that sit in juxtaposition to the architecture of the house.
This jaw-dropping porch idea is from Ion Glass. The structural glass porch has been added to a heritage barn conversion, proving that traditional buildings can really benefit from a striking contemporary addition such as this.
Fully frameless glass has been used in order not to detract from the traditional characteristics of the barn, whilst the steeply sloping roof of the porch follows the same line as the original barn roof.
9. Extend your porch into a useful veranda
A full-width porch, or veranda, is a staple design feature of many New England-style houses, but is also a practical and beautiful addition to any country home.
The veranda is definitely one porch idea worth considering, providing protection from the elements along with a practical space in which to store logs and house boot racks.
You can use your veranda and covered outdoor spaces as the perfect spot to sit and watch the sun set (or rise) too, so include some kind of seating.
This oak framed veranda was designed by Border Oak.
10. Increase kerb appeal with a smart dwarf wall porch
Low brick plinth porches offer a study appearance which can really bring an otherwise flat façade to life and, providing they are designed in a style which complements the architecture of the house, can really contribute to its kerb appeal.
Here, the smart timber porch, with its low brick dwarf walls, has been painted a simple black to match the door frame — the stunning oversized front door is from Urban Front.
11. Don't discount a glazed porch for an older property
Proving that owners of period properties or listed buildings need not give up on porch ideas that might be less than traditional in their appearance, this glazed porch from IQ Glass has been added to a Grade II listed building as part of its renovation.
Porch extension ideas come with the added benefit of adding to the internal space of a house — and in this example, the glazing also ticks all the boxes from a conservation point of view, in that it allows the original brick exterior to show through and clearly delineates the old from the new.
12. Fit rooflights into your porch to avoid a gloomy hallway
If you have a glazed – or partially glazed – front door, or have fitted a fanlight or sidelights above or around it, you will no doubt be keen that the effort you have put into creating a bright and light entrance hallway is not ruined by your choice of porch. Consider installing a porch with rooflights so that light can still enter your hallway.
This imposing porch feels completely in proportion with the grand scale of this home, renovated by XUL Architecture. However, where the depth of the porch could have lead to a dark spot, also affecting the light in the hallway via the door fanlights, rooflights have been integrated into the porch, to ensure it's well-served with natural light.
13. Incorporate structural columns for a grand porch
Those after porch ideas for a Georgian-style properties should most certainly be considering stone as a material for the structure — and if the porch design can include columns all the better. The Georgians loved to include classical elements into their house design, hence why this idea works so well with this style of architecture.
This design, made from cast stone, by Haddonstone, frames the grand entrance to this historic renovation project perfectly.
Ensure the style of the columns and portico match the era of the house you working on.
14. Let the light flood in with French doors
Although often reserved for use as patio doors, using French doors in your porch is an interesting alternative to a more standard, solid front door and is the perfect solution for those looking at ways to bring more natural light into their hallway.
Ensure the style of French doors suits the types of windows used elsewhere in your house design for a smart, cohesive look.
Here, French doors from Wandsworth Sash Windows finish off the pretty white porch perfectly and really suit the Victorian architecture of the property.
15. Go minimalist with a built-in porch
A front door that is built into the overall form of a house helps to create a seamless, unfussy design — perfect for those seeking to achieve a contemporary-looking home.
As part of the overall design of this contemporary house, with its beautiful stone cladding, the porch has been incorporated into the façade. This has resulted in a generous covered space that really draws the eye towards the front door — an oversized iroko design from Urban Front.
16. Add depth to plain façade with a canopy porch
Some new houses can suffer from a distinct lack of depth and appear a little two-dimensional — adding even a simple canopy-style porch can really elevate the exterior, instantly injecting character and individuality.
This small oak-framed canopy, from Border Oak, features characterful clay roof tiles to tie in with the main house — its dainty proportions ensure no light is blocked from the internal entrance beyond.
17. Consider purchasing a porch kit
Porch kits are a great idea for those keen to take a hands-on approach to the construction of their porch.
This elegant timber porch, from The English Porch Company, is supplied in kit form, and it is estimated that it should take a competent DIYer around a day and a half to install, with a little assistance in areas.
This particular design, The Ascot, can be specified to extend right the way across the front of a house, and can also be designed to incorporate glazing and a front door.
You get to choose sizes, the type of wood used and play around with the design until you are completely happy.
18. Use your porch as an extra reception space
When a porch gets to a certain size, you may consider it more of an extension than a porch, but it acts in the same way, framing the entrance to your home and providing extra usable space — as well as somewhere which you will be able to welcome guests into your home. .
This large glazed porch extension from Oak Designs Co offers a reception space to the house, including space to park a pram.
19. Use your porch to connect your house to the garden
By incorporating plenty of glass into your porch design and thinking about how it will connect to your outdoor spaces, you can not only provide a really useful space between your inner spaces and your driveway but also help to link your indoor and outdoor areas.
This small porch extension created by Brosh Architects creates a boot room for storage of shoes and coats, while retaining access to the garden with a front and rear door.
The compact porch uses exposed brick for the walls and floors in its interior, creating the feeling that it is somehow still external to the house, acting as a reception for muddy shoes before entering the main house.
20. Fit a simple canopy for protection and shade
You don't need to spend a fortune on your porch in order to end up with a practical and useful feature — sometimes all that is needed will be simple, off-the-shelf front door canopy ideas.
The Calisto Canopy, from B&Q, is made of weatherproof, 10mm thick polycarbonate, and features modern wall brackets in a smart dark grey shade. The canopy panel is almost transparent meaning no light will be blocked out — yet the shade keeps out 100% of harmful UV rays, to preserve your door from sun damage. The canopy costs just £127.
Get the Homebuilding & Renovating Newsletter
Bring your dream home to life with expert advice, how-to guides and design inspiration, direct to your inbox.
Natasha is Homebuilding & Renovating's Associate Content Editor and has been a member of the team for over two decades. An experienced journalist and renovation expert, she has written for a number of homes titles. Over the years Natasha has renovated and carried out a side extension to a Victorian terrace. She is currently living in the rural Edwardian cottage she renovated and extended on a largely DIY basis, living on site for the duration of the project. She is now looking for her next project — something which is proving far harder than she thought it would be.