Ceiling Glazing and Rooflights
By Natasha Brinsmead published
Whether you are converting your loft, extending or simply want a way of pulling in extra natural light, adding glazing to your ceiling is a great way to ensure plenty of high-quality light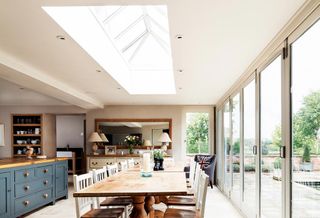 (Image credit: Simon Maxwell)
Rooflights
Rooflights are reported to bring in around 40% more light than dormers. But it is not just loft conversions that can benefit from rooflights — side-return extensions, gloomy corridors and extensions to those awkward 'middle rooms' that so often suffer from a lack of natural light can all be brightened up by the addition of one or two rooflights — or even better, a continuous run of them.
The term rooflight can mean many different things including:
roof windows
glass ceilings
lanterns
Put simply, they are just glazing designed to bring in natural light from above.
The cheapest option is rooflights that are operated manually with a pole. However, for only a couple of hundred pounds more you could upgrade to those with an electronic opening system controlled by a simple wall panel or remote control. Rooflights can also include rain and fire sensors.
If you are in a Conservation Area (opens in new tab), a conservation rooflight (try Tuscan Foundry (opens in new tab)) could be a requirement. They are low profile and sit flush with the roof, so will not detract from the character of a building. Steel conservation rooflights in particular are a good option — they are designed to look like original Victorian roof lights.
Roof Lanterns
Sometimes referred to as rooflights or glazed 'viewing boxes' by the manufacturers, these are raised boxes or 'lanterns' which project out from the roof. They take on many forms — pitched polygons, barrel vaults and pyramids are all options.
They are more expensive than rooflights, but their cost will be determined by the material you choose, the complexity of the design, the glazing, and whether or not they open or are fixed. They offer scope for bespoke design — those that open out to roof gardens are particularly popular in high-end properties.
Roof lanterns are a good choice for flat roofs. All units can combine opening elements — hinged or sliding. They are most often fitted to flat roofs or along the ridge of pitched roofs.
Frames are usually made from timber or powder-coated steel, although PVCu (usually reinforced) is another option.
Lightpipes
Also known as sun tunnels and light tubes amongst other things, lightpipes are usually aluminium tubes that have a mirror coating internally. This makes them able to reflect and strengthen natural light, before it is brought into the room through a fixture on the ceiling.
Lightpipes:
nb. If you are planning on fitting one in a room where people are likely to sleep, be sure to purchase a model with a black-out diffuser to avoid them being woken up as soon as it starts to get light.
Choosing Frames
Take into consideration the material you have used for your window frames when you come to choose the frames for your roof glazing. Metal works well for period properties and barn conversions, but also many contemporary schemes (look at aluminium). Steel will often be specified for Conservation Areas and barns. If you are interested in timber rooflights, bear in mind that getting up on to the roof to maintain it can be a laborious (and dangerous) task. Consider instead a timber frame internally and an aluminium finish externally. Ensure that the rooflights you choose will allow water to drain away easily and consider weather-resistant flashing which, despite not always the most attractive option, is the best way to avoid leaks in the windows.
Which Glazing?
Your rooflights (like any other window) will need to comply with Part L of the Building Regulations (opens in new tab) and provide the required U value. New rooflights to existing homes should have a maximum average U value of 1.6. Choosing a low-emissivity glass, triple glazing, or a combination of 6mm and 10mm toughened glass with 16mm cavity will help to reduce U values. If you are concerned about overheating, consider solar control glass. It can significantly reduce solar glare too. Keeping your roof windows clean: opt for self-cleaning glass on hard to reach windows. It reacts with sunlight to break down dirt which can then be more easily washed away by rain.
How Are They Fitted?
A carpenter or roofer can fit your roof windows (from either the inside or outside of the house). Alternatively, rooflight specialists also offer a supply-and-fit service. In extensions, rooflights should be fitted after the roof is constructed. Where fitted into an existing roof, this should happen at first fix stage, before insulating the walls and roof. Rafters will not always need to be cut in order to fit rooflights, although in cases where they are you will need to consult a structural engineer. Standard rooflights usually measure 550mm wide.
Will I Require Planning Permission?
You do not usually need planning permission (opens in new tab), so long as the work you are carrying out falls under Permitted Development (opens in new tab). However, if you live in a listed property or in a Conservation Area, the rules will be different. If in doubt, check with your local planning department first.
Natasha is Homebuilding & Renovating's Associate Editor and has been a member of the team for over two decades. An experienced journalist and renovation expert, she has written for a number of homes titles. She has renovated a terrace and is at the end of the DIY renovation and extension of her Edwardian cottage. She is now looking for her next project.
Homebuilding & Renovating Newsletter
Get the latest news, reviews and product advice straight to your inbox.
Thank you for signing up to Homebuilding. You will receive a verification email shortly.
There was a problem. Please refresh the page and try again.