Pivot Doors: Everything You Need to Know
By Nimi Attanayake published
Pivot doors offer an innovative opening mechanism for big picture glazing that lets in light, merges inside and out and makes a style statement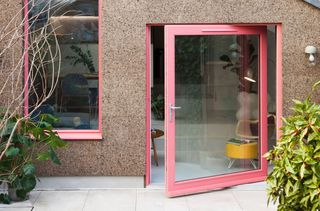 (Image credit: Megan Taylor for Nimtim Architects)
A pivot door has a lot to offer the aesthetics of your home. While pivot system doors can be used for front, internal and patio doors, it's the latter that offers a dramatic focal point, with uninterrupted views through a single pane of glass without mullions or bars, better connection with your external space and a large aperture welcoming in light.
(MORE: Get a tailored quote for patio doors (opens in new tab))
Here, we take a look behind the design at everything you'll need to consider before making this choice.
How Do Pivot Doors Work?
Pivot doors rotate around a pivot at the top and bottom of the door leaf, as opposed to having hinges set on the side in the traditional way.
The pivots are always some way inset from the side, which means that when you open the door the aperture is divided some way along its full width. The doors can open both inwards and outwards, but they need enough space to do so, meaning they may not suit a tight space.
How Big Should a Pivot Door Be?
Due to the nature of how pivot doors work, it's important to consider how big a door you will need, its function and its location. The opening needs to be wide enough to get through easily, especially for those with pushchairs or wheelchairs to take into consideration. It's usually recommended to offset the pivots in by a third of the door leaf width, giving an opening of two thirds of the door's width.
Pivot doors can be made in much larger sizes than standard hinged doors, so if you want to go for either a wider or taller door you can opt for a bespoke design.
If you are retrofitting or simply choosing to go with a standard size, then some door suppliers offer a number of popular sizes off-the-shelf, including 626mm, 726mm, 826mm and 926mm.
Pivot front doors can be pretty much as big as you like, and certainly far bigger than a standard door. Urban Front supply doors up to 1,500mm wide and 3,000mm tall — in fact they have to be a minimum of 1,000mm wide to work.
What are the Pros of Pivot Doors?
Larger-than-standard door sizes are readily available.
Their novel opening mechanism and size can make them a striking feature.
The door is supported at the head and base, which is more stable than the side hinges used by traditional doors.
Singular, large, glass pivot doors provide uninterrupted views compared with the mullions and transom bars of steel-framed doors or the thick frames of patio, sliding or bifold doors.
Pivot doors can be supplied in a variety of timbers, painted timbers and polyester powder coated (PPC) aluminium. Prices will vary, as will maintenance requirements.
A level threshold between the house and garden will help to blur the boundary between the internal and external space giving you an 'inside-outside' feel.
(MORE: Bringing the Outside In: 15 Genius Design Ideas)
What are the Cons of Pivot Doors?
They can catch your fingers if you're not careful, which can be a big problem if you've got children. Some specialist door suppliers offer pivot doors with finger grooves for added child safety.
You'll need to make sure your pivot door is being used in the correct context, taking aspect, exposure and wind into consideration. Large openings may need a stay-open door catch to prevent them swinging about, especially if you're expecting strong winds to be a factor.
A clear area will be needed for the door to pivot in, meaning they may not be suitable for tight spaces.
If you want to keep water out of your house then the flush threshold between the internal and external space will require careful detailing to ensure adequate drainage.
"Because of the way a pivot opening works the opening door leaf sits within an outer frame with brush seals providing a tight weather seal around the sides and top," says Rebecca Clayton, Marketing Manager of IQ Glass. "There are no elements of frame overlapping the fixed outer frame creating a weather barrier here so these doors are not best suited to highly exposed locations."
How Much Do Pivot Doors Cost?
Prices for pivot doors vary depending on size, frame material and supplier.
The material you choose affects costs — timber is usually more inexpensive than aluminium, for instance. A large timber frame pivot door could cost around £400-£500 to install, while aluminium pivot doors will cost from around £1,200 per m2. Steel framed pivot doors are also available, but will cost from £3,000+ per m2.
It's always best to get a few quotes from suppliers to understand the cost implications. Pivot doors usually cost more than side-hung patio or front doors, but some suppliers offer them at the same price if they are over a specific width.
In terms of pivot front doors, doors from Urban Front start from £3,250 plus VAT and installation for a pivot door in a painted finish.
Building Regulations for Pivot Doors
If you pick a pivot door for an entrance, ensure that it meets current Building Regulations (Part Q, Appendix B is particularly relevant for bespoke doors).
Find out your door's clear opening width (this will depend on the location of the pivot) and make sure it meets current Building Regs. For main entrance doors, the Approved Document Part M, which specifies a minimum clear opening width of 775mm, applies.
Check if the pivot door needs to be fire rated, which might be the case if it's an internal door. An approved building control inspector can advise on this matter.
Check with you supplier on the door's security (including locks and opening restrictors), material finish and weathertightness. The position of the door will affect how exposed it is, and hence the accessories required.
(MORE: Building Regulations for Extensions)
For new doors and windows, it's recommended to review planning guidance to determine if planning permission is required. Openings may be altered under Permitted Development, but it's a good idea to get a Lawful Development Certificate from the council to confirm your proposal meets the guidelines.
How are Pivot Doors Installed?
There are some key structural elements you'll need to consider for a pivot door to be installed:
Structural details. Depending on the size of the opening, large pivot doors will require some supporting structure — usually a lintel (typically steel or concrete) at the head of the door will do the trick.
Your architect, structural engineer and door supplier will need to coordinate the fitting of this and determine how the structure will be concealed. If pivot doors are retrofitted it is important to make sure that the existing structure is adequate to support the weight and size of the new door.
Drainage. Most pivot doors are installed where the internal and external floor levels are flush with one another. This necessitates a robust drainage solution such as a slot drain. The options should be considered prior to designing and installing the door and the fitting will need to be coordinated with the supplier and the contractor.
Level threshold. Installing a pivot door where both the interior and the exterior floors are flush will create a seamless transition between inside and out.
Aesthetically a level threshold works well and is relatively practical too, offering a good option for wheelchair users and for those with mobility issues. Most door suppliers will offer threshold cill options, which should be considered with respect to exposure, the longevity and maintenance of your chosen materials, and their appearance.
What Material is Best for Pivot Doors?
It is important to consider the material of a pivot door as well as its colour or stain. This can affect its maintenance needs, durability and cost. You should also think about it in relation to the other materials you pick for your windows and frames.
A timber door may weather over time unless treated and maintained, and any treatment is likely to alter its appearance; a lacquer may have a sheen, for example, while an oil will usually produce a richer colour. A more exposed door may weather quicker than other elements on the same elevation, leading to a mismatched finish.
Most suppliers offer doors in any standard RAL colour, which can add a playful splash of personality to a façade. Check with the door supplier that they offer the full range and not just the standard options. Also, bear in mind that painted timber doors will need regular maintenance.
Aluminium pivot doors are a more expensive option up front but need much less maintenance. These can also be polyester powder coated to any RAL colour — however, most metallic shades will come at an extra cost. When choosing a RAL colour it's recommended to get a full RAL chart and ask for samples before making your final decision.
Nim is director and co founder of nimtim architects. Nimi is a qualified architect who has worked for some of London's most highly regarded practices and is a member of the Design South East Panel.
Homebuilding & Renovating Newsletter
Get the latest news, reviews and product advice straight to your inbox.
Thank you for signing up to Homebuilding. You will receive a verification email shortly.
There was a problem. Please refresh the page and try again.