Pivot Doors: How They Work
Running your front door off a pivot rather than a hinge can make a real design statement. Here's how it works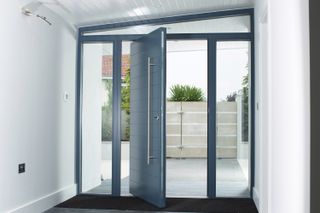 (Image credit: Urban Front)
As the element that tends to be responsible for anchoring the overall look of the entire façade of most homes, the front door has a big responsibility in creating a super stylish first impression. In contemporary home design it is perhaps even harder to get the front door right; unlike period properties, there is no particular era to refer back to.
However, an oversized pivot door opens up all sorts of possibilities in design terms. Not only can some really striking results be achieved with oversized doors, but they also make it possible for the door to be of much heavier construction than standard hinged doors — so steel and impressive great hunks of solid hardwood suddenly become viable options.
Get a tailored quote for your front door.
How Big Can They Be?
Pivot doors can be pretty much as big as you like, and certainly far bigger than a standard door. Urban Front supply doors up to 1,500mm wide and 3,000mm tall — in fact they have to be a minimum of 1,000mm wide to work.
"It's essential to keep in mind that a pivot hinge makes the actual opening size of a door smaller," says Urban Front designer Elizabeth Assaf. "Despite a door being, say, 1,200mm wide on a pivot, the actual opening size would be approximately 950mm. This is essential to bear in mind if you have to meet any Building Regulations with your front door."
Why Have One?
They make a very definite statement and tend to be much more suitable for contemporary homes than standard off-the-shelf doors, where the size limitations can mean things begin to look a little off proportionally.
"The real benefit of pivot hinges is the fact that you can have a very large, heavy door on them," explains Elizabeth Assaf. "Nowadays, I think a lot more people would rather have one large door instead of double doors because it looks much more contemporary and you do away with a 'slave' door you don't really need. Pivot doors also look great in glass curtain walling which is very popular these days on more contemporary building."
Safety
Those with young children should be aware that along with the usual worry of fingers getting trapped in any door, pivot doors do by their very nature have a small space between the door edge and the frame at the pivot side — a potential 'crush zone' if you like. However, with sensible parental guidance and avoiding swinging the door shut on children or pets when the door is open, problems can quite easily be avoided.
What Do They Cost?
The cost will very much depend on the material you opt for, as well as the size of the door — but pivot doors are not for those on a tiny budget. Doors from Urban Front start from £3,250 plus VAT for a pivot door in a painted finish. You also need to factor in installation costs. That said, your front door is a key design statement.
Editor's Note: If you're looking for a quote for your new front door, simply tell us a bit about your project in the questionnaire below and we'll match your requirements with the services and prices that our partners offer. And don't worry, only partners that match your needs will reach out to you.
How Pivot Doors Work
Much like a traditional side-hinged door, the pivot hinges are placed at the top and bottom of the door, around 200mm from the edge of the door.
The frame is fitted into the opening and then the door is secured to the frame with the hinges — some, such as those from Urban Front, come with finger-safe devices to avoid fingers becoming trapped in the opening.
Although pivots come fitted, with just the frame needing to be secured into place, it tends to be best to leave the actual installation to the professionals or manufacturers as the doors are much heavier than standard doors to manoeuvre.
Due to the nature of this type of door, weather seals can be a little trickier than with standard doors, as it is hard to get a continuous seal along the top and bottom. However, you can get doors with drop-down seals that are activated when the door closes. Still, it's wise to fit some form of porch over the door, particularly in exposed locations.
Homebuilding & Renovating Newsletter
Get the latest news, expert advice and product inspiration straight to your inbox.
Thank you for signing up to Homebuilding. You will receive a verification email shortly.
There was a problem. Please refresh the page and try again.