Boot Room Ideas: Real Spaces That Will Give You Storage Envy
By Hugh Metcalf published
These boot room ideas have us lusting after a dedicated space for storing shoes and keeping muddy feet at bay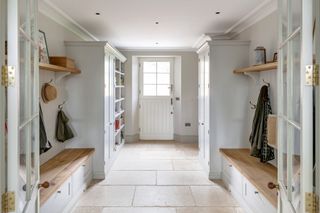 (Image credit: Hush Kitchens)
If you opt for one of these boot room ideas, you can help create a barrier to mud and mess ingressing into your home — something that will come particularly in handy if you live in the countryside.
While you can view a boot room as more of a luxury than an essential, if you don't have room for a dedicated space, many people include boot room ideas into a standard utility room, providing space to keep muddy wellies and football boots, while preventing the family and, of course, your dogs from tracking mud through the house.
(MORE: Utility Room Ideas)
We've curated some design lessons from real boot rooms created in real homes to inspire a functional but also stylish boot room of your own.
Build in Boot Room Seating That's Easy to Clean
Seating is an essential for a boot room — where else are you going to perch while you put on and take off your wellies? Of course, you'll want something super durable to survive mud and rain brought in from outdoors. Built-in, banquette style seating like this from Humphrey Munson (opens in new tab) is perfect for a boot room, as it's easy to wipe down to clean.
You largely won't need to worry about making seating in a boot room comfortable, as you probably won't be using this as a space to lounge, so you can skimp on soft furnishings in this room.
Use a Darker Colour to Paint Your Boot Room
Not only is this beautifully deep jewel-green boot room from Martin Moore (opens in new tab) stylish and dramatic, it makes sense for a room that may need to hide some dirt in between cleans. Boot rooms tend to be smaller spaces, so embracing a dark colour may seem contrary to keep it feel light and airy, but leaning into a dark colour in a small boot room will make it feel like a cosy, cocooning welcome when entering your home from the world outdoors.
Use the Height of the Boot Room for Storage
While modern design styles seem to favour freestanding furniture over bulky built-in designs, the boot room is an obvious place to maximise storage in your home. Using clever fitted furniture designs is a smart choice in a boot room, and in this design, painted with Benjamin Moore (opens in new tab) paint, over and under seat storage really helps to make the most of the space.
(MORE: Built-In Storage Ideas)
Choose Classic Panelling for a Hardy Boot Room Finish
There's a reason most of these boot room ideas have panelled walls like this design from Hush Kitchens (opens in new tab), and it's not just down to a boot room's countryside-influenced heritage. Panelling will be painted in a hardier finish than emulsion, making it easier to clean. Gloss paints are the easiest to clean, but satin and eggshell paints are a good compromise between this ultra glossy style and a more popular matt finish.
Where you do have bare walls in a boot room, try using a washable paint to ensure the room looks its best for longer without the need for repainting.
Use Doors to Keep Mud Confined to the Boot Room
While open plan living is a popular choice when renovating or self building, you'll want some sort of door to partition your boot room from the rest of the house — especially if you have dogs that you need to contain when you come back from a walk.
However, it's nice to be able to have a sense of openness into this room without closing it behind a solid door altogether. Consider a glass internal door, or even a half stable door, as a fitting option style-wise for dividing your boot room from your home.
Create a Boot Room at Your Home's Main Entrance
A boot room might seem like something you create at the back entrance to your house, much like a utility room, however, there's no reason not to create a boot room at your home's main entrance if it's good-looking enough.
In this renovated countryside home by De Rosee Sa (opens in new tab) architects, a porch-like boot room has been created at the front of the house. Tough coir flooring has been used, ensuring you don't have to worry about wearing muddy shoes into this boot room.
Combine a Boot Room and Utility Room
If you don't have room for a dedicated boot room, it's easy to add the benefits to a utility room. Seating and storage for coats are the key, so ask your kitchen design company if they produce elements that match with the cabinetry you're choosing for your utility room. If not, freestanding pieces can be used to add to your existing space. Why not choose a contrasting material to add interest to your interior scheme?
(MORE: How to Design a Utility Room)
Use Open Storage in a Boot Room for Shoes
Wet fabric, and even worse shoes, should be left some room to breathe as they dry — or else you risk your boot room smelling damp and dank. Open shelving is one way to store shoes, while you could also opt for boot racks as a sensible option for drying boots and shoes efficiently too.
Hugh is Digital Editor of homebuilding.co.uk and has worked on a range of home, design and property magazines, including Grand Designs, Essential Kitchens, Bathrooms, Bedrooms and Good Homes. Hugh has developed a passion for modern architecture and green homes, and moonlights as an interior designer, having designed and managed projects ranging from single rooms to whole house renovations and large extensions. He's currently renovating a Victorian terrace in Essex, DIYing as much of the work as possible. His current project is a kitchen renovation which involves knocking through walls and landscaping a courtyard garden.
Homebuilding & Renovating Newsletter
Get the latest news, reviews and product advice straight to your inbox.
Thank you for signing up to Homebuilding. You will receive a verification email shortly.
There was a problem. Please refresh the page and try again.