Beautiful Hallway Ideas for a Stylish and Practical Space
By Amy Reeves published
Use these stunning hallway ideas to plan, design and transform entryways, corridors and landings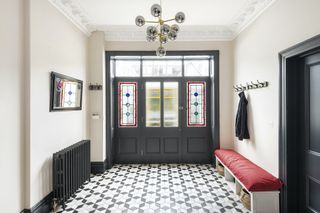 (Image credit: Rachel Smith)
Get the most from every inch of your home with this collection of hallway ideas. Often a forgotten transition space when renovating or self building a home, this essential area doesn't just influence a visitor's first impression, but also impacts the day-to-day functionality of a home.
Entryways frequently double as a boot room and storage area, so taking the time to explore different hallway designs can be hugely beneficial when planning from scratch or updating an existing space.
So, we've assembled a range of hallways in all styles, shapes and sizes with some amazing ideas that can applied to any project or lifestyle.
Organise Priorities When Looking at Hallway Ideas
Hallways play an important part in our homes as they're such high traffic areas with kids, adults, pets and baggage moving through at all times of the day. So, designing a space where the school rush or bringing in the shopping doesn't disrupt or damage the space is key.
Prioritise essential elements, such as shoe benches and coat hooks where needed, and reduce clutter to ensure the space functions as it should. If creating a new design or remodelling an existing floorplan, consider adequate storage off the main entrance hallway in the form of a cloakroom, built-in wardrobe (as shown above) or bespoke furniture.
(MORE: Take a Look at our Boot Room Ideas for Inspiration for Your Hallway)
Choose Practical Flooring in a Busy Hallway
With so much foot traffic a hallway needs to feature hardwearing types of flooring that can stand the test of time.
Consider engineered wood, flagstone or LVT flooring (as shown here) for a calm backdrop which can be matched with any number of style choices and updates through the years.
Create a View In a Narrow Hallway
A throughview towards the garden, picture windows or even just a glimpse into a larger, open plan living space can make a small or narrow hallway feel much bigger.
Although this hallway is simple, the limited space goes unnoticed thanks to the view towards the beautiful window in the open plan kitchen area at the back of the house. The eye is drawn away from the walls and straight out, tempting visitors to delve deeper into the floorplan.
Keep Your Interior Feeling Uniform with a Cohesive Paint Design
A soft french grey painting scheme has created a delicate yet impressive interior design in this entrance atrium containing the hallway and staircase. A similar effect could be achieved by painting skirting boards, door frames and the staircase bannister.
(MORE: Looking for more inspiration for your hallway and staircase? Our guide to modern staircase ideas features expert tips, tricks and advice)
Create Intrigue with Wall Finishes and Splash of Colour
Combining bright and industrial wallpapers with wall panelling ideas and a funky tile floor has created an interesting and inviting hallway in this home. The blue and cream theme continues into the living room beyond making the hallway feel like it is leading you towards a cosy destination.
Update Your Front Door For a Fresh (and Draught-free) Entrance Hallway
Front doors are one of the most common ways for warm air to escape a house, so upgrade your exterior door with one that is efficient, as well as beautiful. This stunning oversized timber door sits beside a show-stopping picture window to ensure the space feels bright and welcoming.
However, be sure to choose your new front door wisely. Aluminium front doors are ideal for contemporary home styles while composite doors can provide more traditional look.
Go Bold for a Striking Hallway
Although traditionally skirting and door architraves have always been painted in gloss white, the best skirting board paints can be bought in a contrasting colour for a sleek look that suits any style of home.
Illuminate a Windowless Corridor Hallway
As hallways and corridors connect living spaces, they can sometimes with devoid of natural light due to their placement in the floorplan. To maintain a welcoming space, experiment with different types of lighting design to inject some character or lead towards a specific destination.
Here, industrial wall lights provide helpful ambient lighting while the recessed LED strips opposite illuminate the stunning Corten steel wall cladding below, turning it into a piece of art in the home.
Go Half and Half When Painting a Hallway
Invest in some masking tape and get to painting your hallway in two halves. The effect is undoubtedly sophisticated and a cost-effective update that anyone can get stuck into!
(MORE: A Beginner's Guide to How to Paint a Room)
Don't Forget to Keep Hallway Ideas Simple
Even if you don't have the capacity for a vast double-height hallway, there are still plenty of small hallway ideas that make the most of the space you do have by keeping it uncluttered.
It can be easy when researching different ideas and styles for inspiration to get carried away and try too many things all at once. Our best advice is to keep a hallway simple.
Utilise Savvy Storage in a Small Hallway
Give everything a place with well considered storage options. Be that in the form of under stair storage ideas, with freestanding console tables or multi-purpose units, like this shoe store and bench combination.
Create an Easy Flow With an Open Plan Hallway
Open plan is one of the most popular style of living in the 21st century, and opting to keep a hallway open to the rest of the layout simply follows suit. In this home the exposed timber frame creates a visual distinction between the different spaces without physically separating them.
Assistant Editor Amy began working for Homebuilding & Renovating in 2018. She has an interest in sustainable building methods and always has her eye on the latest design ideas. Amy has interviewed countless self builders, renovators and extenders about their experiences for Homebuilding & Renovating magazine. She is currently renovating a mid-century home, together with her partner, on a DIY basis, and has recently fitted her own kitchen.
Homebuilding & Renovating Newsletter
Get the latest news, reviews and product advice straight to your inbox.
Thank you for signing up to Homebuilding. You will receive a verification email shortly.
There was a problem. Please refresh the page and try again.