Front Door Canopy Ideas — 7 Elegant Alternatives to Porches
By Amy Reeves published
Much like porches, front door canopy ideas not only protect users from rain, but also add a charm to a home's exterior design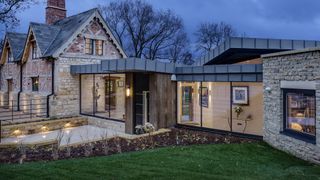 (Image credit: Simon Maxwell)
Front door canopy ideas are often considered to be exclusive to period of cottage-style homes. However, the benefits of having this covering above your front door mean many contemporary homes are beginning to reclaim the style in a sleek and modern way.
Door canopies add a final flourish to a home design and front door ideas, giving depth and detail to an entrance and signalling that the comfort of visitors (and of inhabitants looking for keys in the rain) has been well-considered.
All that said, get it wrong and a door canopy can distract from the kerb appeal of your home. Here, we bring together some of the best front door canopy ideas and expert design tips to help you choose the right canopy for your home.
1. Consider the House's Age When Choosing Front Door Canopy Ideas
Although a relatively small detail in the grande scheme of a self build or renovation, don't fall into the trap of installing any style of canopy that catches your eye. Knowing the build date of a renovation project will assist in tracking down the appropriate style.
"Choosing a door canopy can be influenced by many factors," says Paul Timson of Timber Door Canopies. "Sometimes whole streets, especially in older towns and villages will have very similar door canopies and in fact in some locations there may even be local planning rules that dictate what is and what is not allowed to be used.
"When there are no restrictions, the householder has far more freedom to choose something that appeals to them or most suits the building style. Ultimately, as long as a canopy is chosen that is in proportion to the doorway and fitted properly, it is sure to be a welcome addition to any building."
2. Choose a Flat Canopy for a Modern Home
Flat canopies have been seen for centuries, but they've certainly seen a renaissance in the last few years in more contemporary homes which don't suit a formal porch area.
Some designs can continue a flat roof overhang to create a sheltered space, or, create a contrast to a pitched roof.
This extra-wide flat door canopy has been clad in timber to match the single-storey home's exterior design. The contemporary styling continues below with glazed panels either side of the door and the long, chrome handle. Like many of the best front doors available today, this door is over-sized, too.
3. Match Canopy Materials to the House Design
Don't ruin any chance at improving kerb appeal by adding a canopy that doesn't enhance your home's overall design.
There are a range of choices of materials your canopy could be made out of, including glass, metal timber and GRP. There are pros and cons to them all (see more below), but ultimately this decision should come down to budget, durability and how the materials will sit alongside those used on the main house.
For instance, 'strong'-looking metallic canopy will complement a zinc roof and aluminium front door, while a classic cottage will always be best suited to a wooden frame above the door.
4. Choose a Timeless Timber Canopy
Wood is typically the material of choice for traditional door canopies and for good reason. Just like oak frame porches, timber door canopies can be hardwearing, cost-effective and endlessly charming.
Painting a front door and the timber canopy above is also a fantastic idea to put your own stamp on the exterior of a house. Here, a Verona-style canopy has been painted white to match the house and front door, but note the tiled roof — this detail makes the canopy feel like a more permanent and deliberate addition.
5. Extend a Canopy out to Create a Veranda
If you have multiple doors along on elevation, craft a longer canopy that will protect each entrance in one elegant addition.
Verandas and covered outdoor spaces are also useful for storing wood, muddy boots and outdoor furniture.
Here, timber has been chosen to mirror the wooden exterior doors while the simple, fuss-free design doesn't detract from the architectural detailing of the flint and brick cladding.
6. Take a Holistic Approach to Canopy Design
The approach to a home consists of many things which influence our first impression of a dwelling. First, the driveway and front garden, then the canopy and entryway and finally the front door furniture ideas and lighting.
This journey is important to get right before visitors even step foot over the threshold, so create a moodboard or scheme for all of your favourite entrance design ideas.
Colours, materials, scale and even planting should all be up for consideration, even when simply updating a home's exterior.
Even in this home's limited outdoor space a unified style in the dark-painted gates and drainpipes, evergreen box planters and shrubbery and the pale cream door and architrave are all reflected in the flat canopy.
7. Mirror the Pitch of the Roof with a Canopy
If you're opting for a pitched canopy, take the lead from the existing house's roof line and mirror it in the design.
If this element isn't properly considered and calculated, even the smallest difference will be immediately noticeable.
Here, a Cosworth-style canopy – a mono-pitch with moulding details – has been finished with the same roof covering as the main house.
What is the Difference Between a Canopy and Porch?
"Porch ideas are normally regarded as being a structure that covers and protects a doorway and meets with the ground by either posts or actual sides which may be partially open or have solid sides, sometimes even with another entrance door," explains Paul Timson.
"A canopy by contrast is essentially a cover over a doorway that provides a means to protect the doorway from the weather, most notably the rain, but of course snow also.
"A door canopy is essentially protecting the doorway of the building from the rain, both in potential damage to the door and frame but also to protect visitors and householders from getting wet while unlocking the door.
"This is not the only purpose as a canopy is a great addition to any doorway by making it look so much more welcoming and homely. They have been incorporated into buildings for years and no country cottage would look quite right without one."
Assistant Editor Amy began working for Homebuilding & Renovating in 2018. She has an interest in sustainable building methods and always has her eye on the latest design ideas. Amy has interviewed countless self builders, renovators and extenders about their experiences for Homebuilding & Renovating magazine. She is currently renovating a mid-century home, together with her partner, on a DIY basis, and has recently fitted her own kitchen.
Homebuilding & Renovating Newsletter
Get the latest news, reviews and product advice straight to your inbox.
Thank you for signing up to Homebuilding. You will receive a verification email shortly.
There was a problem. Please refresh the page and try again.