15 Amazing Balcony Ideas, Plus Expert Design Advice
By Amy Reeves published
Our collection of balcony ideas covers everything from décor and detailing to practical flooring and design inspiration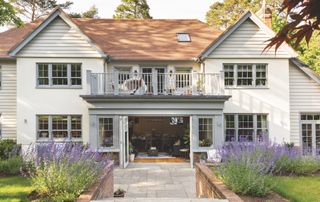 (Image credit: Mark Brocklebank)
Balcony ideas tend to focus on the finishing touches, but ensuring the design of the balcony fits in with the style of your home is essential to get right — otherwise you'll end up with lovely viewpoint, but to the detriment of the property's kerb appeal.
Scale, detailing and function will all make huge an impact on how a balcony will work as a destination away from the rest of the house and garden – be that as a grown-up retreat, a spot to star gaze with kids, or simply have a nap in the sun – so it pays to consider these things early on.
Take a look below for great advice on how to design and decorate a balcony in a home extension or self build with beautiful finished projects and top tips on how to recreate their success.
(MORE: House Design Ideas)
Adding Balcony Ideas to an Existing Home
Extending Out for a New Balcony
"As a normal floor is around 300mm deep with acoustic insulation and a floor deck, further design considerations have to be made. To extend this structure to an outside space to create a balcony, it needs to be insulated to a much higher standard," says architect Allan Corfield. "It may also need to be waterproofed and to have a means to drain water away. If these issues aren't addressed in the early stages of your design then the balcony could end up very deep compacted to the floor it extends from."
A single storey extension is a great opportunity to build a balcony — especially if your garden or patio space has been reduces by the new addition. As they're generally seen as a 'high-end' feature, incorporating one into your design from the start will be sure to add plenty of wow factor.
While this post-war semi-detached house was being extended, the homeowners chose to replace a sash window on the first floor with large sliding patio doors so when guests visit and stay in their spare bedroom they can have a cup of coffee overlooking the garden.
(MORE: How to Transform a Semi-Detached Home)
Create a Balcony for Year-Round Use
While we tend to think about balconies as a way to enjoy some extra sun, make the most of your new outdoor space by introducing a way to stay warm in the colder months:
Designing a New Home with a Balcony
Should I waterproof a balcony?
"If you choose a protruding balcony you will also have to decide whether it will provide a waterproof covering for the ground floor space, and how it will be attached to the building," says Allan Corfield. "If funds are tight, then go for a balcony that isn't waterproof built on a simple metal or timber structure."
If you're brave enough (and wise enough) to delve into the world of self build to achieve a stunning new home, adding a balcony will set any design apart.
At the start, you will be faced with a simple question: do you want your balcony attached to the outside of the building (as shown here), or to be built into the house (more on which below).
The former option is easier and most cost effective, but both can produce beautiful results.
Choose the Right Balcony Flooring Ideas
While this outdoor space needs a type of flooring that is suitable for all kinds of weather, it's a great idea to contrast with other areas of your house/garden so it feels like a special retreat and not more of the same.
Decking is a practical option if you're going for a scandi-inspired theme and white or cream porcelain tiles matched with similarly coloured walls will be reminiscent of a Mediterranean terrace (as shown here).
Build a Covered Balcony for Rainy Days
This self build included a covered balcony stepping out from the main bedroom in order to make the most of the site's panoramic views across the countryside. It is now the homeowners' 'lookout' spot; a place to relax and enjoy their surroundings.
Install a Glass Balustrade to Maximise Your View
Frameless glass balustrades are a luxurious feature that works brilliantly with any balcony design. From afar they seem almost invisible, and from inside, they allow the views to be seen unspoiled.
Let Light in From all Directions
One of the joys about including a balcony in a home design is the abundance of natural light that usually follows. Whether you install sliding or bifold doors, or just a single door in a glazed gable (as here), the interior spaces (and therefore their inhabitants) will also benefit from the effects of daylighting.
Create a Spot to Enjoy Surroundings
What's the point of a balcony space if you can't sit out an enjoy it? If you can, try to make your balcony at least 1.5m deep so it can accommodate a small table and chairs.
Add a Balcony to a Bedroom
Once dated and tired, this bungalow was transformed with a new first floor, complete with master bedroom balcony. Although narrow, the space is more than big enough to to allow the homeowners to embrace the countryside setting.
Big Ideas for a Small Balcony
Although petit, this loft conversion and extension with a Juliette balcony packs a real punch. If you're adding a balcony to an existing home, consider contrasting or complementing materials for optimal impact.
Corten steel was chosen here to complement the shades within the original Victorian brickwork.
Planning for Balcony Ideas
If you're adding a balcony as part of a larger project, consider from the start whether the design will be approved for planning permission. If the plot is tight or if there are issues with overlooking, the chances of it being supported are reduced.
Pre-application advice may be an idea to feel out what the planners will agree to.
Add a Balcony to a Traditional-style House
This oak frame home beautifully camouflages the balcony within its exterior timber cladding and detailing while creating a small porch outside the back door.
Create a Green Space Above it All
From plant pots to shrubbery, adding some greenery to a balcony will instantly make it feel established, but go the extra step by creating multiple layers to a small garden on a balcony — add shelving, plant vertically up the wall and introduce window planters for a welcoming and visually interesting space.
Don't Forget Balcony Lighting Ideas
If you're adding a balcony during a home renovation, extension or self build, make sure adequate thought is dedicated to ensuring the space can be lit up on an evening. A balcony can benefit from the same sort of garden lighting ideas you'd use for your outdoor space.
Consider including power points for string lights, wired outdoor wall lights, and, while the electrician is up there, speakers for the ultimate experience.
Designing and Planning a Large Balcony
Installing a hot tub on a balcony
"if you have a larger space and you want a hot tub, then make sure your structural engineer knows so they can allow for the added weight of this feature and the water!" says Allan Corfield.
The homeowner of this traditional self-build knew she wanted a balcony from the start of her project so the architect (PMG Architecture (opens in new tab)) planned for a large space on top of an orangery.
To decorate, the homeowner added a hammock and egg chairs so even when its colder they young family enjoy hot chocolate while watching the stars.
Assistant Editor Amy began working for Homebuilding & Renovating in 2018. She has an interest in sustainable building methods and always has her eye on the latest design ideas. Amy has interviewed countless self builders, renovators and extenders about their experiences for Homebuilding & Renovating magazine. She is currently renovating a mid-century home, together with her partner, on a DIY basis, and has recently fitted her own kitchen.
Homebuilding & Renovating Newsletter
Get the latest news, reviews and product advice straight to your inbox.
Thank you for signing up to Homebuilding. You will receive a verification email shortly.
There was a problem. Please refresh the page and try again.