17 Front Door Ideas That Set the Right Tone for Your Home
Choosing the right front door ideas will not only mean a home with great kerb appeal, but also one that's secure and energy efficient too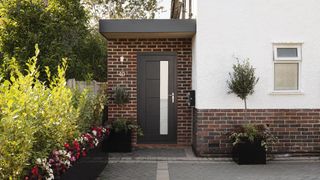 (Image credit: Ollie Hammick/Brosh Architects)
If you're looking for front door ideas then look no further. From different styles and designs to what you need to look out for when choosing a front door material, your hardware and even outdoor lighting, these 17 ideas have you covered.
With ideas for every type of home, and to suit all budgets, read on to take a look at some of the best front doors available to buy as well as ideas to renovate existing doors.
(MORE: Entrance Design Ideas)
1. Timber Front Door Ideas are Great for Adding Charm
Timber front doors blend together the appearance of a traditional front door, perfect for period properties, with modern benefits such as security, thermal efficiency and style.
Traditional-style timber doors work well with modern dooring fittings and lots of glazing so don't be afraid to mix up your style ideas.
If you own a listed property or live in a conservation area you may want to go for a wooden front door to maintain the charm and character of your home.
Remember, some of the cheaper softwoods can be prone to twisting and warping over time and need to be properly treated and looked after.
2. Add Character to Your Front Door with Decorative Flourishes
Whether you're buying a new front door or renovating an existing one, there's plenty of ways to add character to your design. Mostly, this focuses on applying decorative elements to the glazing portion of the door, such as window film, which comes in all kinds of designs, including stained glass, reeded glass and even customisable to display your door number when used on a fanlight.
3. Or opt for a Stained Glass Front Door Design
Stained glass doors are having a bit of a resurgence as of late, with more contemporary styles leading the way. While it's possible to buy stained glass doors off the shelf, look for a manufacturer or designer to work with to incorporate your home's history, your exterior or interior colour scheme or even some of your own interests and personality into your front door design for a truly show-stopping entrance.
4. Metallic Front Door Ideas Add a Contemporary Touch
If you really want to stand out from the crowd why not try a metallic finish front door? There are many ways you could approach a metallic design, but consider that shiny, polished metallic surfaces are prone to fingerprints, so opting for something like a textured, hammered metal will be more practical and effective, suiting a contemporary self build perfectly.
5. Pivot Front Door Ideas are Ideal for Self Builds
Increasingly popular, pivot doors rotate on a pivot rather than traditionally swing open and closed. They are best suited to large door openings and are often taller and wider than most standard-fitting front doors.
"The real benefit of pivot hinges is the fact that you can have a very large, heavy door on them," explains Elizabeth Assaf designer at Urban Front. "Nowadays, I think a lot more people would rather have one large door instead of double doors because it looks much more contemporary."
6. PVCu Front Doors are Brilliant for Those on a Tighter Budget
PVCu front doors have come a long way in recent years and are an affordable, durable front door choice.
Virtually maintenance free, PVCu doors are a great choice for those looking for something that gives a good thermal performance and security without the hefty price tag.
7. Embrace an Oversized Front Door For a Stylish Idea
A large front door will add an instant style statement and is particularity suited to architecturally-striking homes.
You can create an oversized front door by having a double door opening where two doors join in the middle, or you can take a large pivot door and add lots of glazing around it.
Bear in mind that not all large front doors are oversized. Depending on the scale of your property a standard front door may look proportionately too small, in which case you can afford to be bold with the size of your front door.
8. Incorporate Glazing into Your Front Door to Flood Your Home with Natural Light
Front doors with lots of glazing are an effective way to open up a dark hallway and create a stylish entrance.
Sidelights and fanlights allow you to add lots of design elements to a modern house, while smaller square panes and stained glass can enhance a period property.
There are lots of ways to add glass into your front door, and doorway, so make sure you speak to your supplier to check out all the options.
Remember to make sure all glass in (and around) your front door is made from strong safety glass.
9. Ideas for Your Front Door's Letterbox
The letterbox is an essential part of your door hardware, but often overlooked. Not only is it important to make sure you specify a door that reduces the thermal loss through a letterbox, but one that positions it in the right position for your needs. This modern Urban Front door uses a low, vertical letterbox to striking effect, but this style doesn't allow for the addition of a letter cage later down the line, something that may become important if your mobility becomes reduced at any time in the future, or if you have a dog that's prone to destroying post.
10. Create a Personalised Look with Bespoke Door Furniture
Any front door can be given a makeover with the addition of some new door furniture such as a handle, knocker, bell, house number and letterbox. There are a huge range of shapes and material finishes to help your door stand out, but be sure to opt for a design that suits the period or style of your door to ensure your hardware doesn't look incongruous.
11. Try This Creative Front Door Idea
Look at materials such as copper, gold, stainless steel and rose gold to give your front door the design edge over others, and think about having your door number etched into any front door glazing for a striking, personalised finish.
This design incorporates a pivot front door made of the same material as the porch extension to the house. The large number design means that it can be clearly seen from the street, while not appearing too garish.
12. Colourful Front Door Ideas Add Instant Kerb Appeal
"There is a growing trend for choosing a front door that has an unusual, striking or pastel colour," says John Evans Managing director of Stormclad, "if you are feeling bold, a mustard yellow or vibrant teal can make a real impact and for something more subtle, pastel greens and blues can brighten the front of your home without being too excessive."
Look at how your front door colour can complement the rest of your home's exterior. Does it work alongside your windows? Or your house rendering or cladding? Do you have a certain colour scheme around your front garden that may impact the choice?
A bold front door colour can be a really easy way to change the look and feel of your home as people approach so take the time to choose carefully.
13. Lighting Ideas for Front Doors
Lighting is super important for your front door — not only improving its kerb appeal at night time, but also for security and safety reasons, ensuring you can get to your front door without fumbling around in the dark, while also warding off would-be burglars that like to hide in the dark.
A good quality outdoor wall light is your best bet — make sure you find a design that's at least IP44 rated, and casts a illuminating, but not harsh, glow around your front door area.
14. Factor Energy Efficiency in to Your Front Door Idea
Keeping your home well insulated is all part of achieving a thermally-efficient home so you will want to prevent any heat loss through your front door.
Older, badly-fitted front doors may allow heat to escape easily so make sure you fit something new and effective. PVCu and composite doors will be the most cost effective, while aluminium, while effective, will be more expensive.
(MORE: What is a Composite Door?)
15. For a Top-of-the-Range Front Door Idea, Choose Aluminium
Aluminium front doors tend to be top of the range when it comes to front doors because they are light, strong and extremely durable. And not to mention stylish.
Victoria Brocklesby, COO at Origin says, "Aluminium has a strong, yet lightweight structure, making it the most secure and low-maintenance option on the market."
Aluminium doors are also ideal for those living in harsh environments, such as on the coast, who may be concerned about the effect of the strong winds and salt water's affect on their home.
(MORE: Inspiring Coastal Houses)
Smart and stylish, these front doors are as strong as steel but lightweight allowing them to have lots of glazed window areas too.
16. Security Should be at the Heart of Your Front Door Idea
There are lots of ways you can opt for a secure door but the two main factors will be the door material, like wood or aluminium, and the door lock.
Everest Windows recommends to always look for British Standard (BSI) Kitemark and PAS 24 accreditations when buying a front door. Plus if you have glass in your front door make sure it's toughened, security glass.
If you want to incorporate some smart technology in your door security, then considering items such as a video doorbell can be a sensible move.
(MORE: Porch Ideas)
17. Repaint an Existing Front Door to Give it a New Lease of Life
A good quality front door can always be repainted if you decide you want to update it. While timber front doors are the easiest to repaint, it's also possible to paint PVCu and aluminium doors, if you do the right prep and use the right products.
In this design, the front door and windows have been painted in the same shade — Valspar's Peaceful Place in exterior wood and metal paint.
Katie is an experienced journalist and has renovated two houses including a 200-year-old cottage and a 1950s semi.
Homebuilding & Renovating Newsletter
Get the latest news, reviews and product advice straight to your inbox.
Thank you for signing up to Homebuilding. You will receive a verification email shortly.
There was a problem. Please refresh the page and try again.