Kitchen Units: The Fundamentals Explained
By Natasha Brinsmead published
Your kitchen units are not only a practical essential, they also form the basis of your whole design, so it pays to understand the fundamentals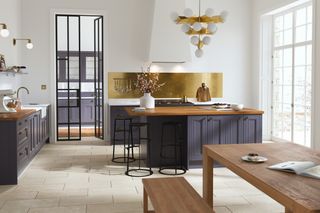 (Image credit: Wren Kitchens)
When it comes to your kitchen units, there is a surprising amount of consideration needed to make the right choice for your kitchen design.
Here we explain the details you should pay attention to, from sizes and materials available to the storage options and finishing touches you can choose from.
How Are Kitchen Units Put Together?
Kitchen units are made up of a carcass and a door or drawer front, or both. The carcass is the shell of the unit, complete with shelves but minus the door. You only see the carcass when the door is open, so if you are trying not to blow your budget, it makes sense to opt for less expensive carcasses teamed with higher-end unit doors. Units can be set on adjustable feet or a solid base.
Modern units tend to come with the former, which is preferable as it is easier to ensure they are level, particularly if using rustic or riven stone flooring. Some unpainted timber kitchens come with solid bases and these need to be either planed down until they sit even, or bumped up with wedges.
To cover the base or feet of the units, a plinth, also known as a kickboard, is used.
Standard Sizes of Kitchen Units
The most common standard width for units is 600mm, but standard carcasses are sold in widths of 300mm, 400mm, 500mm, 800mm and 1,000mm.
Cabinets up to 600mm have a single door, whilst the larger sizes have two doors. Vertical dimensions vary, but work surfaces are usually fitted at a height of 910mm. Tall units come in widths of 300mm, 500mm and 600mm.
Corner units make good use of wasted spaces. L-shaped units work well in this instance. The backs of these units are usually 900mm on either side, whilst the fronts have two 300mm doors hinged together in the centre.
When it comes to drawers, you have the choice between base units with a single drawer set over a cupboard, or, as is popular at present, a unit consisting only of drawers arranged in a stack of three or four, in 500mm or 600mm widths.
Choosing Handles for Your Kitchen Units
Some unit fronts come with handles, but do not feel you have to keep them — swapping them for your own choice adds an individual touch.
Chunky knobs suit classic styles, whilst slim, metallic pull handles look great on modern units. Some unit fronts are designed to have no handles at all, operating instead by means of a push-click system.
Should I Opt for Fitted or Unfitted Kitchen Units?
The majority of homeowners opt for fitted kitchens — that is units that, once installed, cannot be moved without ripping the whole kitchen out again.
However, unfitted units also have advantages and some prefer the more casual, mix-and-match style that free-standing units can offer. Another advantage is that unfitted units and dressers can be packed up and taken with you when you move — although whoever is buying your home may not see this as such an advantage.
Finally, buying unfitted means you can add to your kitchen as you wish. This is a great bonus for those hoping to spread the cost of the kitchen over several months or years — as opposed to having to splash out in one go, as is often the case with fitted kitchens.
Of course, fitted kitchens have their pros and cons, too. Their sleek, modern lines are perfect in contemporary-style homes, and they work far better than unfitted furniture in small kitchens, where every inch of space can neatly be put to good use through clever design.
(MORE: Modern Kitchen Ideas)
Laying Out Kitchen Units
Although the old 'work triangle' theory is seen as a little out of date now, it is good to bear in mind. It advises that the three main work areas – the sink, hob and fridge – be set in a triangle. It makes sense to arrange your units so that they loosely follow this rule.
Best Materials and Style for Kitchen Units
The style of unit fronts you opt for is all down to personal preference. The most cost-effective option is to go for basic standard carcasses and dress them up with a higher-end front.
Timber works well in both contemporary and traditional kitchens, depending on the style of door and the timber you opt for. Oak and maple are good choices for those after a more classic look, as are painted timber doors.
Exotic timbers such as walnut, wenge and iroko work well in modern schemes, particularly when teamed with light-coloured streamlined kitchen worktops. Stainless steel and glass unit fronts can also look striking in contemporary spaces, but usually look best when combined with other materials, such as timber, to soften the look.
Solid timber doors may look great, but many ranges are now actually made from particle board with a melamine, timber veneer or foil finish. Timber veneers are popular, whilst foil finishes include the oh-so-popular gloss doors now available.
When choosing your doors, consider opting for more than one style or material. They do not all have to match, and combining more than one material can look a little less formulaic. Roller sliding unit fronts can look brilliant in more minimalist schemes and are ideal for hiding away appliances when not in use.
(MORE: Cheap Kitchens)
Storage Options for Kitchen Units
Storage in kitchens units has come a long way since the days of having just one or two shelves fitted in. These days there are numerous handy options, such as carousels, pullout baskets, tall, narrow pull-out larders, recycling units fitted into deep drawers and pulldown shelving.
Make the most of every inch of space and ensure your cupboards are organised rather than jam packed by taking a look around at the options available.
(MORE: Kitchen Storage Ideas)
Finishing Touches
Unpainted Units
Unpainted kitchens are very cost-effective. Often made from a softwood, such as pine, they come delivered, ready to paint and fit. A knotting solution must be applied, before sanding and priming a couple of times. Finally, they will need a couple of coats of paint, too.
Whilst some companies offering unpainted kitchens also provide fitting services, not all do, in which case you will need to either fit them on a DIY basis, or hire a kitchen fitter or joiner.
End Panels & Trims
End panels and trims are colour-coordinated to match your choice of door and drawer fronts. They cover the exposed end of a run of units and conceal the standard carcass colour.
End panels can also support the worktop where an appliance is at the end of a run of units. When planning, bear in mind that end panels increase the length of a run of units.
Trims include cornice, pelmets and plinths. Cornice is fitted at the top of wall units, whilst pelmets run around the base and conceal under-unit lighting. Plinths bridge the gap between the base of a unit and the floor.
Natasha is Homebuilding & Renovating's Associate Editor and has been a member of the team for over two decades. An experienced journalist and renovation expert, she has written for a number of homes titles. She has renovated a terrace and is at the end of the DIY renovation and extension of her Edwardian cottage. She is now looking for her next project.
Homebuilding & Renovating Newsletter
Get the latest news, reviews and product advice straight to your inbox.
Thank you for signing up to Homebuilding. You will receive a verification email shortly.
There was a problem. Please refresh the page and try again.