The Kitchen Triangle: Should You Be Following The Rules?
By Natasha Brinsmead published
Is the kitchen triangle still a thing? Once seen as the golden rule of good kitchen design, we look at whether it is still a useful layout concept.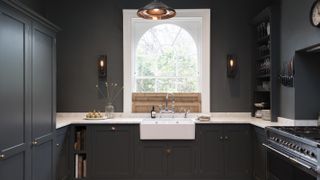 (Image credit: deVOL)
There can't be many people who haven't heard of the kitchen triangle – or the 'working kitchen triangle' as it is also sometimes known. Certainly, if you are in the process of designing a new kitchen from scratch, this is a term likely to be thrown your way at some point.
Here, we explain the thinking behind the kitchen triangle and ask the experts for their opinions on the idea, to help you decide whether to use it to develop your kitchen layout ideas when it comes to designing the perfect space for your needs.
What is The Kitchen Triangle?
The kitchen triangle is a design concept that was developed by researchers at the University of Illinois School of Architecture in the 1940s.
It was actually first designed in order to cut construction costs by creating a standardised model, however it soon garnered huge popularity amongst kitchen designers for the way in which it made kitchens more user-friendly.
So, what exactly is the working triangle? In short, it states that the three main functional points of a kitchen – cooking (oven/hob), preparation (sink) and storage (fridge) – should all be placed so that they form a rough triangle. There are also recommended distances between each:
Each side of the triangle should not be less than 1.2m or more than 2.7m.
All sides of the triangle, added together, should measure between 4-8m.
The layout theory also states that kitchen units or any other obstacles should not intersect any side of the triangle by more than 30cm and that the space between the triangle should not be used as a walkway.
Does The Working Triangle Suit All Kitchens?
This is a concept that can be translated into most kitchen sizes and shapes, although it often has to be adapted to suit.
When it comes to galley kitchen ideas, for example, you might need to embrace a fairly squashed, wonky triangle — with a sink on one side opposite the hob and the fridge.
And what about one-wall kitchens? In a one-wall kitchen layout, all of the units and worktops, as well as the appliances such as the fridge, sink, dishwasher, hob and oven are placed in one row.
Although this is not necessarily the most practical layout, an island is often located opposite the 'kitchen wall' — thus a triangle is created.
Should I Use The Kitchen Triangle?
This largely depends on the size and shape of your kitchen layout — some just won't lend themselves to a triangle.
However, it is usually possible to form some kind of loose triangle shape between your cooker, fridge and sink and if you can, it could well make life easier, reducing the distance you have to travel when cooking and preparing food as well as clearing up after a meal.
"The idea of the working triangle is a great starting point when planning or designing your kitchen," says Melissa Klink, Creative Director at Harvey Jones. "The 'magic triangle' will not only save you time when moving between the three key areas of the kitchen but it will also be safer when transferring hot pans to and from the hob to the sink. If you have a large kitchen with an island, consider including your cooking equipment within your island unit to maximise storage potential. A handy smaller sink within the unit will also ease your cooking preparation and process."
Is The Kitchen Work Triangle Outdated?
While the idea of the kitchen triangle might now be viewed as a little old-fashioned, it is still a really useful way to begin when designing a space. However, it is important not to feel constrained by it. You should also remember that you don't need to try to create the perfect triangle — the sides don't have to be equal for this idea to work.
It is really a case of using your common sense, sitting down with your kitchen designer and talking through how you and your family like to cook and use your kitchen — if creating a sociable space is more important than building a highly-efficient cooking hub to you, your needs will be quite different to that of an avid chef, for example.
"The changing needs of the modern family, especially over the past year, mean you don't need to stick to the working triangle. It is a design principle that can be broken — but it is a good place to start," says Keith Myers of The Myers Touch. "It's important to pay attention to aesthetics and functionality. If you only focus on one of these then your kitchen may not work. Kitchen triangles and zoning should just happen rather than being the main focus." 
The Creative Director at deVOL, Helen Parker, agrees. "As many of our kitchens are quite freestanding we usually design them with separate areas — cooking, sink, island and eating," she explains. "We like to make simple open rooms that are comfortable and calm to live in and not focus on zoning. This is not to say we don't bear these factors in mind but we do not design with this as our main concern — it is not the key to a perfect kitchen."
The Evolving Kitchen Triangle
As the way we use our kitchens has evolved over time, so have our layout requirements shifted. No longer a room to be shuffled away at the back of the house, containing only practical equipment, the kitchen is now seen as the beating heart of most homes, taking on not only the role of food preparation zone, but also needing to act as a gathering point, dining space, home working station and more.
"If you were to consider that the only constraint in designing an ideal kitchen layout within a space was cooking efficiently, the perfect kitchen would be a circle or a square around the person working in it," says Howard Miller, Designer at H. Miller Bros. "However, in reality you wouldn't be able to leave the kitchen or have anyone else working in there with you! If you add in the other considerations, such as access to the rest of the house, windows, the shape of your room and so on, parts of this ideal circle will be cut away, leaving a broken ring of workstations around you.
"We view the 'golden triangle' design principle as more of a star or a hub-and-spoke arrangement — if you can draw this diagram over your kitchen layout it will feel natural to use."
Using Kitchen Zones
The popularity of open plan kitchens and larger spaces can make it hard to stick to the working triangle these days. Thankfully, designers are still very mindful of the need for practicality — and this is where kitchen zones can be used as a kind of update on the triangle theory.
"Don't try to incorporate too many different elements into the space when choosing an open plan kitchen — it will quickly go from a light, airy space to a very closed in, chaotic one," says Graeme Smith, Head of Retail and Commercial Design at Life Kitchens. "The best open plan kitchens will incorporate some form of divider to help break up the space, such as a breakfast bar or island. Not only does this zone your space, it increases your storage space and gives you an informal place to eat or work"
"We have seen an increase in desirability for 'broken plan' kitchen layouts that allow families to still be in the same space, but with increased privacy," says Howard Miller. "This defined design layout helps families to differentiate cooking, dining and living areas while preserving the overall open plan feel of the space.
"In order to create this kind of layout, we create a range of bespoke solutions such as slatted screens, open shelving and freestanding bespoke furniture. We also incorporate multi-faceted, textured surfaces such as cork and bamboo into these zones to help reduce echoing noise and maintain a calm, restful environment when the whole family are all doing their separate things together."
"Ultimately the kitchen space must be a practical, robust cooking and working environment whilst also being an area to relax, dine and work from," says Keith Myers. "2020 redefined the way homeowners used their homes, in particular kitchen spaces post-pandemic."
A Tailored Approach to The Triangle
It seems that the working kitchen triangle is no longer seen as a golden rule and is viewed more as a useful set of guidelines. Of course it is still useful to keep the main kitchen appliances within easy reach of one another — you don't want to be running around the kitchen with pans of boiling water and traipsing too far between the fridge and cooker after all.
"The main consideration for a kitchen is that the space needs to be practical and easy to navigate, so make sure you arrange your hob, sink and fridge within easy reach of each other," advises Melissa Klink.
Natasha is Homebuilding & Renovating's Associate Editor and has been a member of the team for over two decades. An experienced journalist and renovation expert, she has written for a number of homes titles. She has renovated a terrace and is at the end of the DIY renovation and extension of her Edwardian cottage. She is now looking for her next project.
Homebuilding & Renovating Newsletter
Get the latest news, reviews and product advice straight to your inbox.
Thank you for signing up to Homebuilding. You will receive a verification email shortly.
There was a problem. Please refresh the page and try again.