Peninsula Kitchen Ideas: Layout Design Inspiration
By Natasha Brinsmead published
We've gathered together the best peninsula kitchen ideas out there to ensure you have all the tips, trick and tools you need to create your dream kitchen layout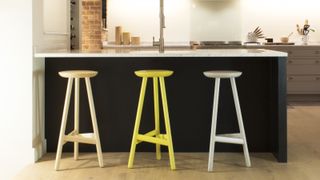 (Image credit: Lime Lace)
There is a reason why peninsula kitchen ideas are so popular. Peninsula layouts come in all kinds of designs to suit kitchens of all sizes and shapes and can be tailored to meet individual needs too, as well as all budgets.
Whilst a kitchen island is high on many people's wish-list when it comes kitchen layout ideas, they're not always a practical solution in every kitchen — particularly those narrower than 4m. As such, a peninsula can provide an opportunity to capture some of the benefits of an island in smaller spaces.
Perhaps you need kitchen peninsula ideas for a small kitchen or to break up an open-plan space? Maybe you are after a layout for a family kitchen or need extra storage? Whatever it is you are, our round of up the best ideas around, along with tips from industry experts, has it covered.
What Are Peninsula Kitchen Ideas?
First things first, it is important to understand exactly what a kitchen peninsula is before you can begin to formulate your kitchen layout ideas.
Many people get confused about the difference between a designing a kitchen island and a kitchen peninsula. They are similar in that both are units that usually take a central position in the space and feature a worktop.
However, unlike an island, a kitchen peninsula is attached to a wall at one end and so is only accessible from three sides, unlike four as with an island unit.
"Consider a peninsula in a layout rather than trying to squeeze in an island as it will provide all the benefits of an island such as an extra-long worktop, a place to host, sit and socialise and essential storage, but is connected to a wall and can fit into any size of kitchen," adds kitchen expert Howard Miller of H. Miller Bros.
1. Create an L-Shaped Kitchen
L-shaped kitchens are a great way to make the most of small spaces as well as being the ideal solution for breaking up open plan kitchen diners — and a peninsula is one of the best ways to create this type of layout.
Although some L-shaped kitchens consist of two runs of units placed at right angles to one another along walls, you also have the option of adding a peninsula to a single wall of units, as has been done here in this striking design from Wren Kitchens. Not only does this add extra worktop space, but it also creates a handy drinks perch, as well as giving the chef fantastic views.
2. Add Seating to One Side of a Kitchen Peninsula
Kitchen diners can be wonderfully sociable spaces but it is important to break them up into food preparation and dining areas properly for them to work — both visually and practically.
Using a kitchen peninsula is a fantastic way to divide the layout up — and by adding built-in seating to one side you can really make the most of space. This kind of seating is perfect for creating a welcoming, intimate seating area, as can be seen in this example from Life Kitchens.
3. Mix And Match Materials
If you have space for a good length peninsula, using one end as a dining spot and the other as extra work surface is a fantastic idea.
For this style of peninsula to perform perfectly, it is important to think through your kitchen worktop ideas. It can be a good idea to use more than one worktop material. This will not only break the expanse of surface up visually, but it can also make practical sense.
Timber, for example, makes a beautiful surface for dining at but can suffer when exposed to hot pans or food spills — so using another worktop material, such as a durable composite, is a good idea at the food prep end of the peninsula.
4. Get the Peninsula Proportions Right
Kitchen peninsulas can be tailored for all styles and sizes of kitchens but it is crucial to take the proportions of the kitchen as a whole into account when planning out your kitchen design.
"A lot of people suffer from architectural dysmorphia, and think they can fit an island in a kitchen, when in reality it will compromise the functionality of the space," says Graeme Smith, Head of Retail and Commercial Design at Life Kitchens.
"An island may be many people's dream layout but the peninsular can be a good alternative to the full island as it gives illusion of one whilst offering more storage, preparation space and functionality all without requiring that extra room to walk around.
"Typically you want to leave 1,200mm between furniture (you can drop to a metre if pushed) but extra space may be sought in preparation or cooking areas that feature heavy traffic."
5. Consider a Freestanding Peninsula
Freestanding kitchens were once the norm before falling into second place behind more uniform fitted kitchens. However, they have been on the rise once again in recent years. These days, many people seek to combine fitted and freestanding units — this adds a nice eclectic feel that is full of individuality.
Freestanding kitchen peninsulas are brilliant for anyone after small kitchen ideas although they can work just as well in large space. This beautiful example from deVOL doesn't feel overwhelming in the relatively compact space thanks to its lightness of form — with open shelves and elegant legs. It also provides plenty of storage and a practical work surface.
6. Vary Worktop Heights
Make full use of your kitchen peninsula by ensuring it can really multitask. The ideal way of doing this is to vary the heights — keep one area slightly lower to stand and work at (a standard worktop height of 900mm is ideal) and one end higher to provide space to sit at on stool and enjoy a drink or meal.
Some people choose to drop one end of their peninsula lower than the work surface to use it as a dining table with chairs as an alternative kitchen diner idea.
7. Site Your Peninsula to Enjoy Views
Peninsulas make the perfect spot to carry out the bulk of food preparation and cooking, as well as entertaining so it makes perfect sense to ensure yours is located in such a way that any views of outdoors can be fully enjoyed from the spot you are likely to find yourself standing at the most frequently.
Whether you have a swathe of bifold or sliding patio doors, a large fixed pane of glass or even a pretty casement window, ensure the orientation of your peninsula is considered so it faces towards it.
8. Place Storage on Both Sides
If it is kitchen storage ideas that you are after, look no further than your kitchen peninsula.
Most peninsulas will be deep enough to take storage on both sides — perhaps units to the kitchen side and a selection of shelves to the other, or as here in this unit from Mereway Kitchens, deep drawers to the outwards facing side and units to the other.
9. Build in an Entertainment Station
There are plenty of ways you can use your kitchen peninsula, from an extra cooking space, fitted with a built-in hob or sink, to a dining perch. The majority of people tend to view their peninsula as a flexible space that can be used for a number of purposes — but have you considered using it as an entertainment hub?
This bespoke peninsula by The Myers Touch features a pop-up television which disappears completely into the unit when not in use — perfect for entertaining the children while you get on with cooking dinner.
If you plan on using your peninsula as a spot from which to work or use any home technology remember to incorporate plenty of sockets and charging points near by.
11. Break Up An Open-Plan Layout
Many conversion projects, such as warehouses or barn conversions, tend to feature large, open spaces. While these can result in some of the most spacious and architecturally interesting homes, they can also feel rather too empty and sometimes lack a sense of warmth.
For this reason it is important to break them up a little — not with solid walls, which could take away their visual interest, but with features that won't block light or ruin flow.
When it comes to open plan kitchens, a peninsula is the ideal way to create clear definition between the areas without blocking them off from one another. This kitchen is from Harvey Jones. The peninsula not only provides plenty of useful storage, but also a hob and seating to one side.
11. Create a U-shaped Kitchen
U-shaped kitchens are perfect for those who love to cook as the layout makes it easy to access all areas of the space and also presents the ideal opportunity to embrace all the practical benefits of the kitchen triangle.
A peninsula is a great way to create a U-shaped kitchen. You can either add one to two walls of fitted units or add an L-shaped arrangement to a single wall of units, as has been done here in this design from Life Kitchens which creates an intimate wraparound effect.
12. Add a Multi-Dimensional Peninsula
Although kitchen peninsulas are commonly thought of as simple rectangular runs of units or worktop, projecting from a wall, they can also be designed in other ways to suit individual needs.
This kitchen from Schmidt Bristol, was designed to make the most of a small space, and features a peninsula breakfast bar with a central square raised 'table' area at which to sit.
This means when seated there is a distance away from the cooking hustle and bustle but still a connection to those in the kitchen. The units are finished in Marvel, a concrete-like laminate with a handleless finish.
Natasha is Homebuilding & Renovating's Associate Editor and has been a member of the team for over two decades. An experienced journalist and renovation expert, she has written for a number of homes titles. She has renovated a terrace and is at the end of the DIY renovation and extension of her Edwardian cottage. She is now looking for her next project.
Homebuilding & Renovating Newsletter
Get the latest news, reviews and product advice straight to your inbox.
Thank you for signing up to Homebuilding. You will receive a verification email shortly.
There was a problem. Please refresh the page and try again.