Zinc Cladding: A Stylish and Practical Finish For Your Home
By Natasha Brinsmead published
Zinc cladding is a great option for owners of both traditional and contemporary homes — our guide explains why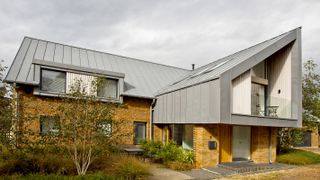 (Image credit: Fraser Marr)
Zinc cladding is popular for many reasons — it is not only attractive visually, but comes in many forms and is also suitable for a number of different house styles.
It can be used to clad the entire façade of a home, one element of a home (such as new mansard loft conversion) or combined with another cladding material to striking effect.
If you are looking for house cladding, whether you are renovating or self building, we are here to explain why zinc might just be the right choice for you. Our guide explains the different types of zinc cladding available, as well as installation options and costs.
What is Zinc Cladding?
Zinc cladding is a type of metal cladding. It comes in many different forms and sheets can be formed into shingles, cassette panels and flat-lock panels to suit any type of building.
Zinc is sometimes chemically treated in order to slightly alter its naturally shiny finish. These treatments are usually designed to weather it quickly, giving it a patina which would take between three and 10 years to develop naturally.
Zinc is also sometimes combined with small amounts of other alloys, such as titanium and copper, in order to increase its malleability, durability and corrosion-resistance.
The material can also be used for roofing — combining a zinc roof with a zinc façacde is a great way to create an eye-catching contemporary home.
Finally, zinc cladding can also be supplied as a rainscreen. This is a form of double-wall construction where an outer layer of zinc keeps the rain out and away from an inner layer of insulation. A cavity between the two provides drainage and prevents condensation issues.
What Are The Benefits of Zinc Cladding?
Zinc cladding has many benefits, including:
Design flexibility thanks to its malleability: It can be shaped into many forms, including curves and sharp angles
Strength
Great longevity: At least 60 years can be expected
Corrosion resistance: Zinc does not rust, and it is a great option for coastal homes for this reason
Aesthetics: Its natural grey appearance means it ties in with a number of other cladding materials, including render and slate roofs
Low maintenance
Recyclable: A good sustainable option
Zinc Cladding Systems
Although zinc cladding is most commonly supplied in sheets or coils, there are various systems to choose from:
Composite zinc cladding: This has an integral foam insulation fitted between the inner and outer layers and be supplied with either a profiled or flush face. It tends to be supplied as ready-to-fit panels to be 'secret-fixed' into position.
Standing seam: A very popular form of zinc cladding, standing seam systems are sheets that are clipped together to form a projecting seam. This system is available in either pre-insulated panels or in sheet form to be assembled on site.
Built-up sheeting: This cladding system requires on-site assembly by a professional. It consists of a facing sheet supported on brackets with a layer of insulation and an internal liner for an airtight finish. It is sometimes used alongside structural trays, in which case there is no need for a separate liner — these are often specified where long spans need cladding.
Cassette cladding: Delivered ready-to-fit, cassette cladding comes with insulation and liners and is fitted using interlocking joints, making it a quick way to clad a house.
Zinc Cladding Installation
It is always recommended to get your zinc cladding installed professionally in order to guarantee it performs well and withstands the test of time.
One of the most common zinc cladding systems is standing seam. This is usually fitted is to a layer of plywood, fixed to battens that have been fixed to insulation protected by a membrane.
However, flat lock panels, bespoke shingles and diamond shingles are a little different, being fixed to the building using clips hidden behind the edge of the profiled tile.
In the case of zinc rainscreen façades, these are usually attached to metal framing that allows for an airspace between the insulation layer and the cladding.
How Much Does Zinc Cladding Cost?
Zinc cladding is a more expensive option than either steel or aluminium cladding — although its impressive longevity goes some way to offsetting this.
At the very lower end of the market you may see quotes for as little as £40/m² for basic zinc sheeting, while a figure closer to £100-£150/m² is more common.
It is very difficult to give an exact figure for what zinc cladding costs, given that the systems all vary in price. The complexity of the project and its size, as well as the location of your house will all affect what you pay too.
Natasha is Homebuilding & Renovating's Associate Editor and has been a member of the team for over two decades. An experienced journalist and renovation expert, she has written for a number of homes titles. She has renovated a terrace and is at the end of the DIY renovation and extension of her Edwardian cottage. She is now looking for her next project.
Homebuilding & Renovating Newsletter
Get the latest news, reviews and product advice straight to your inbox.
Thank you for signing up to Homebuilding. You will receive a verification email shortly.
There was a problem. Please refresh the page and try again.