Brick Slips: Are They Right for Your Home?
By Mark Brinkley published
Brick slips are a clever tile-like alternative to traditional bricks and a great way to create a unique design finish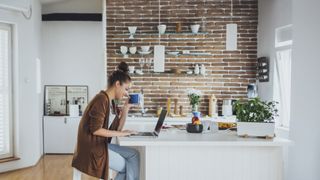 (Image credit: Getty Images)
Brick slips are essentially a tile that looks like a brick and are a great way to create a replica brick finish inside or outside your home. If your wall can't take bricks because it can't support it or there isn't enough space, you can use brick slips instead.
Brick slips are often used instead of cladding, to replicate the look of bricks and are ideal when renovating a house and when normal, conventional bricks won't work.
Conventional bricks are 100mm thick, while a brick slip is just 20mm thick, and sometimes even less which means they weigh less too.
Here's everything you need to know about using brick slips in your self build or renovation project.
(MORE: Types of Bricks)
How Much Do Brick Slips Cost?
The cost of brick slips is usually a little higher than a conventional brick wall.
In addition to this, details like corner brick slips are expensive to produce, and all the laying adhesives are much more expensive than cement mortar.
You need to take into consideration the mortar mix, backing boards and adhesive.
You can expect to pay at the lower end around £18m2 and then over £60m2 for premium products.
(MORE: 15 Ways to Make Sure You Stay on Budget)
How are Brick Slips Made?
Brick slips can be made one of two ways:
Fired in ovens, just like conventional bricks
Sliced off the face of standard-width bricks which is most common
The directly-fired brick slips are cheaper, but the range of finishes is very limited.
Why Should I Use Brick Slips?
Brick slips are used on walls where a brick finish is desired but conventional bricks won't work, either because they are being fixed to a wall where there is no support for bricks, or because space doesn't permit conventional brickwork.
Brick slips are much lighter than conventional brickwork, so they don't require deep foundations which can potentially save you money. If you don't need to dig deeper foundations to support a wall clad in brick slips you can save on labour costs.
(MORE: Building Foundations)
Are Brick Slips Difficult to Lay?
As a construction process, brick slips are much closer to wall tiling than bricklaying and the skills required to build a good-looking brick slip wall are rather different to conventional bricklaying.
Whereas a conventional brick wall is self-supporting, brick slips have to be stuck onto some sort of base with an adhesive.
The joints between the brick slips are then filled or grouted, so that they resemble the spacing of conventional brickwork.
(MORE: Find a Builder)
Can I Lay Brick Slips Myself?
There is no reason why not, provided you have a decent level of competence.
The process is very similar to wall tiling which is often undertaken on a DIY basis.
(MORE: DIY - What to Leave to the Professionals)
What Adhesive Do I Use with Brick Slips?
Once you know what surface you are applying your brick slips to, you can choose your adhesive.
Choosing the correct brick slip adhesive can be confusing but there are a few options when it comes to attaching your brick slips:
A cement-based adhesive, which is similar to that used for tiles. It is often cheaper to buy and better for heavier brick slips and external walls
An epoxy-based adhesive, which is oil based and ideal for internal walls that won't get wet
Can Brick Slips be Used Indoors?
Yes, and they are a fantastic way to add an exposed brick wall like finish in a room.
Brick slips are a great addition to a kitchen design and are a stylish bathroom design idea.
(MORE: 13 Bathroom Design Ideas)
Can I Install Brick Slips Over External Wall Insulation?
If you are carrying out external wall insulation on your house during a renovation you may still want it to look like you have brick walls.
This is a very common application for brick slips. There are a range of insulated cladding systems on the market, and several are designed especially for brick cladding.
(MORE: Cladding a House)
Where Can I Buy Brick Slips?
Brick slips tend to be the province of specialists and there are a number of online merchants who have very helpful websites that supply all the accessories required as well as the slips themselves. Many suppliers will send free samples for you to see first.
Brick slips are usually sold in packs of 30, which is enough to cover 0.5m2 of wall.
Corners, headers and reveals are sold separately.
Alternatives to Brick Slips
The process of cutting thin strips of a face material isn't limited to brick. It can also be done with attractive facing stone.
And whilst most brick slips are sold individually, you can get them set in panels which are much quicker to lay.
(MORE: Cheap Bricks)
Mark is the author of the ever-popular Housebuilder's Bible and an experienced builder. He's just finished his latest self build.
Homebuilding & Renovating Newsletter
Get the latest news, reviews and product advice straight to your inbox.
Thank you for signing up to Homebuilding. You will receive a verification email shortly.
There was a problem. Please refresh the page and try again.