Brick Slips: Everything You Need to Know Including Costs
By Mark Brinkley published
Brick slips are a clever alternative to traditional bricks to create a unique finish — get expert and design advice with our guide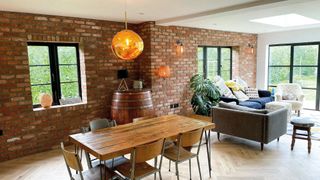 (Image credit: Brick Tile Company)
As an alternative to real bricks, brick slips are a great way to achieve a traditional finish on the inside or exterior of your home. If your wall can't take bricks because it can't support them, or there isn't enough space, brick slips come in very handy.
They are a fantastic way to add an exposed brick wall like finish in a room, such as a kitchen or bathroom. Also, for those building an extension or entire home using timber frame, or adding external wall insulation, brick slips are a common house cladding choice.
We've gathered together answers to your questions with expert advice and industry opinion to help you decide if brick slips are right for your home.
What are Brick Slips?
"A brick slip is a thin slice of brick; it can be either made this way or cut from the face of a full-sized brick," explains Joe Burton, brand director of Brick Tile Company (opens in new tab). "Essentially as the 'face' of the brick is cut off to create a tile, you only use the bit you see, brick slips are there to provide the look without the structural aspect of full bricks."
"Brick slips provide the opportunity to have seamless transitions between volumes without interrupting the clean form with different materials," adds Vladimir Krastev, project leader for Bradley Van Der Straeten Architects (opens in new tab).
How Much Do Brick Slips Cost?
The cost of manufactured brick slips is usually a little higher than conventional types of brick. At the lower end you can expect to pay around £18/m2 — and over £60/m2 for premium products.
For context, cheap bricks tend to cost between £250 and £400 for 1,000 wire-cut facing bricks. (Around £12.5/m2 to £20/m2.)
You also need to take into consideration the mortar mix, backing boards and adhesive. In addition to this, details like corner brick slips are expensive to produce, and all the laying adhesives are more expensive than cement mortar.
"They can be pre made and laid as tiles, which is pretty straight forward," advises Vladimir Krastev. "But for some of our projects we have needed the builder to cut them on site from existing London stock bricks, and even make custom pieces, which requires many more labour hours, naturally adding to the overall cost."
Brick slips made from reclaimed bricks will also be more expensive, but there is a great range of size, colour and variation to get an established finish.
How are Brick Slips Made?
Brick slips, as cladding alternatives, can be made one of two ways:
Fired in ovens, just like conventional bricks
Sliced off the face of standard-width bricks, which is most common
The directly-fired brick slips are cheaper, but the range of finishes is very limited.
"You tend to find those pre-moulded as brick slips have a little less character as the clay doesn't have as much room to create creasing and texture," comments Joe Burton.
How Thick are Brick Slips?
"Brick slips are usually 20-22mm thick where they are cut from full bricks," Joe Burton explains. "They can be as thin as 10mm when moulded as slips.
"The difference here is two-fold, in cutting there is breakage and 22mm is the optimum for keeping as many as possible intact, but also the creasing and texture you get from many full bricks exacerbates that, meaning that potentially a crease can leave only a few mm thickness in it's centre."
Because brick slips are thinner this can mean they weigh less too — ideal when renovating a house and when normal, conventional bricks won't work.
What are the Advantages of Brick Slips?
Brick slips are used on walls where modern brick design ideas are desired but conventional bricks won't work, either because they are being fixed to a wall where there is no support for bricks, or because space doesn't permit conventional brickwork.
Brick slips are much lighter than conventional brickwork, so they don't require deep foundations which can potentially save you money. If you don't need to dig deeper foundations to support a wall clad in brick slips you can save on labour costs.
"They also provide the unique opportunity for 'impossible' details in brick houses that cannot normally be constructed with ordinary bricks," says Vladimir Krastev.
What's more, they can be used in for interior walls in kitchens, bathrooms or even to accomplish favoured brick fireplace ideas without taking up too much space in an existing room.
Are Brick Slips Easy to Fit?
"Brick slips are easier to fit than you'd think," comments Joe Burton of Brick Tile Company. "A tiler or bricklayer should be able to do it easily, but it's something that a DIYer can do to a very good standard."
There is no reason why brick slips can't be laid on a DIY basis, provided you have a decent level of competence, as the process is similar as tiling a wall.
"It's just tiling that is more forgiving, and then piping mortar into the gaps essentially," Joe Burton continues. "The only specialist tools you'd need would be a tile cutter, angle grinder or multi tool to cut them, and a mortar gun and mortar jointing tool to complete the pointing."
As a construction process, the skills required to build a good-looking brick slip wall are rather different to conventional bricklaying. Where a conventional brick wall is self-supporting, brick slips have to be stuck onto some sort of base with an adhesive.
The joints between the brick slips are then filled or grouted, so that they resemble the spacing of conventional brickwork.
While most brick slips are sold individually, you can get them set in panels which are much quicker to lay.
What Adhesive Should I Use with Brick Slips?
Once you know what surface you are applying your brick slips to, you can choose your adhesive.
Choosing the correct brick slip adhesive can be confusing but there are a few options when it comes to attaching your brick slips:
A cement-based adhesive, which is similar to that used for tiles. It is often cheaper to buy and better for heavier brick slips and external walls
An epoxy-based adhesive, which is oil based and ideal for internal walls that won't get wet
Can I Install Brick Slips Over External Wall Insulation?
If you are installing external wall insulation to your house during a renovation, bricks slips can provide the appearance of brick cladding without the expense of building a foundation to support a brick wall.
This is a very common application for brick slips. There are a range of insulated cladding systems on the market, and several are designed especially for brick cladding.
Where Can I Buy Brick Slips?
Brick slips tend to be the province of specialists and there are a number of online merchants who have very helpful websites that supply all the accessories required as well as the slips themselves. Many suppliers will send free samples for you to see first.
Brick slips are usually sold in packs of 30, which is enough to cover 0.5m2 of wall.
Corners, headers and reveals are sold separately.
What is the Difference Between Brick Slips and Brick Tiles?
"Brick tiles can be a way to describe brick slips, as a synonym, along with brick veneer, brick facade, thin brick and slim brick. However, confusingly it can also be used to refer to a ceramic tile that is coloured like a brick [as above]. These won't give the same look and feel, but they do provide a cheap replica as brick wallpaper would," says Joe Burton.
As an alternative, the process of cutting thin strips of a face material isn't limited to brick. It can also be done with attractive facing stone cladding.
Mark is the author of the ever-popular Housebuilder's Bible and an experienced builder. He's just finished his latest self build.
Homebuilding & Renovating Newsletter
Get the latest news, reviews and product advice straight to your inbox.
Thank you for signing up to Homebuilding. You will receive a verification email shortly.
There was a problem. Please refresh the page and try again.