13 Timber Cladding Ideas For a Stylish Natural Finish
By Amy Reeves published
Take a look at these timber cladding ideas to find out what would work for your house — with experts and architects provide their advice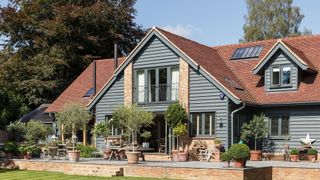 (Image credit: Simon Maxwell)
Using timber cladding ideas on the inside and exterior of your home can be a fantastic way to add instant character and texture, as well as creating kerb appeal.
Decisions concerning house cladding are key to the finished look of your home and should be given thought right from the beginning of a project. Many self builders building new homes choose timber cladding to complement surrounding homes, barns and structures, while extenders might choose a contemporary wooden cladding to contrast with a traditional brick home.
Local vernacular, style, colour and installation will all affect if the planning department will approve your plans, while material and cost will be large factors in a feasibility of your cladding choices.
Here, we provide a run-down of some our favourite timber cladding ideas, together with key advice from experts and architects on how to achieve the look you're after.
1. Timber Cladding Ideas for a Contemporary Home
Cladding a home entirely with a striking timber design produces an undeniably contemporary appearance that is both natural and beautiful.
The Siberian larch timber cladding used on this new home, designed by Zone Architects, was supplied by Russwood and treated so it has an even colour right from the beginning, allowing it to embed within the setting instantly.
To create visual detailing on the exterior, the practice chose to position alternate batons in relief so the daylight can create interesting patterns and shadows along the rectangular structure throughout the day.
2. Mix Stone Walls with a Timber-Clad Extension
Wooden cladding looks exceptional when installed alongside stone cladding or other natural home materials, such as flint or slate.
When adding a single-storey extension to their 18th-century miners' cottage, Design Storey chose thin profile larch cladding in a dark colour to reference the coal mining history of the property.
Crucially, the new extension features bifold doors that, when open, allow the original stone rear walls to be 'read' through the new addition.
3. Combine Timber and Render for a Traditional Appearance
Recapture the graceful finish of period homes by creating a design that mixes both house rendering and timber cladding.
Lime render was chosen for the majority of this traditional-style self build's exterior, because of its soft, warm and tactile finish, while French grey-painted timber cladding details on the garage and under the windows further soften the appearance.
4. Discover the Beauty of Charred Timber With Shou Sugi Ban
"The term Shou Sugi Ban effectively means charring the outside of the timber cladding, which forms a protective coating against the elements, although it's also good practice to then provide a seal using a product like linseed oil as well," explains Matt Loader.
"This should produce a maintenance-free cladding material which lasts well. It also has a beautiful sheen in the sunlight, so while black, it can have quite a few appearances and characters as the light changes."
"The overall look of the cladding is dark and homogeneous, yet each timber is highly individual," Laura Jane Clark, founder of Lamp Architects continues. "The texture and grain of the wood is brought out by an incredible range of subtle purple, blue and silver tones appearing against the charcoal black. The finished surface texture can then be brushed or left raw."
5. Contrast Timber and Brick Cladding
Painting a house's timber cladding offers the chance for a truly individual appearance, be it in a classic New-England white, contemporary black or even a calming blue.
The front of this self build (oak frame supplied by Border Oak) is unassuming to fit in with the predominantly brick houses of the surrounding areas, as per the planning conditions. Around the back however, pale blue horizontal weatherboard timber cladding is combined with the Cheshire red brick as a contemporary contrast.
6. Use Thermally Modified Wood Cladding in Exposed Locations
"This project is coated thermopine from Russwood," Matt Loader says. "We did look at using Shou Sugi Ban, but due to the extremely exposed location, we decided against it. The coated timber, while it needs to be occasionally maintained, was far harder wearing on the hillside and more likely to maintain the pure black appearance.
"Given the proximity of wood gurus Russwood (they are in the same town) it made sense to 'go local' as well, and they could provided the coated and thermally modified pine used."
7. Continue External Wood Cladding Inside
This house extension, designed by Yard Architects, was designed with a large vaulted rooflight over the banquette seating area.
To avoid overlooking from the windows above, openable oak louvres have been placed on the underside of the roof while the oak panels lining the walls have been battened along the opening to the kitchen area to mimic the texture and design of the louvres.
"It brings together the inside and outside, so the extension feels almost like a piece of furniture," says project architect Simon Graham. "The timber adds a very warm and tactile surface to the interior, and all achieved in a natural material with no paint finishes."
8. Play Around With the Direction of Timber Cladding
"The clients for this project are rowers and it's quite a common insignia on the oars of rowers to have a chevron and so we started messing around with that as an idea on the cladding at a fairly early stage," begins Matt Loader of Loader Monteith Architects.
"That became simplified down to become a diagonal because we were only looking at a small area but we think it provides a nice counterpoint to the linear nature of the rest of the house. The wood surround was formed to house the sliding frames of the glass doors and windows.
"The planners did not want the wood to silver and to end up looking like concrete so they are formed in Kebony, a thermally modified timber with quite a knotty finish. While we think it's debatable that timber ever looks like concrete, the diagonal pattern, the knotty character and the thermally modified nature of Kebony means it will always be recognisably wood, and connect well with the garden space beyond."
9. Use Timber Cladding in Interior Spaces
A warm, welcoming appearance can be created using timber cladding in kitchens, bathrooms and living spaces using pretty much any type of wood.
"Contemporary internal timber cladding can be used in many different ways on any wall internally," says builder Andy Stevens, MD of Eclipse Property Solutions. "Cladding can be used to create a feature wall, bring an old wall to life, or if you're really bold you can clad the entire room. The great thing with timber is every piece is different so you will never get two pieces the same."
Here, inexpensive OSB was added to this dark blue kitchen to create texture in the room.
"Any timber finishes which form internal wall finishes will need to have a fire proofing finish applied," cautions architect Simon Graham.
10. Address Inconsistent Weathering
Although some homeowners like the look of a naturally weathered timber home, some prefer timber cladding to weathered uniformly before installation, or to protect parts of the building that will silver at an inconsistent speed.
Alternatively, plan for weathering in the design process. "The main consideration is good detailing to ensure the timber doesn't get stained or weather at different rates," explains Yard Architects' Simon Graham. "Keeping it away from the ground is a good idea."
This self build, designed by Edgley Architects, features black-stained timber cladding on the first storey, and detailed brick design ideas on the ground floor.
The tounge-and-groove exterior-grade Southern Yellow Pine cladding was stained black for a more agricultural look, while the red brick – chosen because the lower half of the building would weather differently to the top – is characteristic of the area.
11. Remodel an Old Bungalow with New Timber Cladding
Bungalows are ideal for exterior makeovers and a fresh timber cladding can create the perfect modern look homeowners are craving.
Sketch Architects wanted this bungalow extension to blend into the local sylvan environment so opted to clad it in Siberian Larch from Silva Timber. This will weather over time to a silver/grey colour.
One word of advice from Yard Architects' Simon Graham: "Fire regulations stipulate that external cladding has to be fire rated within a certain distance of the boundary, which can add a lot to the cost, so its not always a good idea when you are very close to your neighbours."
12. Go All Natural with a Plywood Interior Finish
"The trend for ply wood walls continues," says Homebuilding & Renovating's Associate Editor Natasha Brinsmead.
"Now frequently used in place of plasterboard, plywood not only looks fresh and contemporary, but it is also a comparatively affordable option. Be sure to look out for FSC certified and low VOC plywood is you are considering this wall covering idea to ensure it's sustainable."
13. Play with Painting Timber Cladding
The external timber cladding of this self build is painted in Farrow & Ball's Down Pipe. The cladding was going to be left natural but the homeowners didn't like the idea of how the difference elevations would weather. So, they bought the cladding pre-painted.
Why Use Timber Cladding?
"First off, timber cladding is sustainable," begins Matt Loader co-founder and director of Loader Monteith Architects. "It can be sourced locally, can have low embodied energy and timber also stores carbon in it. It's reasonably easy to install and it weathers well in harsh climates — the prevalence of its use in Scandinavia is evidence of this.
"Depending on the style and areas, it can also be tremendously cost-effective as a solution to cladding a building. It has quite a lot going for it!" says Matt.
"Timber is a very versatile material and it works particularly well if you are constructing in timber frame, keeping the number of trades down," advises Simon Graham, director of Yard Architects. "Design wise, timber offers many different options in terms of species, colour, the shape of the cladding and fixing details, so you can create something very bespoke. It's also very sustainable if carefully sourced.
"There are a few things to consider, durability, cost and appearance. Hardwood timbers and some softwoods will last longer than others but will likely be more expensive, so it's worth investigating. Firms like Russwood and Silva Timber or timber research agency 'TRADA' have lots of information."
Where is Timber Cladding Sourced?
"Because of the UK's temperate climate, the timber species tend to grow quite quickly and can be 'knotty' and open grained in comparison from species from abroad," advises Matt Loader.
"If you look at the difference between Scottish larch and Siberian Larch, it's clear there's a difference in appearance with many more marks and knots on the Scottish cladding. The UK remains a huge net importer of timber, and it's important that we try and utilise our own products more than we presently do."
What is the Cheapest Type of Timber Cladding?
"Cheaper timbers tend to have more knots, so it's important to think about what you want the cladding to look like, and likewise some will take a stain better than others," Yard Architects' Simon Graham comments. "Larch and cedar will weather to an attractive silver grey over time so the timber can be left unfinished."
"If you are up for a bit of an adventure, then purchasing a gas blow torch is a very cost-effective but lengthy way to produce charred timber cladding," suggests Laura Jane Clarke. "Creating a simple blockwork kiln to pass your timbers through will help quicken the process and the speed of burning will give different effects."
Assistant Editor Amy began working for Homebuilding & Renovating in 2018. She has an interest in sustainable building methods and always has her eye on the latest design ideas. Amy has interviewed countless self builders, renovators and extenders about their experiences for Homebuilding & Renovating magazine. She is currently renovating a mid-century home, together with her partner, on a DIY basis, and has recently fitted her own kitchen.
Homebuilding & Renovating Newsletter
Get the latest news, reviews and product advice straight to your inbox.
Thank you for signing up to Homebuilding. You will receive a verification email shortly.
There was a problem. Please refresh the page and try again.