Tile Hanging: A Guide to Cladding a Home with Tiles
By Natasha Brinsmead published
As a type of house cladding, tile hanging is a brilliant solution for traditional and contemporary homes alike — our guide explains all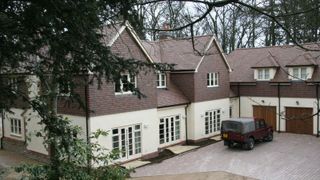 (Image credit: Dreadnought)
Tile hanging is a method of cladding a house that is centuries old, yet it remains popular today. In fact, vertical hanging tiles have seen something of a surge in popularity in recent years, edging their way into contemporary house design and dispelling the myth that they are the preserve of the traditional homes of the South East of England only.
Tile hanging was often used to clad the upper storey of a building and combined with another house cladding material, such as render or brick, on the lower storey. That said, modern-day architects are finding new and interesting ways to add this material to the façades of buildings.
In this guide to tile hung cladding, we explain everything, from its origins to the methods used to fix it as well as costs.
What is Tile Hanging?
Tiling hanging involves installing clay tiles (although other materials such as concrete and slate are used) vertically to act as a cladding, protecting the structure of the building from the elements. It also provides an aesthetically pleasing finish to a property.
The roots of tile hanging as a house cladding method can be traced right back to the end of the 17th century when clay tiles began to be widely used throughout the counties of Kent, Surrey and Sussex.
House walls were, at this time, constructed using wattle and daub on the upper storeys and house builders were searching for a type of cladding that that would offer better weather protection.
Clay tiles offered many benefits over bricks during this period, being lightweight enough for the timber framed houses prevalent at that time to hold them as well as becoming more and more widely available.
In 1784 a brick tax was introduced in Britain, making brick cladding a more expensive option that builders were keen to avoid — plus the practice of hanging tiles required less skill than brickwork meaning it was easier to find labour.
Further north in the UK, slate tiles were often used for tile hanging.
Tile hanging is also a popular way to finish the cheeks (sides) of dormer windows and mansard loft conversions. This is because the material is often matched with the tile or slate used for the roof, providing a seamless look.
How is Tile Hanging Fixed to the Wall?

It is possible to fix tile hanging to pretty much any kind of exterior wall, although the method used varies a little.
When the practice of tile hanging first began, tiles were hung on timber battens that had been plugged into the walls or fixed by wooden pegs, directly into the mortar beds. However, these days a different approach is taken that allows for ventilation under the tiles and free drainage of any water that might get into the membrane beneath.
Before tiles can be hung, an underlay layer is positioned so that it will sit between the battens or counter battens and the wall.
Timber battens are fixed to the wall horizontally at regular intervals (of a maximum 114mm gauge). In the case of walls constructed of old bricks, very dense concrete blocks or stone, it is best to first fix counter battens vertically at 450 to 600mm centres.
Finally, once the battens are in place, each tile is fixed to a batten with two nails (usually alloy or stainless-steel nails or stainless-steel screws). A wind load calculation should be carried out to check that the fixings used are fit for purpose.
Tiles are fixed with the lower, exposed portion of each tile, laid in a header or stretcher bond pattern.
What Do Vertical Hanging Tiles Cost?
Compared to other types of house cladding, such as timber cladding, tile hanging is not necessarily a budget option.
You can expect to pay from around £46/m² right up to £80/m², including labour, depending on the type of tiles you choose, with concrete plain tiles lying at the lower end of the price scale and handmade feature clay tiles being the premium option.
One way to keep the costs down is to minimise the use of tile hanging, and combine with another less expensive material such as house render.
Can Roof Tiles Be Used For Tile Hanging?
It is fine to use standard plain clay roof tiles for tile hanging, providing they meet the requirements of BS EN 1304 (a British Standard that all roof and cladding tiles need to adhere to). It will also be necessary to combine them with special tiles to fix at internal and external corners.
When it comes to slate tile hanging it is best to use a smaller size slate (405 x 205mm is often recommended) as they are less likely to to be lifted in high winds than longer slates. These are then head nailed to 50 x 25mm battens to overlap two slates below.
In addition to plain tiles, feature tiles are often mixed in to add interest to the façade — fishtail, club, bullnose and arrowhead are all popular.
Can Concrete Tiles be Hung Vertically?
During the 1960s it wasn't unusual to use concrete tiles for vertical tile hanging. Sometimes people still choose to use concrete tiles and, despite them being heavier than clay and slate, meaning not all are suitable, there are some products out there which will do the job nicely, including Marley's Edgemere interlocking tiles which give a slate effect and Forticrete's plain vertical hanging concrete tiles.
However, many people still opt for natural materials such as clay for tile hanging, given the fact that, unlike roof tiles, hung tiles are viewed closer up — plus, when used up alongside clay bricks, any fading would be very obvious.
Contemporary Tile Hanging Ideas
Many architects and owners of contemporary style properties are now using some really eye-catching cladding ideas, including brick slips.
When it comes to using tile hanging as a form of contemporary house cladding traditional materials, such as clay and slate, are still often used, but in more imaginative ways.
From expanses of rich clay arrowhead tiles to smooth plain tiles in shades of blue and grey — the results can be striking. When the tile hanging matches the tiles on the roof a sleek, streamlined look can be achieved.
As a cladding material for a contemporary extension tile hanging is great too — adding an eye-catching contrast that looks fantastic combined with aluminium-framed glazing.
It isn't just traditional materials that are being used either — porcelain tile hanging is being used more widely in this country now too.
Natasha is Homebuilding & Renovating's Associate Editor and has been a member of the team for over two decades. An experienced journalist and renovation expert, she has written for a number of homes titles. She has renovated a terrace and is at the end of the DIY renovation and extension of her Edwardian cottage. She is now looking for her next project.
Homebuilding & Renovating Newsletter
Get the latest news, reviews and product advice straight to your inbox.
Thank you for signing up to Homebuilding. You will receive a verification email shortly.
There was a problem. Please refresh the page and try again.