Brick Houses: 12 Exterior Cladding Ideas
By Amy Reeves published
Brick houses are a firm favourite among self-builders and extenders — find out how can you make the most of this material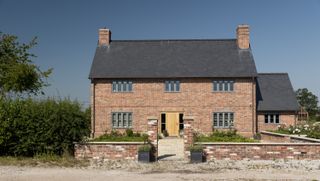 (Image credit: Jeremy Phillips)
Building brick houses is a long-held tradition in the UK, thanks to the material's wide availability and versatility to suit a broad range of styles and designs.
While budget and local vernacular often play a large part in choosing the types of brick that will face your home, there are still many considerations to make — including how they're made, the subtle hues and variations in colour, and the shape and form. Plus, inherent simplicity of bricks often leads to playful creativity in terms of laying patterns and bonds in contemporary and traditional homes alike.
So, no matter if you're looking to extend a period building in a sympathetic style, or self build using cutting-edge design, we have plenty of ideas to get you inspired for your project
Replicating a Traditional Style in a Brick House
When adding to this 16th-century cottage, attention to detail was key when choosing the bricks to clad the oak frame extension.
The homeowners wanted the new addition to mirror the old section of the house with the timber frame visible, meaning the bricks were sawn and stick onto blocks fitted between the beams. This job was made more time consuming thanks to the herringbone patterns essential to the overall aesthetics of the extension.
(MORE: Matching Materials for an Extension)
Using Reclaimed Brick for a Contemporary Home
This small, contemporary home was built on a site of old garages using brick-clad timber frame. During the pre-application stage, the planners made it very clear they wanted to see a brick house, given that the site was in a conservation area. However, the homeowners were keen not to use a London stock brick to create something that looked different.
Eventually, reclaimed bricks, uneven in size and colour, were chosen with a black mortar mix.
A Contrasting Extension to a Terrace House
It's not uncommon to see contemporary designs incorporate a contrasting extension and that's how Stuart Archer (of Archer and Braun (opens in new tab)) chose to face his side return addition.
"There are hundreds of brick types to choose from with many different finishes — smooth, sandy, textured or rough," says Stuart. "In this project we chose an inexpensive engineering brick – Ibstock Atlas – as we were after a smooth and consistent appearance that suits the contemporary style".
(MORE: Modern Brick Design Ideas)
Traditional Laying Patterns in a Brick House
Brick bonds, the patterns the bricks will be laid in, can be a bit of a rabbit hole of information and choices, but doing research to incorporate a more interesting bond will add form and character to a home design.
In this manor-style home, delicate details have been added to the traditional stretcher bond (shown below) of the main elevations. Namely, a herringbone raking bond either side of the porch and a dog's-tooth course marking the first floor.
Brick Laying Patterns to Create a Textured Extension
Just as traditional styles can be elegantly replicated, cutting-edge brick design can turn a seemingly simple extension into a work of art.
"Textured brickwork was used in the design of the staggered two-storey extension," says architect Trevor Brown (opens in new tab). "At ground floor the engineered black headers of the Flemish bond brickwork cast varying shadows throughout the day while at first floor they are recessed to create a woven surface."
A dark mortar mix further enhances the dynamic design.
Cladding Timber Frame Homes with Brick Slips
Great for homes build with limited plot size, brick slips are a great way to create a brick look without the need for extra support and space.
This Passivhaus-certified self build on a tiny garage plot was constructed from structural insulated panels and clad in brick slips to meet planning requirements. The brick and steel façade has been softened with red cedar louvres.
(MORE: Cheap Bricks)
Painting an Existing Brick House for a New Lease of Life
Often during extension projects the existing house can feel tired and dated by comparison so painting exterior brickwork is a sure-fire way to bring a fresh perspective.
Masonry paint is available in a wide range of colours and generally comes in smooth (easier to apply in large areas) and textured (to help cover cracks and uneven surfaces).
Mixing Red Brick and Black Timber Cladding
Modern home designs rarely use one type of cladding and bricks are definitely versatile enough that they can be matched with pretty much any cladding alternative.
In this contemporary self-build red brick, characteristic of the area, was chosen to pair with the exterior grade black-stained timber cladding. The detailing around the windows was inspired by a nearby pub, meaning that while the house is undoubtedly modern, it suits the surroundings flawlessly.
Using Reclaimed Brick to Blend with an Existing Home
Respecting the character of this old coach house in Edinburgh was a priority during the conversion project so the crumbling existing wall was repointed where possible, while the new two-storey extension has been clad in reclaimed bricks.
Tinting is another option for brick houses, in which bricks are stained to change their colour, usually where repairs have been made or to help to unite an extension with the existing main house.
(MORE: Brick Tinting)
Brick and Render for a Manor-style House
In order to achieve a traditional farmhouse appearance, this self build features a characterful exposed oak frame with lime rendered infill panels and a brick-clad ground floor.
(MORE: House Rendering)
White Brick for a Traditional House
In order to ensure this traditional-style self build fitted within the local vernacular, the exterior takes its cue from nearby barns and has been clad in brickwork painted white to match buildings within the village.
A Handmade Brick House with a Modern Timber Rear
After having their planning permission application initially rejected, the homeowners of this modern farmhouse were told by the council that as their self-build was to replace a derelict structure, the new design should replicate the original in size and appearance.
A fairly traditional and unassuming front elevation was essential, but the Border Oak (opens in new tab)design beautifully showcases the old building's heritage with handmade, red Cheshire bricks. These are softened by locally inspired inky-grey timber windows, fitted with brick arch lintels of a design seen throughout the local area.
Around the back however (below), the homeowners were allowed a little more freedom and spiced up their design with some playful blue weatherboarding.
Assistant Editor Amy began working for Homebuilding & Renovating in 2018. She has an interest in sustainable building methods and always has her eye on the latest design ideas. Amy has interviewed countless self builders, renovators and extenders about their experiences for Homebuilding & Renovating magazine. She is currently renovating a mid-century home, together with her partner, on a DIY basis, and has recently fitted her own kitchen.
Homebuilding & Renovating Newsletter
Get the latest news, reviews and product advice straight to your inbox.
Thank you for signing up to Homebuilding. You will receive a verification email shortly.
There was a problem. Please refresh the page and try again.