Kitchen Conservatory Extensions: 8 Design Ideas for Highly Glazed Additions
By Hugh Metcalf published
Kitchen conservatory extensions come with their own unique design considerations. Here's what you need to know about them, plus brilliant design ideas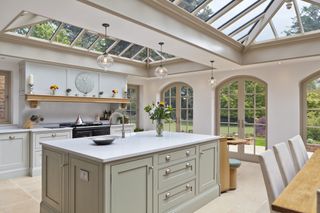 (Image credit: Vale Garden Houses)
A kitchen conservatory extension is an interesting prospect for extending your home. Building an extension with a large amount of glazing may sound like a great way to create a light and bright kitchen space, however, there are restrictive rules under Building Regulations that will determine whether your build is possible.
That being said, get the design of your kitchen conservatory extension right, and you'll have an impressive space with real wow-factor.
We've pulled together some inspiring kitchen conservatory extensions to showcase just how these builds work best, alongside all the key information you need to know to about them.
1. Bring the Outside In with a Kitchen Conservatory Extension
This expansive kitchen conservatory extension from Vale Garden Houses (opens in new tab) creates the feeling that the kitchen is outdoors. Opening onto a courtyard garden, the traditional-style Edwardian conservatory matches the period of the home, and is paired with a classic Shaker-style kitchen design.
(MORE: Conservatory Ideas)
2. A Conservatory Extensions for an L-Shaped Kitchen
Copious windows, doors and several roof lanterns have been used to create a conservatory-like feel for this kitchen extension by Westbury Garden Rooms (opens in new tab). In creating an L-shaped kitchen idea, this space benefits from both the brightness and raised ceilings of the conservatory extension, as well as the more intimate, low ceiling over the kitchen island.
(MORE: Kitchen Layout Ideas)
3. Open Up a Kitchen Conservatory Extension with Bifold Doors
In teaming up large roof lanterns with vast bifold doors on one side and French doors on the other, in summertime this kitchen space opens up to the garden creating what is almost an oversized gazebo which blends the indoor and outdoor spaces almost seamlessly.
(MORE: Patio Door Ideas)
4. Add a Small Conservatory Lean-To Extension for a Brighter Kitchen
While this lean-to kitchen conservatory extension may not be as large as some of the other ideas featured, it adds the perfect volume of useable space to this kitchen diner to be able to incorporate a comfortable dining table. French doors have been chosen to open out onto the landscaping.
(MORE: Kitchen Diner Ideas)
5. Glazed Gables Recreate the Style Kitchen Conservatory Extension
Combining a raised roof lantern with fixed glazing in a roof gable is a great way to recreate the vernacular of a traditional conservatory. In this design, a dramatic pitched roof lantern creates all the drama required of a kitchen conservatory extension, while minimising the amount of actual glazing used, allowing the design to be more thermally efficient.
6. A Kitchen Conservatory Extension with Two Roof Lanterns
Another way to create a conservatory-like look while retaining some solid walling is to choose an orangery with two roof lanterns. In this design, the roof lanterns match, giving a stylish symmetry to the space, but you could also combine larger and smaller roof lanterns to suit the layout of your kitchen extension.
8. Centre Your Dining Space in Your Kitchen Conservatory Extension
The actual conservatory extension to your kitchen is best suited for kitchen islands or dining tables, as kitchen units won't be best served up against glazing. This design uses the layout of the conservatory's roof lantern to create a focal point of the dining table, with pendant lighting dropping dramatically from the pitched roof.
(MORE: Kitchen Lighting Ideas)
---
What Exactly is a Kitchen Conservatory Extension?
While kitchen conservatory extension may be a good description for a highly-glazed extension to your home, it's likely that the resulting structure will be defined slightly differently than your everyday conservatory.
Under Building Regulations, a conservatory should be separated from the original house by external walls and external grade windows and/or doors. This means a conservatory is not necessarily suitable for creating a desirable open plan kitchen space.
Instead, widening your extension horizons to include orangeries, sunrooms and other highly glazed extensions, which feature some amount of solid walls and roof, is a good idea when considering a kitchen conservatory extension.
(MORE: Sun Room Ideas)
Building Regulations for Kitchen Conservatory Extensions
While there are many Building Regulations for extensions that need to be followed, one of the most relevant parts for a highly-glazed extension is the so-called 25% rule in Part L. This sets out that no more than 25% of the new extension's floor area may be glazing or openings — something that causes an issue for those looking to achieve a highly glazed conservatory-style extension.
In this instance, a Building Regulations application would need to be made. It's unlikely to be approved unless it can be proven that the new extension will meet thermal efficiency requirements — the reason for the 25% rule after all is that glazing is less thermally efficient than solid walls.
To do this, you'll be required to undertake a SAP calculation on the proposed design. Under Part L1B of Building Regulations, a SAP calculation can be carried out on a 'notional' version of your proposed extension, which is capped at the 25% glazing limit, while meeting the basics of Building Regulation standard. A calculation is also produced for the real extension plan, and if it can be proven that the real extension won't produce more CO2 than the notional one, the plan may be approved. This can only be achieved by over-specifying elements such as glazing above spec and using fabric first principles such as solar gain to optimise the design.
Do I Need Planning Permission for a Kitchen Conservatory Extension?
Join the Planning Hub
The Planning Hub is a new online resource that will help you understand how to get to grips with complex planning rules. Join today for access to easy-to-read guides which will provide you with key information to help you secure planning permission.
It's possible to build a kitchen conservatory extension under Permitted Development rights, if the project meets certain criteria, which include factors such as the volume of floorspace compared to the existing house, the height of the extension and what material the extension is built from, among other limitations.
If your project is not viable under Permitted Development, you'll need to make a full planning permission application.
How Much Does a Kitchen Conservatory Extension Cost?
While a conservatory is generally considered to be cheaper to built than an extension, there is likely to be some extra expense that comes with a kitchen conservatory extension which will push prices up.
Specialised glass can cost up to 25% more than standard glass, and may be required in order to build your extension under the 25% glazing rule. While a low-end PVCu conservatory might be achievable for as little as £5,000, the requirements of a conservatory for an open plan space will be more high-spec. You can expect to pay from £45,000+ for a kitchen conservatory extension, for the structure alone.
How to Prevent Overheating in a Kitchen Conservatory Extension
The excessive expanses of glass used in a kitchen conservatory extension leaves your space at risk of overheating, especially during the summer months. However, there are some steps you can take to reduce the chances of this happening:
Ensuring that the extension is located on the optimum facing — sympathetic aspect of your home — is a great place to start in preventing overheating. South-facing orientations will see a lot of sun, all day, while north-facing extensions are more shady, and these rooms could often benefit with the extra light afforded by a kitchen conservatory extension.
Solar control glass has a microscopically thin coating on one side that reflects heat from the sun to the outside. This, however, is another expense to incorporate into your design.
Shading is an effective way to block out excessive sunlight to keep a conservatory extension cooler, however, it may negatively affect the good looks of your design.
How to Heat a Kitchen Conservatory Extension
Of course, a kitchen conservatory extension is in year round usage, so space heating is also an important consideration for the space. While modern glazing is making huge leaps in thermal efficiency, it still can't compare to a solid, well-insulated wall, but taking a fabric first approach by specifying low U-value glazing and making use of solar gain where possible is the best place to start.
As a space-heating method, underfloor heating is the best choice for a kitchen conservatory extension, as it's more energy efficient, doesn't require wall space like traditional radiators and eliminates cold spots. While traditional conservatories must have its own heating system that can be controlled independently under Building Regs, this isn't the case for an extension, however, it's beneficial to be able to control your underfloor heating in zones, especially in a new conservatory extension.
Hugh is Digital Editor of homebuilding.co.uk and has worked on a range of home, design and property magazines, including Grand Designs, Essential Kitchens, Bathrooms, Bedrooms and Good Homes. Hugh has developed a passion for modern architecture and green homes, and moonlights as an interior designer, having designed and managed projects ranging from single rooms to whole house renovations and large extensions. He's currently renovating a Victorian terrace in Essex, DIYing as much of the work as possible. His current project is a kitchen renovation which involves knocking through walls and landscaping a courtyard garden.
Homebuilding & Renovating Newsletter
Get the latest news, reviews and product advice straight to your inbox.
Thank you for signing up to Homebuilding. You will receive a verification email shortly.
There was a problem. Please refresh the page and try again.