Roof Lanterns: What You Need to Know
Roof lanterns create extra natural light for your space, as well as an architectural statement overhead. We examine the important aspects to consider, from planning permission to cost, to simplify the buying process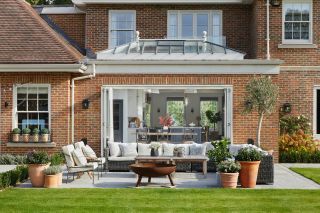 (Image credit: Humphrey Munson/Westbury Garden Rooms)
Roof lanterns have a lot to offer the right project. Both pretty and practical, these glazed structures not only help to bring beautiful natural light into your home, but add a sense of space and drama overhead that can help elevate a room to new heights of elegance.
Largely used on flat roofs, they're perfect for bringing flair to projects such as single storey extensions, and work especially well in larger open-plan spaces where natural light from your doors and windows has to reach further and work harder to keep the room feeling light and airy.
With designs to suit every style of home, if you're considering a roof lantern as part of your build, here's all the information you need in order to select, buy and install the right one.
What is a Roof Lantern?
A roof lantern is a mainly glass structure that sits on a flat roof, bathing the room below in light. Sometimes described as a conservatory in miniature, roof lanterns are structures made up of separates panes of glazing set within a frame as facets.
Roof Lanterns Vs. Rooflights
A rooflight is simply a window that is set in a non-vertical plane. In a pitched roof, it would be called a sloping rooflight: on a flat roof, it would be a flat rooflight or flat roof window.
In contrast, a roof lantern is three-dimensional. The nature of a roof lantern means that it will increase the head height in a room, aiding the space to feel loftier.
Roof lanterns were first used by the Victorians and therefore tend to be an architectural feature of older style properties, whilst flat rooflights are a more modern feature and are therefore stylistically neutral.
However, as glazing and waterproofing techniques have evolved, it is now possible to have a 3D roof lantern with very little framing, meaning they are now being specified for more contemporary homes as well as traditional.
How Much Do Roof Lanterns Cost?
The cost of roof lanterns very much depends on their size and configuration, material, glazing specification and any additional extras you choose to have (such as solar control measures and automated opening mechanisms).
As a guide:
A small, basic, roof only (i.e.no side windows) PVCu roof lantern might start from £700 uninstalled, but this price will rise quickly with the addition of non-white colours, easy-clean glass, fittings and the like.
Small timber and aluminium roof lanterns start from approximately £1,100.
Flat rooflights tend to be simpler to make and therefore a little cheaper. In each case, there is a big premium for bespoke rooflights or lanterns, made individually to your own specifications.
However, these prices lie at the lower end of what people usually end up paying and do not include any extras or installation. Installation of a roof lantern will easily add £1,500 - £2,500 to your overall cost.
Does a Roof Lantern Need Planning Permission?
A roof lantern may well require planning permission if it is being placed within an existing flat roof, as it must, by definition, be higher than any existing part of the roof it is set in – a key determinant of the need for planning permission.
If however, you are installing roof lantern as part of a new build or when building an extension, then it's not going to require any additional permission. The guidelines are quite complex and you would do well to look at the Planning Portal (England or Wales) guidance on whether your project requires planning permission.
Alternatively, check with your local planning department to see if they can clear things up.
Roof Lanterns and the Building Regulations
If your roof lantern forms part of a new extension or a new house, then the building regulations should be dealt with as part of the larger job.
However, if you wish to install a roof lantern in an existing roof, you will need to have it passed and inspected by building control. It is important that the roof lantern opening is structurally sound, as the roof joists are likely to have to be rearranged.
The roof lantern and its opening will have to meet the current requirements for thermal efficiency. It is certain that the roof lantern would have to be double glazed at the very least.
Do Roof Lanterns Have Any Potential Drawbacks?
Check the glazing characteristics. Just like conservatories, spaces with roof lanterns risk getting too hot in summer and too cold in winter. Consider triple glazing for winter heat retention and low-g glass for summer coolth. You can have both – i.e. low-g triple glazing – but it costs about 50% more than regular double glazing.
Look out for roof lanterns that have an opening vent. This could be useful in summer, when it gets very hot. However, this will require automatic opening, which will add a lot to the price.
How are Roof Lanterns Installed?
In a new roof, the opening will be formed by the carpenters during the carcassing process. Details of the sizing and any upstands required should be available from the manufacturers, together with advice on insulating the sides of the opening to avoid cold bridging and condensation.
Often there is a delay between the roof being formed and the roof lantern appearing onsite, so a temporary cover needs to be put in place: corrugated plastic sheets are handy here. The roof covering material is installed over the upstand, before the roof window itself, so that the final waterproofing takes place when the window flashings are fitted onto the upstands.
This work needs to be supervised by a building inspector: the alternative route to window compliance, using a FENSA registered contractor, does not cover new window installations, only replacements.
Where Should my Roof Lantern be Positioned?
The usual place to install an overhead rooflight is in a kitchen, where good quality day lighting is best appreciated. Popular spots include above dining tables and over islands or peninsulas in large kitchens. Generally, it makes sense to keep any overhead lighting fairly central, unless there is a specific reason to locate it to one side.
Are Roof Lanterns Hard to Clean?
Flat roofs are usually accessible from the ground via a ladder or from a window and generally flat roofs provide a safe working platform. External cleaning and maintenance is therefore fairly easy to achieve, as they simply require an occasional wash and window cleaners are well used to them.
Self cleaning glass may also be an option for your roof lantern. The most commonly used form of this glass uses a special coating which is activated by UV rays in sunlight. This coating breaks down organic matter that lands on it and prevents it from sticking to the glass. Self cleaning glass is generally 20% more expensive than standard glazing.
Internally, access can be more challenging and may require a step-ladder. On the other hand, there isn't very much to make the internal glass dirty and cleaning is needed only very occasionally.
Get the Homebuilding & Renovating Newsletter
Bring your dream home to life with expert advice, how-to guides and design inspiration, direct to your inbox.
Mark is the author of the ever-popular Housebuilder's Bible and an experienced builder. The Housebuilder's Bible is the go-to hardback for self builders; originally published in 1994, it is updated every two years with up-to-date build costs and information on planning and building regulations, and is currently in its 14th reiteration.
He has written for publications such as Homebuilding & Renovating for over three decades. An experienced self builder, his latest self build, a contemporary eco home built to Passivhaus principles, was created on a tight urban brownfield plot.