Best Kitchen Extractor Fans to Keep Your Kitchen Odour Free
By Natasha Brinsmead published
After the best kitchen extractor fan to ensure your space remains steam and odour free? We've scoured the shops to dig out the best buys for all budgets.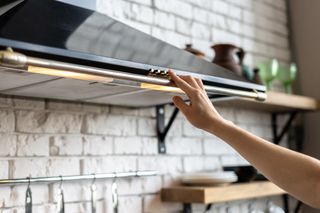 (Image credit: Getty)
The best kitchen extractor fans – or cooker hoods – are capable of removing odours, steam and smoke quickly and quietly from your kitchen.
A kitchen extractor fan is an essential appliance and making a selection is a key part of planning a kitchen. What's more, choosing the best cooker hood you can find is especially important if your space is open plan — you don't want to find yourself sitting down to eat in cloud of cooking smells, after all.
Here, we have rounded up some of the best kitchen extractor fans currently on the market, from chimney cooker hoods and freestanding models suitable for kitchen islands, to downdraught extractors — so no matter what your kitchen style or budget, there will be something for you.
There are several points to bear in mind before making your final selection:
Price
Noise levels (measured in decibels, dB)
Appearance
Filteration system (hoods can be ducted to outside or recirculate the air by means of a filter. Some do both and both types require a grease filter, but recirculation models will need an additional carbon filter)
Size
Finally, we've explained the different types of cooker hood you will find yourself having to choose from at the end of this guide.
Best Integrated Cooker Hood
Neff D55MH56N0B 52cm Canopy Cooker Hood
Sleek, efficient integrated cooker hood
Dimensions: H42cm x W52cm x D30cm | Style: Integrated | Energy rating: C | Noise level: 67dB | Vent type: Extraction and recirculation
Sleek and unobtrusive design
Good integrated lighting
Easy-to-clean filter
Efficient ventilation even on lowest setting
Energy rating C
Neff's canopy cooker hood is designed to be fitted into a kitchen unit above the hob and so is perfect in sleek, contemporary kitchens where a fuss-free finish is sought after.
This model of cooker hood can be either ducted to outside in order to extract smells and steam, or used as a recirculation fan.
Featuring three speed settings and a maximum airflow rate of 575³/h, this fan also has a power boost option that will cut in when cooking odours or steam become particularly intense. It is operated by touch controls and has a smart LED display and two very bright LED lights, making it one of the best kitchen extractor fans around.
Best Island Cooker Hood
Elica TRIBE-ISLAND 90cm Island Cooker Hood
Stylish cooker hood perfect above large island hobs
Dimensions: H74cm x W90cm x D60cm | Style: Island/freestanding | Energy rating: B | Noise level: 68dB | Vent type: Extraction and recirculation
Suitable for large hobs or range cookers
Boost mode
Easy-to-clean grease filter
Elegant design
More expensive than some
If it is a freestanding island cooker hood you are after, one of your top priorities needs to be its appearance — so the Elica TRIBE-ISLAND 90cm Island Cooker Hood really fits the bill.
The sleek stainless steel and glass design will look great above an island hob or range cooker and its generous 90cm width means it will be suitable above even sizeable hobs.
The hood features three speed settings and a maximum extraction rate of 710m³/h. If that isn't enough though, there is also a boost function that will kick in when needed, blasting away unwanted smells in no time.
Best Downdraught Extractor
Cookology 90cm Downdraft Cooker Hood
Contemporary-style cooker hood with practical features
Dimensions: H80cm x W96cm x D49cm | Style: Downdraught | Energy rating: D | Noise level: 67dB | Vent type: Extraction and recirculation
Cutting-edge designer looks
Tucks away out of sight when not in use
Reasonable price tag
Easy to install
Unsuitable for use with gas hobs
If you are concerned that a downdraught kitchen extractor won't offer the same powerful extraction as overhead cooker hoods then worry no more. The Cookology 90cm Downdraft Cooker Hood has an impressive extraction capacity of 700m³/hr, along with four speed settings.
Touch slider control operation and an easy-to-clean filter make it a practical option too, while the two LED lights illuminate your hob and worktop effectively.
Like all downdraught models, this cooker hood rises up from the worktop at the touch of a button, making it ideal for island hobs, or for sleek, contemporary kitchens. What perhaps separates this model is its comparatively low price point.
Owners of gas hobs or cookers should note that this will not be suitable for use.
Best Wall Mounted Cooker Hood
Zanussi ZHC62352X Chimney Cooker Hood
Neat, unobtrusive design at a good price
Dimensions: H60.5 x W60 x D50cm | Style: Chimney | Energy rating: C | Noise level: 71dB | Vent type: Extraction and recirculation
Neat, stylish design
Value for money
Easy to install
Higher noise level than some
This more compact, wall-mounted kitchen extractor fan is great for smaller kitchens. With its stainless steel finish and and glass design elements it will suit a contemporary kitchen beautifully, too. One of its biggest benefits however is its very reasonable price tag.
On the downside, it's maximum airflow rate when ducted is 500m³/h — lower than some of the other models here. It is also a little noisier at 71dB.
However, it is simple to fit, easy on the eye and offers effective extraction and three speed settings.
Best Angled Cooker Hood
CIARRA CBCB6736C Class A Angled Cooker Hood
Energy rated A and practical design make this a great buy
Dimensions: W60 x D28.5 x H67.5 cm | Style: Wall-mounted | Energy rating: A | Noise level: 62dB | Vent type: Extraction and recirculation
Energy rated A
Impressively low price tag
Stylish appearance
Angled design to avoid hitting head
Lower extractor rate than some
There are lots of reasons why the CIARRA CBCB6736C Class A Angled Cooker Hood is a great buy.
Firstly, it is extremely reasonably priced — although do be aware that you will need to purchase filters separately.
Secondly, it has an A energy rating and a noise level of just 62dB. Then there is the clever angled design that means even people on the taller side should have plenty of headroom. It features three speed settings and practical lights too.
On the downside, it only has a maximum extraction rate of 350m³/h and so it might not be the best option if you have a huge hob or cooker and a large open plan kitchen diner — however, those with small kitchens or standard sized hobs should be just fine.
Best Telescopic Canopy Cooker Hood
Cookology Integrated Telescopic Cooker Hood TEL605SS
Dimensions: W60cm x D30cm x H17.5cm | Style: Integrated | Energy rating: B | Noise level: 64dB | Vent type: Extraction or recirculation
Low cost
Space saving design
Quiet operation
Lights only activated when extended
The perfect solution for those who want a value-for-money extractor hood that can be hidden from view when not in use.
The Cookology Integrated Telescopic Cooker Hood is designed to be fitted into a unit above the hob. The front section can be pulled out to extend the hood, revealing its controls and lights.
While it lacks some of the features of the other hoods featured here – no boost function, a 440m³/h extraction rate and only two speed settings – it makes up for this by being one of the cheapest models around, plus it has one of the lowest noise levels.
Types of Kitchen Extractor Fans Explained
There are several different types of kitchen extractor fan and the one you choose needs to suit your kitchen as well as the type of hob you will be using it above. Here we explain the various styles of cooker hood to help you make the right choice.
Integrated cooker hoods: Also known as 'built-in', these are designed to fit into a kitchen unit above the hob and are a good space-saving option. They're a great option for those who do not like the look of cooker hoods.
Canopy cooker hoods: Similar to integrated kitchen extractor fans, these sit flush with the underside of the kitchen wall units — they often have an extendable telescopic section at the front.
Chimney cooker hoods: These are made up of a canopy hood and a chimney. They are usually wall-mounted and are a great option for large hobs.
Island cooker hoods: Also known as freestanding, this type of cooker hood is ideal for use over a hob fitted into an island unit. They are ceiling mounted.
Downdraught extractor: Fairly new to the scene, they slot into your base units and lie flush with the top of your worktops, rising up when needed.
Visor cooker hoods: The classic design — a visor hood is attached to the wall at a right angle.
Natasha is Homebuilding & Renovating's Associate Editor and has been a member of the team for over two decades. An experienced journalist and renovation expert, she has written for a number of homes titles. She has renovated a terrace and is at the end of the DIY renovation and extension of her Edwardian cottage. She is now looking for her next project.
Homebuilding & Renovating Newsletter
Get the latest news, reviews and product advice straight to your inbox.
Thank you for signing up to Homebuilding. You will receive a verification email shortly.
There was a problem. Please refresh the page and try again.