Solar Control Glass: How to Keep Your Home Bright and Cool
By Tim Pullen published
Solar control glass can be effective at reducing glare and excessive heat — useful in heavily glazed homes. Our guide reveals what you need to know and costs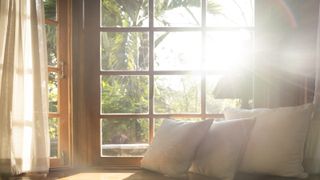 (Image credit: Getty Images)
Solar control glass can help provide a solution to overheating and glare. As the current trend for large expanses of glazing in our extension projects and homes sees no sign of abating, finding a way to do this and ensure temperatures remain comfortable has become a mission for many homeowners.
There are lots of different window styles that can be used when building a new home or renovating, but solar control glass addresses a problem that has since caught the attention of many — namely, the fact that more glass in a home equals more heat.
Our guide investigates how exactly solar control glass works, its effectiveness, and whether your home would benefit from it.
What Is Solar Control Glass?
Putting in more glazing and bigger windows and doors has become the norm of late, to enhance the amount of natural light entering the home and to enhance the connection with the garden and views. But with letting in all that light comes an increased potential for overheating.
The infrared part of the sunlight passing through glass produces heat and can lead to overheating in the summer months. The issue is now addressed in the Building Regulations — Part O was launched in 2022 to manage and prevent overheating in the home.
One of the more progressive solutions for dealing with overheating in and around the home is solar control glass. Solar control glass is a hi-tech product with a metallic coating applied to one side of the pane, which allows sunlight to pass through the window while radiating and reflecting away some of the infrared part of the sunlight itself.
By doing so, this enables the indoor area to stay brighter and cooler than would be the case with plain glass — which acts as a sunlight magnifier for fittings like standard sash windows, for example.
There are a few different types of solar control glass that emphasise reducing glare and/or heat, depending on your need as a homeowner.
How Much Does Solar Control Glass Cost?
Currently, solar control glass is available as clear glass, tinted in a variety of tones, or with a mirror finish, and is inarguably effective at what it is intended to do. However, cost may be an issue.
Meeting current Building Regulations is highly likely to require Low-E glass as a minimum. This is glass with a coating to its internal face, which reflects some of the heat back into the room (essentially the opposite of solar control glass).
A double-glazed unit with Low-E glass is likely to cost under £50/m2, while that same unit with an outer pane of solar control glass is likely to cost in excess of £130/m2.
As for the retrofitter, this cannot be considered a DIY job, as the pane has to be incorporated into a double-glazed unit, with that unit then being fitted into a frame.
Now, for instance, imagine fitting that across all windows in a conservatory; the cost would quickly skyrocket. (Options such as conservatory blind ideas might be a better solution here.)
However, cost alone does not mean that solar control glass is a complete write-off. If you have one room, for example, like a study with a single picture window that lets in plenty of sunlight, solar control glass could be your most cost-effective option long-term.
For those building their own homes or adding an extension to an existing home, specifying solar control glass for windows on south-facing elevations or large areas of glazing, where overheating can be an issue, is a good idea.
Where Can You Buy Solar Control Glass?
There are two main manufacturers of solar control glass in the UK right now: Saint-Cobain and Pilkington. In terms of effectiveness, it is difficult to find a difference between the two, and both offer products with a tinted, mirrored or clear appearance. Both also supply product to a whole host of window manufacturers, meaning you can find each offering with relative ease.
If you are looking to keep costs down, though, it would be cheaper to try a stick-on film, applied to the external surface of the glass, like that supplied by The Window Film Company.
There are different types of window films designed to provide privacy, and others intended to stop heat from passing through. Both are meant for retrofit and application as a DIY job. This option is significantly cheaper than solar control glass, although arguably a little less effective, with its durability under extreme weather in question as well.
Is Solar Control Glass Worth It?
Solar control glass is very expensive, and there are indeed cheaper alternatives when considering how to prevent overheating — such as providing summer shading to windows or patio doors. It is highly likely that well-thought-out shading will be just as effective as solar control glass.
However, the product is arguably a sensible option for rooflights and conservatory roofs, where the potential for overheating from the sun is greatest. Or where shading can not be provided to large areas of glass, particularly south-facing glazing.
But even then, it would be unreasonable to expect the cost of solar control glass to be repaid in reduced energy bills.
It has to be accepted that solar control glass is a method more to do with optimising home comfort than it is with saving money.
Tim is an expert in sustainable building methods and energy efficiency in residential homes.
Homebuilding & Renovating Newsletter
Get the latest news, reviews and product advice straight to your inbox.
Thank you for signing up to Homebuilding. You will receive a verification email shortly.
There was a problem. Please refresh the page and try again.