11 Conservatory Lighting Ideas to Cosy up Your Space
By Hugh Metcalf published
The best conservatory lighting ideas ensure your glazed space is usable once the sun goes down and looks its best, inside and out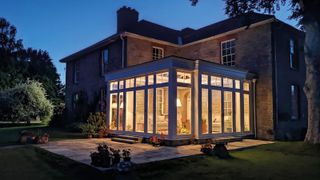 (Image credit: David Salisbury)
When looking at conservatory lighting ideas, you need to take into account the design of your extension and how it will affect the placement of lighting. Whether you have a traditional conservatory, an orangery or a sunroom, with an excess of glazing comes limitations to where you can add lighting, so you'll need to consider lighting early on in the build to ensure your space can be illuminated for using during the darker hours.
Fortunately, there are some brilliant lighting design tricks to really make the most of a conservatory, helping it looks its best from both inside and out.
We've rounded up 11 of the best examples of conservatory lighting, alongside expert advice for getting it right.
Conservatory Lighting Ideas
The conservatory lighting ideas you choose will be largely dictated by how you plan to use the space.
"If you're planning a kitchen extension, functionality may sway decision-making more than design alone," says Karen Bell, Creative Director at David Salisbury (opens in new tab). "On the other hand, if your extension is more about having a space to relax and unwind with company, then statement feature lights can create a warm glow as well as add a focal point to your room."
Essentially, there are a number of possibilities, and combinations when it comes to lighting conservatories. "The key is to consider your lighting design ideas early on in your plans, and talk it through with your designer — if not you'll be left with cumbersome wires and plug sockets that will hamper the aesthetics of your new extension," explains Karen.
1. Hang Pendant Lights From the Apex of Your Conservatory
The glazing in conservatories presents obvious issues for mounting any lighting, however, it's perfectly possible to include pendant lighting in your conservatory, orangery or sunroom design even if you have a large roof lantern, but it's largely something you'll have to specify from the outset of your build.
"The underside of our timber framed roof lanterns can be specified with a base plate designed to accept the fixing of a pendant light fitting," says Annabel Fenwick from Just Roof Lanterns (opens in new tab). "They're built with hidden conduit channels to hide electrical cabling, and can accept pendant lights up to 25kg."
Aluminium and uPVC conservatories will likely not be able to handle pendant lights as heavy as this, but there will be options for hiding cables in hollow components.
2. Choose Wall Lights for Cosy Conservatory Lighting
Whether you're building a new conservatory or retrofitting better lighting into an existing one, wall lights are a key part of the lighting mix for these sorts of spaces. With a real conservatory, you should benefit from having two areas of your home's external wall exposed inside the conservatory, giving you solid wall to install them on on either side of the door — while if you're looking for orangery or sunroom ideas, you may have more wall to play with.
Consider wall lights that either diffused light throughout the space, or are directional up and down. This will help to spread light upwards too, creating effective accent lighting for the glazed roof.
3. Use Downlighters Around the Roof Lantern in an Orangery
Large roof lanterns, as seen in kitchen conservatory extensions and orangeries, can cause one major issue in your lighting scheme. If you don't include lighting underneath the lantern itself in the form of a pendant light or spotlights, it becomes a large gap in your lighting, in a space which can often be a space that benefits from artificial light in the evening, such as over a dining table or kitchen.
To combat this, consider the placement of downlights around the roof lantern opening. Choosing downlights with a dimmable function and that offer a wide spread of light will, when packed in densely enough, prevent this space becoming a dark spot in your scheme.
4. Anchor Conservatory Lighting over a Table or Island
If you are considering pendant lighting in a conservatory, but don't have lofty headroom to install one, then locate it over a piece of furniture that will ensure it's not in the way of anyone moving around the space.
This could be a dining table, a kitchen island lighting idea, or even something like a coffee table, allowing you to bring down the height of the pendant into the space.
"If you're hanging a pendant light above a table or island, the general rule of thumb is that the fixture should be hung 30-34 inches above it," says Annabel Fenwick.
5. Make Use of a Pitched Conservatory With a Grand Chandelier
If you do have a large pitched roof to a conservatory, then opting for a large, grand chandelier can really highlight the ceiling and draw the eye up.
But how high should you hang a pendant light in a large conservatory? "For ceilings higher than eight foot, add three inches to the height per foot," continues Annabel.
Many different styles of chandeliers will suit a conservatory, from classic crystal drop chandeliers to modern, sculptural designs —depending on your interior scheme, the lighting ideas for vaulted ceilings are pretty much endless.
6. Light Up Your Conservatory Roof With Accent Lighting
"For central glazed skylights, we would always recommend using uplighting inside the space so that it doesn't appear to be a black hole in the evenings," says Piero De Marchis, founder of Detail Lighting.
There are a few ways you could do this, including using spotlights angled up to the roof, placing wall lights on the recess under a roof lantern in an orangery, or by using LED lighting recessed into the conservatory design. This can look incredibly effective, highlighting the pitched roof design both from inside and outside of the conservatory.
7. Supplement Your Conservatory's Lighting With Floor and Table Lamps
Occasional, low level lighting such as floor and table lamps are an important part of your lighting mix when your overhead lighting is limited. Whether you're working with an interior designer or planning the interiors yourself, take stock of your lighting plans early on in the design process for a conservatory.
This way, you can ensure the electrical sockets are in the right place and avoid wires trailing along the side of the conservatory floor. If they're your only form of lighting in a space, you may want to consider novel ways of turning them beyond manually doing so. It's possible to install switched sockets for lighting that's plugged in (but bear in mind these are often round-pinned, so you may need to change the plug on your lighting), or you could go down the smart lighting route, using one of the best smart plugs to automate your lighting.
8. Use Lighting Strips to Modernise Your Conservatory Design
When it comes to dramatic accent lighting for a conservatory, you can't beat a modern lighting strip. Many modern conservatory, sunroom and orangery designs can incorporate a small cornice that allows for hidden rope lighting or LED strips that create an even light all around a space. Directed upwards to the ceiling, this creates a brilliant effect to showcase the structure of your roof as a design feature at night.
9. Bring the Outdoors in With Your Conservatory Lighting
Not sure what type of conservatory lighting ideas to go for? We love the idea of bringing the outside in by using lighting with an outdoorsy design vernacular in your conservatory space.
Take these weathered copper lanterns, for example, which give this otherwise quite formal dining space the idea of being outside, keeping that connection to the garden, even when using the dining room at night time. Marry these with some clever garden lighting ideas, and using the space at night becomes a brilliant experience.
10. Don't Forget to add Lighting to the Exterior of Your Conservatory too
With that said, don't overlook the lighting on the exterior of your conservatory too. Not only will this improve the look from inside, thanks to its highly glazed nature, but a conservatory tends to act as the main access to the garden in most cases, becoming a real feature of the rear of the house.
Illuminating it with accent lighting will ensure it looks its best when using your garden in the summer months, and help to create light for an outdoor seating or dining area.
11. Create a Symmetrical Look With Your Lighting
What you may have noticed through a lot of these conservatory ideas is that symmetry works wonders in a conservatory. Classically, British homes don't tend to be all that symmetrical, unless they're large detached homes or new builds designed that way, but many conservatory styles are perfectly symmetrical additions to a house.
Playing up this can be an effective way to create a luxurious dynamic, as demonstrated in this conservatory design by Westbury Garden Rooms. A central pendant, with matching wall lamps or table lamps, creates the perfect vignette through the conservatory doors from the garden.
What Types of Lighting Should I use in a Conservatory?
In an ideal world, your conservatory will make use of all three of the types of lighting available to it. Ambient lighting will generally be supplied by an overhead pendant light or wall lights and this creates the main illumination for the space. Conservatories are likely to have high levels of natural light during the daylight hours, so you can focus on softer ambient light that creates an evening atmosphere rather than looking for intense, bright lighting.
Task lighting isn't necessarily the most important type of lighting for a conservatory, but it does depend what you plan to use it for. If you like to read or do something that requires your eyes to focus, such as crafting for example, brighter directional lighting from table or floor lamps can be added to make sure your needs are met.
A conservatory is one of the most effective places in the home to use accent lighting. The nature of a conservatory means its has a roof with detail that's worth highlighting, so always try to incorporate some upwards accent lighting in your design.
Hugh is Digital Editor of homebuilding.co.uk and has worked on a range of home, design and property magazines, including Grand Designs, Essential Kitchens, Bathrooms, Bedrooms and Good Homes. Hugh has developed a passion for modern architecture and green homes, and moonlights as an interior designer, having designed and managed projects ranging from single rooms to whole house renovations and large extensions. He's currently renovating a Victorian terrace in Essex, DIYing as much of the work as possible. His current project is a kitchen renovation which involves knocking through walls and landscaping a courtyard garden.
Homebuilding & Renovating Newsletter
Get the latest news, reviews and product advice straight to your inbox.
Thank you for signing up to Homebuilding. You will receive a verification email shortly.
There was a problem. Please refresh the page and try again.