Garden Room Ideas: 12 Ways to Create a Great Outdoor Space
By Amy Reeves published
With so many garden room ideas on the market choosing a design and size while fitting budget is tricky — discover what to consider with our expert design guide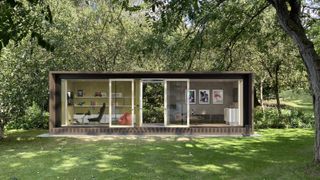 (Image credit: Modulr)
Researching garden room ideas before buying or building a new structure will help you to create a firm brief of the styles and sizes that would work best for your lifestyle and garden. Plus, an extra bit of homework will go a long way to establishing a realistic budget for this project.
There is lots to be considered while creating a garden room; namely the purpose it will provide that your current home doesn't fulfil. It is essential that the new space won't duplicate function just for the sake of some more room. The design must meet a specific requirement — be that working from home, needing a place for messy or noisy hobbies, or a place to exercise away from furniture or treasured objects.
We've collected together a range of great garden rooms and outbuildings below to inspire your project and have included lot of expert advice (from design companies and industry leaders, to architects) to answer some key questions.
Garden Room Ideas: Where to Start
Deciding what the space will be used for is the starting point when designing and building a new garden room.
"Building a studio in your garden creates an opportunity to have another room in your home that perhaps has even greater potential than the rooms in the house," begins Tomaso Boano and Jonas Prišmontas of architectural design company, Boano Prišmontas.
"For example, the studio is freestanding and does not share a wall with a neighbour. This gives the inhabitant the chance to be more noisy than they would in the flat or in the house. Playing music, singing, or using power tools is now an activity that is less likely to evoke stomping on a ceiling by a disturbed neighbour.
"A garden studio can be dedicated to messy activities too. Those who paint or enjoy carpentry at home, often skip the opportunity of practicing their hobby, simply because the said activity requires setting up, and later cleaning up once they are finished. A garden studio can forever be messy, and the paint or tools can be readily accessible without the need of being packed away in boxes."
1. Take Your Work Outside with a Garden Office
More and more of us are working, at least in some part, remotely, and while this opportunity affords a flexibility, creating a clear home working space is important for multiple reasons.
For one, a separate work and living space is healthier in the sense that workers are able to 'turn off' from their office life. For another, it can be very trying to constantly tidy computers, screens and papers from a temporary desk in a spare room or on the dining table. This is where garden office ideas really come into their own.
This stylish garden office was built on a DIY basis for £12,500 and features sliding doors made from PAR redwood stained with Osmo oil.
The designer and homeowner, Richard John Andrews, says: "The studio is an interpretation of modular design. We used construction plywood that we could coat with a treatment. It means that regardless of what we're doing, whether model-making or pinning stuff up on the walls, it doesn't affect the condition of them.
2. Keep to a Budget by Retrofitting a Traditional Shed
Although not as glamorous as a bespoke design, off-the-shelf sheds can be insulated, decorated and fitted out to suit a range of needs.
First consider damp proofing and insulation to make the space inhabitable during colder times.
While elements like lighting and internet can be routed through, if you're keeping costs down this may not be the best option an electrician may be required. Alternative solutions could be a WiFi booster and a suitable extension cable from an outdoor socket to plug in an LED light panel, like this one from Ikea.
3. Give Garden Room Interiors Some Consideration
Just as with summer house interior ideas, garden rooms can be limited on space, so think carefully about the layout and only include furniture which is absolutely essential.
"There is value added to lifestyle and wellbeing from garden rooms," comments Matthew Wood, founder of MW Architects. "Especially in the WFH (working from home) context, but also in terms of creating space for family life to coexist in sometimes quite small homes."
Built-in storage that can function for multiple uses is a good idea — just as a desk that can fold into a table, or a sofa that can be extended into a quick guest bed, as above.
4. Consider a Traditional Orangery-Style Garden Room
Use free-standing orangery ideas to inform a light-filled garden room. The solid roof will provide space to add insulation and prevent it from overheating, while panels of glass at the front and round the side are perfect for admiring your garden whatever the weather.
This bespoke timber and powder-coated aluminium roof framework design (from Vale Garden Houses) features ornate, classically styled glazing, bargeboards and columns. This look works particularly well in the gardens of period-style homes.
5. Commission a Bespoke Design That Ticks all Your Boxes
"A clear idea of what you want to use the space for is important, but a good architect will be able to help and guide you in creating a clear brief that is representative of your values, aspirations and of course budget," says Matthew Wood.
"An architect will create a bespoke design that responds to all the parameters as well as taking consideration of the context and practical considerations such as party wall agreements, building control, connecting to services and the like.
"Designing a building that sits in the landscape and garden design well and responds to the available light creates the opportunity to make a really rewarding space that will enhance your landscape and experience living in your home."
"Being pocket spaces where people are free to exercise, experiment with their hobbies, or find concentration and relaxation, the garden rooms always become very personal to the owners," agree Tomaso Boano and Jonas Prišmontas.
This garden room was designed by MW Architects to supply the homeowners with a multifunction room for potting plants, playing family games and reading.
6. Use a Garden Room for Year-Round Potting
Keep your outdoor tools organised and away from the mess that now inhabits every garage with a garden room dedicated the potting.
With everything on hand, space to shelter less hardy plants over winter and room to spread out seedling pots come spring time, a potting shed can alleviate stress put on other spots of a keen gardener's smaller house.
Small garden design ideas like this, which can make the most of a limited area, are well worth looking at for those on a budget.
7. Opt for a Swift Build with a Prefabricated Garden Room
"Accessibility of gardens in London [and other areas] can be really challenging," begin Tomaso Boano and Jonas Prišmontas. "In some instances, in order to reach a backyard one must enter through a narrow door, follow a tight corridor and go down two flights of twisty stairs!
"Our system of modules allows us to access all these tricky spaces. We investigate each site independently which then informs our pre-assembly process. Sites with easy access benefit from a quicker installation time because modules that can be brought in are larger.
"The flatpack system also makes the delivery to site much quicker and easier. We do not need to hire a crane to lift things in and out of a lorry. All the components can be carried by 1-2 people and they fit in a medium size van pretty easily, like a giant tetris. Knowing the loading/ unloading sequence is pretty important as it helps to further reduce transport time/costs."
This micro-home – complete with shower room, bespoke furniture, a home office and space for occasional sleeping – was pre-manufactured with rigid insulation in Boano Prišmontas' workshop and was erected in just one day on site.
8. Keep a View of the Garden Top of the List
What's the point of a room in the garden if you're unable to watch the seasons change for a cosy, sheltered spot?
"Garden rooms are an opportunity to build a small bit of architecture in your home which some people find very rewarding as the restrictions of material and form are less stringent than with extensions," explains Matthew Wood. "They are also isolated forms and so don't have to have such a precise relationship with the host dwelling. So they can become a little bit of sculpture in your garden."
This 'plug and play' Small Space by Modulr (with 7.26m2 of internal space) is priced from £21,500 and has an ultra-low carbon footprint with no need for foundations.
9. Keep it Classic with a Summer House
Summer houses are the quintessential garden room. While not known for being particularly thermally insulated, this can be installed on a DIY basis, or left as-is for summer use.
Antique leaded casement windows and lockable french doors complete this delicate octagonal summer house (from Scotts of Thrapston), which is finished with a cedar shingle roof and copper finial.
10. Embed a Garden Room into the Landscape
Unless you are blessed with a particularly large garden, the changes are that a garden room will be visible from inside your home, and most definitely while you sit out enjoying the sun.
Embed a garden room into the landscaping design by choosing colours that either complement the existing plants, or contrast to provide a striking feature.
Here, this has been accomplished by Neil Dusheiko Architects, who designed this sauna space at the end of the garden. Shou Sugi Ban charred timber cladding covers the outbuilding while careful screening using taller shrubs and a wildlife garden softens the views from the interior spaces.
11. Go Greener By Insulating Your Garden Room
If you're likely to use the garden room whatever the weather, be sure to insulate or choose a design which includes this in the cost.
"Our units have a greater insulate U value than that set out in Building Regulations for new builds," says Jo van Reimsdijk of Modulr. "So they are warm in the winter (particularly with their underfloor heating — included in the price).
"We have built our units out of some of the most sustainable materials we can find: Expanded cork (carbon negative), Accoya cladding (FSC Gold), EPDM, SMILE plastics (recycled plastic waste 100% recycled and 100% recyclable), SUNFLEX UK aluminium glazing system. The use of natural materials such as cork help out units blend into the natural environment."
12. Install a Shepherd's Hut for Occasional Guests
While you need planning permission for structures that will be permanently inhabited or rented out as a holiday let, garden rooms can be used for occasional stop overs by guests.
Shepherd's huts have definitely had a renaissance in the last few years – which is often reflected in the price – and it's not hard to see why. Their charm and ability to blend in with green surroundings is hard to match.
As they are portable, shepherd's huts may be a good choice for those who are living on site while self building or extending, although planning permission may need to be sought. After the project is complete, the use may simply be adapted.
This hut from Plankbridge is large enough to fit a king-sized mattress or a spacious office set-up.
What is the Biggest Garden Room You Can Have Without Planning Permission?
"The size of your outbuilding if you want to comply with Permitted Development (avoid planning permission) does require a careful analysis," begins Matthew Wood of MW Architects, "but the key points, assuming the house is not in a conservation area, are:
The area of the outbuilding can be up to 50% of the original garden less any extensions already built. This can be huge!
If the building is within 2m of any boundary then the height Is limited to 2.5m externally… they can become very boxy and an architect can help with this.
If not close to the boundary then it can have a duel pitched roof up to 4m in height and the eaves must be 2.5m
Must not be forward of the principle elevation but can be to the side (not in conservation).
"There are a couple of additional restrictions for conservation areas or special designations like national parks."
Do Garden Rooms Add Value?
"Garden Rooms can add real value to a house price, but you must make sure that it is good quality and adds something to your home," advises Jo van Reimsdijk of Modulr.
"If you are going to sacrifice some of your garden — do make sure that will be worth it in terms of what you gain! A good garden room can add around 5-10% on top of your house price, particularly if prospective buyers are looking for working from home solutions."
"I think that the work space / work from home phenomenon has made garden rooms a tangible asset," agrees Matthew Wood. "Obviously the amount of added value depends on what you spend but I believe it is costed as additional floor rate prorate in most cases— especially if it is built as a long lasting proper building.
"The off-the-shelf timber ones can feel a bit shed like and while they are very good value and fast to construct the added value may be less."

How Much Does a Garden Room Cost?
There is a huge variation in the cost of garden rooms. An off-the-shelf shed can cost from as little as £1,500 – this Shire Iceni shed from B&Q could be converted quite nicely – while bespoke options could reach up to as much as £50,000. An oak frame garden room can cost from £2,500/m2, although there are some options for DIY-specific designs to save on costs here.
"You basically get what you pay for!" says Jo van Reimsdijk of Modulr.
"The square-metre cost of a garden studio is comparable to that of a 'proper' house," continue Tomaso Boano and Jonas Prišmontas. "A garden studio will have a solid structure, high quality internal and external cladding, efficient insulation and windows/doors. Our high quality structures can be seen as little homes. We only use high quality materials and focus on unique design. We are not competing with sheds from DIY merchnat, we build small-scale architecture."
"Modulr Space units are at the top end of the market, but we have considered every eventuality a customer might want to consider in a garden room. If you order a garden room from Modulr Space Ltd – our units come ready to go – all the customer needs to do is plug it in and off they go!
"Our costs are very transparent and as we do not require concrete foundations — there are usually no additional ground works to be done," adds Jo van Reimsdijk. "There is an architectural practice behind Modulr Space Ltd and our units have been designed by architects to be able to be enjoyed all year round."
Do Garden Rooms Need Foundations?
Foundations will be required for most large garden room structures — this could be a surface of thick paving slabs or concrete foundations.
"Every garden room company will have different requirements for their design solutions," says Jo van Reimsdijk. "You should find out as much as possible about the foundation requirements at your initial query. Modulr Space units do not usually need traditional concrete foundations. We use ground screws as they are quicker and more environmentally friendly than concrete — these are included in our pricing."
Assistant Editor Amy began working for Homebuilding & Renovating in 2018. She has an interest in sustainable building methods and always has her eye on the latest design ideas. Amy has interviewed countless self builders, renovators and extenders about their experiences for Homebuilding & Renovating magazine. She is currently renovating a mid-century home, together with her partner, on a DIY basis, and has recently fitted her own kitchen.
Homebuilding & Renovating Newsletter
Get the latest news, reviews and product advice straight to your inbox.
Thank you for signing up to Homebuilding. You will receive a verification email shortly.
There was a problem. Please refresh the page and try again.