Adding a Sunroom
By Daisy Jeffery published
When it comes to planning a four-season sunroom, consider designing in features for year-round comfort. Daisy Jeffery explains the key principles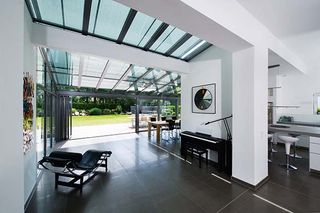 (Image credit: Solarlux)
Contrary to its given name, a sunroom should offer more to your home than a space to enjoy when the sun is out — especially as us Brits only see a few days of sunshine a year. Different from a conservatory (traditionally a fully glazed addition), a sunroom is a permanent structure that acts as a transitional space between the home and the garden.
They offer plenty of light without being entirely made of glass — usually several elevations are fully or partly constructed of brick, blockwork or timber. But, how can you ensure comfort all year round? Here, we explain what to consider in the design stages.
The Four-Season Sunroom
Unlike some conservatories and sunrooms, the modern, four-season sunroom is designed to be used all year round. This means that its design will need to factor in both heating and cooling in order to offer comfortable living during the summer and winter months.
It is, however, more expensive to build as your budget will need to take into account the extras that will come with keeping the space both warm and cool. With that in mind, you should aim to make it as energy efficient as you possible can.
As part of the design process, you'll need to consider how the addition of a sunroom will impact on adjoining rooms. Modern living has meant that small, individual rooms have been traded in for larger open plan spaces, with the kitchen/family area now being the hub of the home.
The 'hub' is an ideal place to add a sunroom as a continuation of this space. But, whether you make the sunroom open plan to the kitchen, dining and living area for a natural progression into the garden, or close the sunroom off using connecting doors, the sunroom should feel like it has always been a part of the home.
Orientation will need to be considered, too. Sunrooms are most often located on the southern elevation to capture the most light and also stay sheltered from bad weather. Depending on whether you are a morning or evening person, you could choose between positioning the sunroom to capture the south-east or south-west facing sun — if your garden space allows for it, of course.
How Much Does a Sunroom Cost?
Sunrooms typically start at around £10,000 for a frame-only option. A complete build commission could cost up to £80,000.
Comparatively, they may seem to cost more per m² than an extension because they are a single room addition. However, as they are just one room (and don't require the additional plumbing considerations of a kitchen extension for example), there is a level of cost certainty and they are easier to manage.
Light from Above
Introducing natural light into the space will be one of the key considerations when planning your sunroom. There are several ways to bring natural light into the space from above, whether this be through banks of rooflights, a roof lantern or even clerestory windows — with companies such as Solarlux, IQ Glass, Apropos and Glazing Vision offering multiple options to suit your space.
If you live in a Conservation Area, you are likely to be restricted with regards to roof lanterns. However, there are several suppliers on the market who supply conservation rooflights which sit flush with the roof and have less impact on the external structure.
Building Materials
Depending on the design you choose, sunrooms most commonly are built of brick and blockwork, timber, glass or PVCu — or a combination, e.g. timber and glass. Unlike conservatories, sunrooms mostly tend to have a conventional roof, with any glazing introduced through banks of rooflights and glazed doors leading out to the garden or terrace.
As a sunroom should be a structural addition to the home, the materials you use should either match or compliment the existing building. Matching roof tiles, bricks and/or cladding are all ways to make this new addition feel like part of the home.
But what of the materials for windows and doors? "An aluminium structure for the glass doors and windows is the strongest of the three acclaimed materials (timber, PVCu and aluminium)," says Neil Ginger, CEO of Origin.
"It's strong and lightweight, so can support larger glass panels and allows for slimmer frames to let in more natural light."
Pre-fab Sunrooms
If you're after a sunroom without the hassle of on site works, or if you have a limited time frame, then pre-fabricated sunrooms are a great solution. Companies such as Keystone Lintels supply easy-to-install, factory-fabricated sunroom lintels which are delivered to the site for you or your builder to finish off.
Should you wish to have even less hassle than that, companies such as Lima Sunrooms custom build sunrooms to your specified style and budget, and deliver to the site where they will then fit the sunroom for you — saving you time and any inconvenience.
Opening Up to the Outside
In your sunroom, how you enter the garden will be important. Which doors you choose, will depend on the style of your sunroom (contemporary or traditional) and how much light you intend to have entering the space.
If you're going down the contemporary design route, bi-fold doors will be the ideal choice — offering full-height glazing and can often be peeled back to provide uninterrupted views. Proving that bi-fold doors suit traditional schemes too, these doors from Totali Timber easily fold back to allow garden access, and are painted to match the interiors.
Traditional sunrooms, on the other hand, tend to favour French doors which could be specified with wooden frames for an authentic look. If your sunroom is large, you could even have two sets of doors at either end of the room
Go even further in blurring the boundaries between inside and out by opting for level thresholds and specifying floor tiles which can run from the sunroom to the outside terrace for a truly indoor/outdoor experience. Note that if you do level the threshold, consider any drainage issues to avoid water creeping into your home. In this instance, exterior paving should be laid to fall to encourage any water run off.
Will I Need Planning Permission for a Sunroom?
Your sunroom extension will fall under Permitted Development so long as:
It is not higher than the existing roof
There are no balconies, verandas or porches
It does not extend beyond 6m for a semi-detached house, or 8m for a detached house
Any side extensions to be single storey with a maximum height of 4m
It doesn't exceed 30m² of living space
A number of other criteria apply — the best place to check is planningportal.gov.uk.
Building Regulations – particularly where thermal efficiency is concerned – will also differ depending on whether your sunroom is open plan to the home (i.e. kitchen diner), or is separated by connecting doors. Your local authority will be able to advise you further.
Maximising Space
Creating the illusion of space and making the most of the room available will be important. One of the key ways to maximise on space is with gable ends with floor-to-ceiling glazing.
An open plan layout will also help to maximise on space, as any connecting doors could leave the sunroom feeling enclosed — good if you require privacy; not so good if you're after a large entertaining area leading on from the rest of the house.
Interior design can allude to space too, with the use of light colours and mirrors reflecting light around the room, providing a bright, light space.
Heating and Ventilation for Sunrooms
Visit the Homebuilding & Renovating Show
One of the problems with such rooms in the past was overheating in the summer and losing heat in the winter. For a sunroom that you can enjoy all year round, it is important to manage these problems by getting the design right from the outset.
By insulating the walls and ceiling, and ensuring any glazing is thermally efficient, this will all aid in keeping the cold out. Neil Ginger, CEO of Origin, says: "The industry standard for double glazing is 24mm and 28mm sealed units — both will help keep your home warm in winter and cool in summer."
Underfloor heating, or even a woodburning stove, are other solutions to heating the space, especially if you're not intending to include radiators.
To avoid overheating in the summer, however, think both external and internal. Creating an overhang for instance will help with passive solar gain and provide shade during high sun. Your choice of flooring too can impact on keeping cool. "Having a stone floor, a screed above the insulation and allowing for cross-through ventilation will all help keep the room cool in the summer, too," says Carol Parry from Arboreta.
Window openings can also provide instant relief. For a truly 'four-season sunroom', however, specifying a mechanical recovery heat ventilation system will provide you with a fully ventilated space. Air conditioning systems, ceiling fans and shades/blinds are other alternatives to cool the space during high temperatures.
Daisy was Features Editor on Homebuilding & Renovating for more than five years and had a passion for all things design. She has since moved on to pastures new.
Homebuilding & Renovating Newsletter
Get the latest news, reviews and product advice straight to your inbox.
Thank you for signing up to Homebuilding. You will receive a verification email shortly.
There was a problem. Please refresh the page and try again.