Kitchen Trends 2021: What's Hot in Kitchen Design This Year?
By Hugh Metcalf
We look at the biggest kitchen trends 2021 has to offer up as inspiration for your renovation, extension or self build project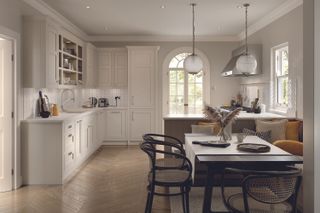 (Image credit: Life Kitchens )
So far, there are certainly some kitchen trends 2021 will be remembered for. This year has been an interesting one for our home's interior design as, after a year with many of us stuck largely within the confines of our homes, we've created a new relationship with our spaces. 
This is reflected in some of the biggest kitchen design trends of 2021, from layout ideas to colour schemes. 
Below, you'll find our curated pick of some of the need-to-know trends and kitchen ideas for this year and beyond. 
Are Open Plan Kitchens Still on Trend in 2021?
2020 made for a challenging year for open plan kitchens. With our homes all of a sudden becoming workplaces and schools, as well as everything else we required for them, one completely open space making up our kitchen, living room and dining room all of a sudden became less appealing, and smaller pockets of privacy became hugely valuable. 
While of course we can only hope that the pandemic has an end point sooner rather than later, there has been in a more permanent shift, with working from home becoming far more prevalent. 
So is this the end of the open plan kitchen? Not at all, but kitchen layout ideas will begin to be shaped by the needs of home workers. Broken plan schemes, which offer a little privacy and acoustic separation from the rest of the kitchen, are a good middle ground. After all, you get all the benefits of an open plan kitchen too. 
Multi-Functional Kitchen Spaces
That brings us onto the next big trend in kitchen design: kitchens that serve more than one purpose. Thinking about exactly how you'll use your kitchen when working with a designer is super important, and means you can end up with a space that meets your needs, as well as looking good. 
From home offices to snugs, spaces for workouts to playrooms, working out a layout that leaves room for your non-cooking activities is a must in the kitchen of 2021. 
Micro-Cemented Walls are a Huge Kitchen Trend 
Microcement walls are a popular choice in both kitchen and bathroom designs as its a durable finish that can be sealed to make it waterproof. Microcement offers a brilliant texture, and is often used across a whole room, rather than just as an industrial-inspired feature wall. 
Microcement likely requires a specialist to install, but it's relatively low mess and won't affect your wall's structural load as it's so thin. 
Similar effects can also be achieved with paint however, with the likes of Bauwerk's limewash paint creating a similar look without the need for microcementing. However, this won't be waterproof and durable in the same way. 
Try Terracotta Flooring for an On-Trend Look 
When it comes to choosing a type of flooring for your kitchen, have you considered terracotta? What was once a dated trend from the 90s has come back into fashion in a new way. Subtler tones and matte finishes have given the terracotta look an upgrade for 2021, and it can be used as a neutral base for your kitchen scheme in the same way timber flooring is. 
Sustainable Materials in the Kitchen
Creating a sustainable kitchen is high on the agenda for many people in 2021, with particular attention given to the sustainability of the materials their kitchen is made from. 
While there are plenty of ways to make your kitchen more eco-friendly, choosing a cabinet material such as bamboo is a great place to start. Bamboo is fast-growing, sustainable and captures lots of CO2 in the four years it takes to mature. 
Warm Neutrals are the Kitchen Colour Trend of 2021 
Colour predictions for 2021, such as from paint brand Dulux, predicted warm neutrals, taupes and browns as the big colour trends for the year. These shades have become super popular in 2021, and show no sign of abating yet. 
The great thing about paint colours is that you don't have to wait until you have a new kitchen to give them a try. Whether you bring these colours to your space by painting kitchen cabinets or buying the best kitchen paint in these colours, it's easy to give your kitchen a makeover with these on-trend hues. 
Textured Cabinetry Styles to Try 
For the longest time, you had two options for kitchen front styles — Shaker or slab. However, textured cabinet styles have become a huge trend in the last year. From slatted and fluted door fronts to panelled designs, straight lines are a big part of this kitchen trend for 2021. 
While you're more likely to find an interesting textured finish for your kitchen from a bespoke kitchen supplier, there are a few brilliant designs available from more mid-range kitchen makers, so keep your eyes peeled for these! 
Lighting Trends for Kitchens
While kitchen lighting ideas tend to err on the more practical side, in 2021, kitchen lighting has become more interesting and decorative. 
"This year we have seen the growing presence of quirkier shapes for kitchen lighting — breaking free of the traditional kitchen ceiling light and treating the choice as more of a design feature," says Dusk Lighting's design consultant, Jamie Moxey. "These more unique lighting fittings are available in a huge range of colours and shapes so you are able to find the exact light to suit your desired aesthetic."
Trending Bespoke Storage Ideas 
'Everything in its place' is 2021's motto when it comes to kitchen storage ideas, as more and more bespoke storage for individual kitchen objects becomes prevalent. We're talking coffee, breakfast and even bakery stations in countertops, wine glass storage alongside your wine bottles and how about specific storage for your chopping board collection? 
Hugh is Digital Editor of homebuilding.co.uk and has worked on a range of home, design and property magazines, including Grand Designs. Hugh has developed a passion for modern architecture and green homes, and moonlights as an interior designer, having designed and managed projects ranging from single rooms to whole house renovations and large extensions. He's currently renovating a Victorian terrace in Essex, DIYing as much of the work as possible. His current project is a kitchen renovation which involves knocking through walls and landscaping a courtyard garden. 
Homebuilding & Renovating Newsletter
Get the latest news, reviews and product advice straight to your inbox.
Thank you for signing up to Homebuilding. You will receive a verification email shortly.
There was a problem. Please refresh the page and try again.