Kitchen Worktops: An Essential Buyer's Guide
By Michelle Guy
Kitchen worktops have a good deal to cope with – slicing, dicing, chopping and kneading. Pick the right one for your kitchen with our guide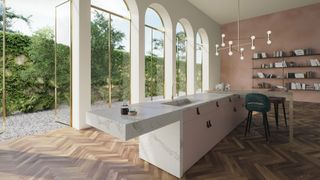 (Image credit: Caesarstone)
Kitchen worktops have a big role to play — it's got to be practical, serve its purpose and look good, too. It's often one of the larger outlays and should be a focal point, especially if you have an island or breakfast bar to cover as well, so you want to pick a kitchen worktop you don't mind looking at every day. 
(MORE: Kitchen Design)
What Type of Kitchen Worktop is Best?
Natural stone, timber/wooden, laminate and composite (a man-made mix) are popular choices for kitchen worktops but all carry their pros and cons so it's good to do some research and visit showrooms to see examples in situ. 
Wooden kitchen worktops do need a lot more looking after (particularly after installation), for example, so make maintenance a key consideration. 
And, if you prefer to pop your hot pans straight onto your kitchen worktops rather than the hob or a trivet then you might opt for a heat resistant, natural material like granite fo your kitchen worktop (although care should still be taken to avoid thermal shock). 
High gloss materials will highlight grubby marks so if you've little hands making their mark around the house be aware that you might be wiping the surface down a fair bit. 
Wooden Kitchen Worktops
Wooden kitchen worktops can add real warmth to a kitchen and are favourable if you're looking for a neutral material to work in a contemporary or traditional kitchen. It works well combined with other materials like Corian or quartz.
There are a variety of woods available that make suitable kitchen worktops. A hardwood, such as teak has a high oil content so is water resistant, which makes it a good option for in and around a sink. Popular timbers like oak, beech and walnut are beautiful but you'll need to maintain them regularly (and particularly from the outset) to keep the worktop looking its best. 
Wooden kitchen worktops start from around £100-£120 per square metre so it can be one of the more purse-friendly materials to choose.
How to Look After Wooden Worktops
Mop up spills on wooden kitchen worktops straight away and don't put hot pans directly onto a timber work surface (built in trivets are a good idea). If you do burn or scratch the surface you can (typically) sand it out using a fine-grade sandpaper but remember to reseal.  
Quartz Kitchen Worktops
An engineered kitchen worktop, also known as a composite, is made from more than one material — often a combination of resins and quartz. It's a really practical choice for kitchen worktops as it's a hardwearing material that's easy to clean and has anti-bacterial properties. It has the look of natural stone but with the low-maintenance characteristics of a man-made material.
Quartz is an affordable alternative to granite and it's hard-wearing, stain-resistant and resistant to cutting marks.
As quartz is engineered, it's available in a range of colours and patterns so the choice is varied, which means you're more likely to find something that will suit your overall scheme, whether it's contemporary or traditional.  
Granite Kitchen Worktops
Arguably one of the most popular choices for kitchen worktops, a granite surface is both durable and functional. It's got anti-bacterial properties and is scratch and water resistant — although you should clear up acidic spills like wine quickly so as not to spoil the stone. In fact, sealing of softer granites is recommended. 
"Harder granites will not need sealing while most other softer granites will perform best if sealed," advises Oliver Webb, Director of Cullifords. "Good sealant will stop the ingress of water, oils and other liquids on all natural stone and day-to-day cleaning can be done with a light soapy solution." 
Granite is hardwearing and heat resistant but, as Oliver Webb explains: "Although the majority of granites should be able to withstand hot things being placed on the surface, there is always a slight chance of thermal shock, so it is best to use a trivet or chopping board."
Marble Kitchen Worktops
Marble is another natural stone that says luxury when it comes to choosing kitchen worktops. It's heat resistant and can be cost-effective, depending on the type you choose. But, it can scratch fairly easily and is susceptible to staining, so it might not be the best choice for a busy family kitchen. But, its cool-to-the-touch properties do make it a good choice for keen bakers as the cold surface is ideal for rolling out pastry.
"Marble kitchen worktops can add true elegance to a home and, as with other natural stones, it gives you a real sense of naturalness," says Oliver Webb. "Marble comes in a wide variety of colours and patterns. There are beautiful hard green European marbles as well as stunning Indian and Portuguese stones. 
"Due to current trends, it is mainly the Carrara marbles such as Statuary, Calacatta and Arabescato that are used for kitchen work surfaces."
Marble kitchen worktops can be book-matched, which means the marble is cut from the same slab so the veins running through mirror on each piece. This is great if you want a seemingly seamless worktop that runs from horizontal to vertical.
"As with all the work surface material groups, there are some harder types and some softer ones. When it comes to durability, marbles in general will, over time, develop a patina from small scratches and possible staining if the sealant does not work well. The benefit of having a marble work surface is that any stains that do appear can be removed with a poultice and it can be re-polished in situ if needed," Oliver concludes.
Michelle is Homebuilding & Renovating's Assistant Editor. With an editorial career spanning more than 18 years, Michelle spent time working on educational magazines and websites until her career took an exciting turn into the world of home interest and interiors. Working on sister titles Real Homes and Period Living, she then joined the Homebuilding team in November 2018. She's just about to take on her second kitchen renovation project, armed with an ever-growing knowledge of homebuilding advice and design inspo (and a Pinterest board or two, of course).
Homebuilding & Renovating Newsletter
Get the latest news, reviews and product advice straight to your inbox.
Thank you for signing up to Homebuilding. You will receive a verification email shortly.
There was a problem. Please refresh the page and try again.