How to Light a Kitchen: Design Advice from the Experts
By Hugh Metcalf published
Need expert advice on how to light a kitchen? Here's our guide to creating rich, layered lighting scheme which is both practical and attractive in this key room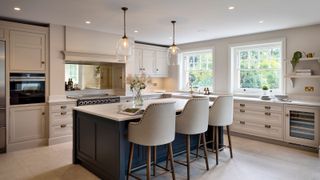 (Image credit: Davonport Kitchens)
Working out how to light a kitchen is about more than just choosing your favourite light fixtures for the space. While you may have plenty of good ideas, saved from Pinterest or torn from your favourite magazine, you'll need to learn how to adapt these to create a functional lighting scheme for your kitchen.
In addition to your ideal kitchen lighting ideas, there are plenty of practical elements to consider, from how lighting can be used to help your kitchen function better, to how your choice of light fixtures can affect the mood of the space, that all need to be factored into your design.
In this guide, lighting and kitchen design experts offer their top tips for straddling form and function, ensuring you know how to light a kitchen that's as hard-working as it is good looking.
Finalise the Layout Before Planning How to Light a Kitchen
Before you start thinking about how to light a kitchen, you need to have finalised the layout of the space, including the kitchen units, appliances, furniture and fittings. At this stage, you should be in the best position to create a lighting design that complements your layout, ensuring the right areas are illuminated for the desired effect.
For instance, you'll be able to ensure that there's lighting, likely downlights, over the kitchen worktops, and to position lighting, perhaps a statement pendant, over the dining table. This is important as it will mean you getting the wiring in the right place is key early on, even if it needs to be slightly adjusted once you've made choices such as the style and size of dining table you choose.
Making decisions early on in the process about the types of lighting you're going to include is also important. "Always choose the styles you wish to include early, as this will determine the quantity you need and impact your budget, plus you'll need to let the builder and electrician know plans for wiring the fittings and switches," explains Sam Hart, Senior Designer at Roundhouse Design. "Aim to include fixtures, plugs and switches in your technical drawings too."
If you're stuck for inspiration, take a look at our picks of some of the best kitchen lighting for creating a layered scheme.
How to Layer Light in a Kitchen
Don't forget natural light
Natural light should be your number one concern when it comes to getting your kitchen's light right. Any shortcomings should be compensated for in your artificial lighting design.
This forward thinking pays dividends when it comes to creating a layered lighting design for a kitchen —but what exactly does that mean? A layered lighting scheme includes different types of lighting that serves different purposes. This is generally broken down into three categories:
Task lighting
Ambient lighting
and accent lighting.
Task lighting is the most practical type of lighting, as it serves the purpose of illuminating your space so that there's sufficient light to be able to use the space properly.
In a kitchen, task lighting is usually served by spotlights or downlights, depending on how they're employed (over your whole space, these may provide your ambient lighting too), as well as some other kinds of directional lighting, such as under cabinet lighting and integrated lighting that's often found in cooker hoods.
Ambient lighting is more focused on generally lighting your space. This can serve to make the room bright enough for performing tasks, but it's more related to creating an even, diffused light throughout your space. Pendant lights are a good example of ambient lighting, used as a kitchen island lighting idea, as well as in dining spaces. Wall sconces are also generally considered ambient lighting.
Accent lighting is lighting that's used to draw attention to certain features in your kitchen. Light strips used on shelves or as kitchen cabinet lighting ideas are both good examples of how accent lighting can be used successfully in a kitchen, as well as lighting used inside open- or glass-fronted cabinets.
What Colour of Light Best Suits a Kitchen?
When choosing bulbs or specifying integrated LED lights for your kitchen, you'll have a choice of cool light vs warm light. This is measured in kelvins, and will have a real impact on the mood of your space.
"The most versatile colour for kitchen lighting is 2,700 kelvins, which gives off a slightly warm light that is creamy enough to have on during the day but is still a comfortable warm light for evenings," advises John Cullen Lighting's Rebecca Hutchison.
"For lights within shelving units, you would most likely have these on of an evening for atmosphere and so you'd more than likely select strips with extra warmth and go for 2,400 kelvins."
It's possible to mix warm and cool light to meet the purposes of each — for example, consider using a cooler light for task lighting, as this is brighter, making it easier to see, while a warm light is more relaxing as ambient lighting.
However, using both at the same time can be jarring, so consider how you're likely to use the lights in conjunction. It may be that your ambient and accent lighting is more likely to be used at the same time, while task lighting is used during the kitchen's more practical moments.
How to Arrange Downlights in a Kitchen
Downlights should be used over the kitchen worktops, rather than walkways, as this will cast a shadow over the surfaces when you're prepping food in these areas.
It's easy to become obsessed with symmetry when specifying downlights, but the more important consideration is where they need to be placed and where they don't. Consider where the most important elements are in the kitchen design, including the hob and sink, so that these areas are well served by your lighting scheme.
However, creating a clear, even pattern shouldn't be overlooked. Not only will this make the layout of the downlights themselves look neat on the ceiling, but it will also ensure an even spread of light and avoid dark spots. The aim of your spacing is to not create an overall light that's too intense, while avoiding these gloomy spots too.
A 1-metre spacing is commonly used, but you'll need to take into account things like where your joists are as to where these lights can sit.
"The most common mistake is to puncture the ceiling with too many downlights — for an average-size room (4 x 4m) six downlighters is adequate. More than 10 can be excessive and not energy efficient," says electrician Darryl Bertie of Bert Electrics.
You'll see some contemporary lighting retailers offering recessed downlights. These styles see the downlight itself slightly recessed into the ceiling, meaning the surface mount can be plastered over, creating a sleek look that's the perfect kitchen idea for a minimal design. However, bear in mind that the more a downlight is recessed, the narrower the beam of light it offers a space is.
This means they make for great task lighting, but may require narrower spacing when considering the overall ambient light of a kitchen.
Be Strategic With Your Kitchen's Light Switches
When it comes to circuits for a kitchen, you'd generally expect to run at least three circuits in the space — one each serving the downlights, pendant lights and any accent or kitchen cabinet lighting, for example.
However, in a larger open plan kitchen, you'll need more, potentially even using more than one circuit for a larger amount of downlights in a vast space, so that the lighting can be more carefully controlled.
The basic instinct for locating switches for your lighting is to put them all right next to the door you enter into the space through, but this isn't always the most effective lighting design idea. Think about how you use a space to determine the most appropriate location.
If you use the under cabinet lighting for a task lighting boost when prepping in the kitchen, then doesn't it make more sense for this switch to be in the kitchen, rather than back over by the door? This could potentially be grouped with a switch for any outdoor lighting, near the back door or kitchen window.
Any type of lighting control that offers you more control over the light levels of a space is worthwhile, whether that be smart lighting controlled by an app, or even the humble dimmer switch.
However, before you buy your kitchen lighting, keep in mind there are some technical aspects to consider when choosing a dimmer switch.
First up, make sure the wattage of the dimmer can accommodate the number and wattage of the bulbs e.g. a 400W dimmer with 50W GU10 bulbs will be able to account for a maximum of eight bulbs.
Similarly, LEDs usually feature a lower wattage (typically around 5-10W) meaning you can house more per circuit
You also need to check your LED bulbs are compatible with the dimmer you're using; not all dimmer switches work well with LEDs and in some cases, using a dimmer could even damage your circuits.
Who Will Oversee my Kitchen Lighting?
The lighting in a kitchen could be assigned to any number of parties to manage, depending on the scale of your project, your budget and the type of lighting you're specifying.
A lighting designer, for example, is great choice to really add depth and dimension to your scheme, but comes at an extra expense. Some kitchen companies will offer lighting as part of the design package.
Lighting the interiors of kitchen cabinets may be the responsibility of the kitchen supplier, as they often supply and install these elements.
"It's worth noting though that if this is provided and installed by your kitchen supplier, you might not have the same colour of light as the rest of the lighting in the room — whereas if you specify all of your lighting from the same place then the warmth and brightness will be consistent and you'll end up with a better result," says Rebecca Hutchison of John Cullen Lighting.
Alternatively you could work with your electrician who will be able to carry out the work on your behalf.
Hugh is Digital Editor of homebuilding.co.uk and has worked on a range of home, design and property magazines, including Grand Designs, Essential Kitchens, Bathrooms, Bedrooms and Good Homes. Hugh has developed a passion for modern architecture and green homes, and moonlights as an interior designer, having designed and managed projects ranging from single rooms to whole house renovations and large extensions. He's currently renovating a Victorian terrace in Essex, DIYing as much of the work as possible. His current project is a kitchen renovation which involves knocking through walls and landscaping a courtyard garden.
Homebuilding & Renovating Newsletter
Get the latest news, reviews and product advice straight to your inbox.
Thank you for signing up to Homebuilding. You will receive a verification email shortly.
There was a problem. Please refresh the page and try again.