Kitchen Design: Step by Step Guide to Your Dream Space
By Natasha Brinsmead published
Our kitchen design guide takes you through each stage of creating a new kitchen, from how to come up with a layout through to choosing units and appliances.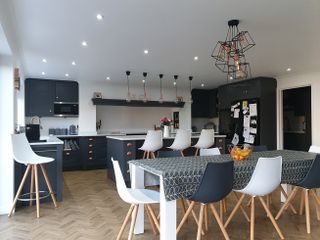 (Image credit: Mereway Kitchens)
Kitchen design is perhaps seen as one of the most important elements of modern homes these days. The kitchen has shifted away from being seen as a purely functional space and is now viewed by most as the heart of the home, where we socialise, spend time as a family, work in and eat in — all alongside preparing and cooking food.
For some households, the kitchen also has to play the role of a utility room too, providing space for extra appliances.
What all these extra roles mean is that kitchen design now not only has to focus on function, but also on aesthetics — this has become a truly multi-tasking space.
Your kitchen design should cover not only the units and worktops, but also factors such as flooring and lighting.
Always remember that kitchen costs can run well into the tens of thousands. This is why it is important to be aware of what each element of your kitchen design will cost, including installation fees.
Planning
Creating a Kitchen Design Brief
Wondering how to design a kitchen? Begin by having a really hard think about exactly what you want to use your kitchen for. List everything that will be going on in the space, including not only obvious things such as cooking and dining but also activities such as homework, entertaining and working from home.
You also need to think about how you will use the space – for example, are you a family who loves to cook on a frequent basis or entertains large groups of people, or do you live alone or with one other person and prefer convenience foods or to eat out? Will you be using your kitchen to host dinner parties or simply use it as an informal area to perch for breakfast?
What are your storage needs? Do you have a separate larder for most of your food storage? How many appliances will you need space for? Do you love kitchen gadgets? Are wine coolers important to you?
Next you need to think about how you want to store items — by this we basically mean, are you super tidy and love to clean? If so, hanging racks, open shelving and glass fronted units could be for you. If not, stick to solid doors and drawers that can hide your clutter instead.
Finally, what interior style are you aiming for? Maybe crisp, minimalist and modern is your thing, or perhaps you are more drawn to classic, country style kitchen designs. Your material choices and the finishes you opt for, as well as your unit design and worktops should all reflect these preferences.
Finally, what is the total amount you are happy to spend on your new kitchen? You need a firm idea of your budget to be able to begin shopping around and, if you plan on using a builder or kitchen designer, to hand to them. They will help you get the most for your money, but can only do so if you are clear about what you have to spend.
Find a Kitchen Designer
For most people, the simplest route to getting a kitchen designed is to head to a specialist kitchen company. Not only can they come up with several designs (usually for free) for you, based on your brief, but many also offer fitting services too.
By approaching at least three kitchen companies for quotes and designs, you'll get more of an idea of what's possible with the space you have and who offers the most competitive price for design and installation.
Can I Design my Own Kitchen?
Other options include coming up with your own design and asking your building or an independent kitchen fitter to carry out the fitting, approaching an interior designer or asking your architect or design professional for help and advice.
When choosing this path over working with a kitchen design professional, you may miss out on valuable experience of creating a well-designed, functional kitchen, both in terms of how the space is ordered and flows, as well as making the most of storage.
However, on the plus side, working independently from a kitchen company may offer greater freedom in the materials and finishes available to you.
Find out more about how an interior designer could be a great option.
Tips for Kitchen Design Layout
In order to work out the best kitchen layout for your new room, you first need to assess the size and shape of your new kitchen. Your supplier or designer should be able to suggest kitchen layout ideas that will make the most of the space you have available.
Your kitchen layout should keep the essential 'working' areas of the kitchen – the sink, oven and hob and fridge – within easy reach of one another.
Use graph paper to draw up a scale plan and play around with layouts that could potentially work for you, remembering to include any seating areas and bearing in mind clearance spaces around and in front of appliances.
There are several common kitchen layouts to consider:
One wall layout: This is a common kitchen design for smaller spaces, particularly open-plan kitchen-living room
Galley kitchen: This layout comprises two runs of units facing one another and works will in narrow areas.
L-shaped and U-Shaped kitchens: As the names suggest, the units are positioned in 'L' or 'U' shapes. In 'L' shaped kitchen, the shorter part of the 'L' is often a breakfast bar
Kitchen island: While all of the above could incorporate a kitchen island, islands perform a specific function of separating functional cooking spaces from living spaces in and improving flow around a kitchen.
Peninsula: Peninsula kitchens act similarly to island kitchens, though are joined to other cabinetry or a wall on one side, offering a more defined divide between spaces.
(MORE: Kitchen Layout Ideas)
One particular element of kitchen design has really come to the forefront in recent years — the kitchen island. Acting not only as a central focal point, but also as a room divide in the case of kitchen diners as well as an extra workspace, somewhere to house appliances and even an eating spot, the kitchen island is big news.
Interested? Read our feature on how to design a kitchen island.
Cost
Where to Buy a New Kitchen
The most obvious way to buy a new kitchen is to head to your nearest kitchen showroom, however it is important to remember that there are other options – some of which can be more suited to those designing a cheap kitchen.
Buying a kitchen online is fast becoming popular. If you take this route you will need to supply measurements and requirements. The whole kitchen is then delivered to be fitted on a DIY basis, by a builder or kitchen fitter, or by the suppliers themselves. While it is true to say that buying a kitchen online can be cheaper than buying from a showroom-based supplier, it can be difficult to get a clear idea of the quality of the products you are buying.
Some people choose to mix and match where they purchase their kitchen. You might, for example, opt to buy cheaper, standard unit carcasses from an online retailer, DIY warehouse or builders' merchants, before heading to a kitchen specialist for the unit doors – try Naked Doors and Plykea. You could also buy worktops separately, along with knobs and handles.
Flatpack kitchens from DIY stores can be perfect for those sticking to a tight budget and allow you to fit the units yourself. Suppliers can still assist with design ideas and plans for your room.
Those with a larger kitchen design budget might want to consider a completely bespoke kitchen, hand built just for you. A truly bespoke kitchen will mean that it is made entirely to spec in custom, rather than standard, sizes. This will allow your design to take into account any intricacies of your kitchen to make the most of the space.
Bespoke kitchen companies tend to be high end products, using luxurious materials and finishes and therefore commanding a higher price.
Alternatively, you could commission a joiner to make cabinetry for you to a design of your own or one you have spotted elsewhere.
Second Hand Kitchens
Have you considered an ex-display or second hand kitchen? Many offer excellent value for money. Ask in kitchen showrooms or head directly to companies specialising in used kitchens, such as Used Kitchen Exchange, The Used Kitchen Hub or The Used Kitchen Company.
How Expensive is a New Kitchen?
As with so many home improvement jobs, there is, unfortunately, no exact way to predict what your individual kitchen costs will be. However, it is possible to offer an approximate idea, depending on where you buy it from.
Typically, a new kitchen will set you back between around £5,000 to £10,000, including appliances and installation – although it is frighteningly easy to spend up to £50,000 or more!
(MORE: How Much Does a New Kitchen Cost?)
The reason it is so difficult to give out any precise costs is that specification, location, kitchen size and your choice of appliances will all massively affect your end costs. Whilst it is true that a basic flat-pack kitchen can be picked up for as less than £400 and then fitted by the homeowner, many people prefer to spend a little more to ensure quality and a professional installation.
Bear in mind that the above costs do not include:
Design fees
The removal and disposal of the old kitchen
Plumbing and electrical work
Flooring, tiles and tiling
Heating
Lighting
Cabinetry
Kitchen Styles: Your Options
There are quite literally thousands of kitchen styles, colours and designs out there to choose from (not always a good thing if decision making isn't your thing.)
You probably have a fairly good idea of the type of interior decoration you're after and if not, a browse in kitchen showrooms, magazines, interior design websites and even round friends' houses can give you a good dose of inspiration.
Those after a contemporary kitchen design should focus on unfussy unit doors. Handleless kitchens, where discreet grooves in the top or side of units replace knobs or handles or else a push-click mode or operation is used, are a good way to go.
Consider runs of full height kitchen units, combined with built-in eye level appliances and stick to flush doors too. High gloss units tend to have fallen from favour a little in the last couple of years (perhaps something to do with the way they show up fingerprints and greasy smudges so readily) so consider matt instead for far more forgiving finish.
If you are after something more classic, a Shaker kitchen is ideal, offering a simple, timeless look that can be easily updated with different handles or knobs as time goes on. Simple tongue-and-groove unit fronts offer a nice, classic look too.
Keep in mind, a good quality wood kitchen can potentially be repainted in the future, allowing you to change the look without having to re-invest in a new kitchen.
Don't feel you have to have wall units — these days many people often opt for alternatives such as shelves or full-height units and replace some base units with large deep drawers to house pots, pans and crockery, as well as cutlery.
Kitchen Storage Ideas
The importance of good kitchen storage cannot be overemphasised when it comes to kitchen design. You will need to look around your current kitchen and take stock of what you need to keep in your new one. How much equipment do you own now and are you likely to gain more in the future?
Think too about the way you shop. Do you do one big shop a week? A month? Consider where you will keep all your dried goods. What else will you need to keep in this room?
You can then come up with the kinds of storage you will need. Options include extra deep drawers, dressers, corner units and those with pull out shelves and rotating carousels. Hanging racks, open shelving on walls and within island units, alcoves built in either side of the cooker and racks placed on the ends of runs of units — all should be considered when it comes to keeping your new kitchen ordered and tidy.
Fixtures and Finishes
Which Kitchen Worktops Are Best?
Your choice of worktop will form a major part of your kitchen design – as well as affecting how the space works from a practical perspective.
(MORE: Best Kitchen Worktops)
Whilst you can choose worksurfaces from the selection on offer from your kitchen supplier, it can often be cheaper to buy them from a specialist worktop supplier, timber merchant or stonemasons. There are also online worktop companies who will cut worktops to fit.
Laminate worktops have come a long way in recent years and are now available in a multitude of colours and finishes and with benefits such as heat and stain resistance.
The huge range of timbers out there means that there is a wooden worktop for every style of kitchen and every budget — but be aware that they require maintenance to hold on to their good looks and are best avoided around sinks where water damage can occur.
Durable composite surfaces and solid stone look beautiful and are highly practical — but do tend to lie at the upper end of the price scale.
Choosing Kitchen Appliances
Whilst most people these days choose to shop around for their kitchen appliances, many kitchen suppliers also offer packages and deals that include them — particularly large white goods such as fridge freezers, ovens and hobs, as well as cooker hoods.
It is usually possible to find appliances a little cheaper by shopping around. Additionally, if you are after something with an eye-catching designer twist you will probably need to head to a specialist in the type of appliance you are after.
If you opt to buy a second hand or ex-display kitchen you will often find that appliances are included in the price too.
Along with the more obvious kitchen appliances mentioned above, consider what other items could really make your kitchen work for you. Bakers could benefit from proving drawers, wine enthusiasts might like to consider a wine cooler, while those who need a caffeine boost first thing should take a look at the array of built-in coffee machines on offer these days.
(MORE: Best Integrated Dishwashers)
All these items should be planned in from the beginning, so you can work out the right balance in terms of how much space will be given over to storage and how much can be used up by your new kitchen equipment.
A cooker hood is essential to ensure your new kitchen won't be filled with steam and cooking smells every time you decide to use your hob. Ideally you want your hood to be vented to the outside, rather than a re-circulation hood.
How to Choose a Kitchen Sink and Tap
As with appliances, sometimes sinks and taps are included in a package from your kitchen supplier, although it is also possible to source them separately.
When it comes to choosing a kitchen sink, think about the way in which you plan on using your kitchen. Will you be washing up a lot or will you rely solely on a dishwasher? Do you need to do handwashing? Do you have bulky items of equipment that will need to be washed in the sink?
Think about your answers — they should give you an idea of the size and configuration of the sink that will suit you.
With regards to a kitchen tap, many models are now available that do far more than dispense water. From filter taps to those providing instant boiling water — there are even taps that give you sparkling water these days.
Which is the Best Flooring for a Kitchen?
Kitchen flooring should, first and foremost, be practical. It needs to be easy-to-clean and able to withstand a lot of footfall, along with being able to cope with hot liquids and stains.
It should go without saying that hard flooring is the best option. Ceramic tile is amongst the most cost effective of options and is also easy to lay on a DIY basis — plus it is available in almost every colour, size, shape, pattern and finish you could want.
Porcelain tiles tend to be more expensive than ceramic but are denser and less porous so tend to be more durable.
Polished concrete and natural stone are both brilliant options too. Some natural stones are softer and more porous than others and can become stained if not properly sealed so do check which stone flooring is best for you.
Timber flooring can be used in kitchens, but be aware than softwoods in particular are prone to movement and can warp and twist when exposed to changes in temperature and moisture levels — a common occurrence in kitchens. Engineered timber is a more stable option than solid boards.
(MORE: Complete Guide to Flooring)
Kitchen Lighting Design
Before your units are fitted, you will need to have your first fix electrics installed. You should, at the planning stage, have come up with a lighting design for your kitchen. If your new kitchen is part of a larger renovation project, you may well have employed a specialist lighting designer or asked your lighting supplier to come up with a plan. Alternatively, you might decide to take on the task of planning your lighting design scheme yourself.
Think about where bright, focused light will be required — above food prep hot spots, for example. Downlighters designed to shine a beam of light exactly where it is needed, unaffected by the shadow of the person working at the work surface is ideal, as are spots on tracks.
Elsewhere, use strip lighting under wall units and even concealed beneath base units to provide a nice ambient glow. Low-hung pendants work well over island units, breakfast bars and dining tables.
(MORE: Kitchen Lighting Ideas)
Installation
How Long Does it Take to Fit a Kitchen?
Once again, this is a tricky one to call. A simple rip-out-and-replace can take as little as a week when carried out by a set of professionals — which will probably include a kitchen fitter or builder, an electrician and a plumber. You might also need the services of a decorator and/or tiler.
If, on the other hand, you are carrying out a kitchen extension, kitchen relocation or a hefty remodel of the space which will involve knocking down internal walls, adding new windows and doors, fitting a new underfloor heating system and so on then it will obviously take longer.
You should discuss your schedule of works and timescales at the start of the project with your builder in order to get a good idea of how long it will all take and the length of time you are likely to be without kitchen facilities.
Natasha is Homebuilding & Renovating's Associate Editor and has been a member of the team for over two decades. An experienced journalist and renovation expert, she has written for a number of homes titles. She has renovated a terrace and is at the end of the DIY renovation and extension of her Edwardian cottage. She is now looking for her next project.
Homebuilding & Renovating Newsletter
Get the latest news, reviews and product advice straight to your inbox.
Thank you for signing up to Homebuilding. You will receive a verification email shortly.
There was a problem. Please refresh the page and try again.