15 farmhouse kitchen ideas for a practical yet beautiful cooking space
These gorgeous farmhouse kitchen ideas are all brilliant examples of how adaptable this style of kitchen can be — offering inspiration even for those keen on something a little more modern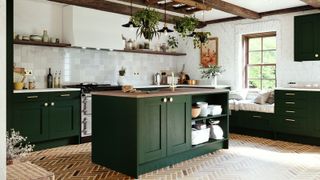 (Image credit: Smile Kitchens)
As kitchen styles go farmhouse kitchen ideas lie top of the list of favourites. Drawn by their relaxed, informal feel and the fact that they can be tailored to suit all kinds of design preferences, contemporary included, this is a look many homeowners are after.
While designing a kitchen is undeniably exciting, it is easy to end up feeling a little overwhelmed by the sheer choice of products available — the huge array of units, worktops and appliances, as well as flooring and lighting can be dizzying.
Deciding on the look you want to achieve should be one of the first steps you take as once you have a firm idea of the looks you like, selecting the right fixtures and fittings becomes much easier.
Here, we take a look at some of the best farmhouse kitchen ideas around, from those that fully embrace the rustic roots of this style, to inspiration for those after a fresh, modern take on this classic look.
Farmhouse kitchen ideas: The essentials
Just what is a farmhouse kitchen and which elements set it apart from other kitchen styles?
"A farmhouse kitchen errs on the side of being a relaxed concept, rather than formal kitchens that can lack personality," explains Richard Davonport, managing director at Davonport. "The relaxed nature of them offers homeowners many opportunities to bring in personal touches while having fun with making the space the heart of the home.
"There is also a mistaken perception that you need to live in a cosy cottage or farmhouse to have a farmhouse style kitchen, but this just isn't the case.
"You can easily replicate the feel of a farmhouse kitchen by choosing certain products and styles as long as the 'warmth' that you associate with them comes through. Look to products we associate with the aesthetics of these style kitchens — from AGA's to window seats, butler sinks to letting natural wood do the talking. You don't need to have beams or low ceilings to replicate the look in your own home."
1. Opt for Shaker-style cabinets for instant character
Shaker kitchens are fresh, simple and unfussy — plus they can be paired with all kinds of individual touches, making them the perfect choice for anyone after a farmhouse kitchen.
But just what is a Shaker kitchen? They have actually been around since the middle of the 18th century and are named after the religious group behind their design — the 'Shaking Quakers', later known as just 'Shakers'.
The Shaker community felt that home fittings should all have a purpose, be practical and be free of any unnecessary decoration — they were experts at creating furniture that was simple, functional and built to last.
This beautiful cream kitchen is from Davonport — its pared-back, simple design allows the exposed timber frame of the space to shine.
2. Offset a low ceiling with pale units
Low ceilings and charming beams are often a feature of traditional farmhouses and cottages. While they look beautiful and pack a huge punch of character, if the decor isn't properly considered the whole space can end up feeling somewhat oppressive.
If yours is a home with lower than average ceilings, make sure your painted kitchen ideas are based on pale-coloured units, or at the very least reserve darker coloured units for the base section and select lighter shades for any wall units or shelves. Full height units can also vertically 'stretch' the space.
This fresh and breezy kitchen is Searle & Taylor's Signature Bespoke In Frame Shaker Kitchen, which has been fitted in a listed farmhouse.
3. Include elements of natural wood
Natural materials are a must in a farmhouse kitchen — think bare wood and rustic stone flooring.
Wooden kitchen ideas can work really well with this style, but if you want a pop of colour, don't be afraid to mix natural wood with some brighter painted elements. If you are lucky enough to be working with exposed beams or an oak frame, using elements of natural timber in your kitchen design will really help unify the whole look, as has been done in this kitchen scheme from Davonport.
4. Use freestanding pieces for a relaxed vibe
Mixing and matching freestanding items of kitchen furniture with fitted units – or going for an entirely freestanding kitchen – is an idea that you should strongly be considering in a farmhouse kitchen and looking at kitchen layout ideas.
Whether it is a dresser laden with your favourite crockery or a large table or butchers block placed centrally to act as a kitchen island, including pieces such as these will lead to a more relaxed feel.
The Claygate Painted Handleless Shaker Kitchen, from Higham Furniture, shown here, is a light and bright kitchen with secret doors and a large cook's table island.
5. Consider a traditional range cooker
No farmhouse kitchen feels quite right without a traditional range cooker. While an AGA is the classic choice, there are other types of cooker to consider, including range-style cookers, which are designed to look more like traditional ranges but can be turned on and off instantly.
This modern farmhouse kitchen has been fitted with a bright white AGA which really stands out against the navy walls.
6. Take a mix-and-match approach to your design
In order to achieve that eclectic, relaxed feel in your kitchen – something that tends to go hand in hand with farmhouse style – is helpful to avoid choosing anything too uniform and 'perfect'.
Combine freestanding items with fitted, vary colours and materials and strive for a very individual look that reflects your personality and the way in which you intend to use the space.
This beautiful kitchen, from deVOL, features a selection of units of varying heights and colours, all of which work brilliantly together to create a fun, relaxed space.
7. Pay attention to the finer details
As with so many aspects of home design, the key to getting farmhouse style kitchens spot on is to ensure the smaller details are carefully considered — it is amazing how the wrong choice of light switch, door handle or cabinet knob can ruin an entire look.
When looking at kitchen ideas, bear in mind that chunky wooden knobs and brushed metal cup handles work really well with farmhouse style units, as do copper and brass finishes.
This Shaker kitchen, in shades of blue and grey, has been fitted with Cotswold Bun Knobs and Cotswold Cup Pulls in burnished brass finish from Armac Martin.
8. Include plenty of seating for a sociable space
The best farmhouse kitchens are sociable spaces where the house's occupants, as well as family and friends, feel as though they can flock together at the end of the day to eat and chat. They should be spaces built for bustling about in and for welcoming in guests.
For them to work in this capacity, they should incorporate plenty of places to sit or perch, along with large tables and islands. In this kitchen, from Davonport, a roomy kitchen island with plenty of seating sits alongside a farmhouse style dining table for maximum entertaining opportunities. Explore kitchen island ideas that will suit your space to get the proportions right.
9. Make the most of a vaulted ceiling with a mezzanine
If you are lucky enough to be carrying out a barn conversion or are fitting a kitchen into an area with vaulted ceilings, you should seriously consider how you are going to make the most of the space — and a mezzanine could be just the ticket.
This stunning kitchen, from Olive & Barr ticks all the boxes for a farmhouse design, yet manages to look fresh and modern at the same time. The space is overlooked by a sleek mezzanine featuring glass balustrades so as not to overwhelm the whole area.
10. Take a fresh approach with contemporary notes
While farmhouse kitchens have their roots in a more traditional way of life, there is no need why they can't be brought up to date and given a fresh finish with some modern kitchen ideas.
Shaker units are timeless and can be paired with all manner of more modern fittings, such as sleek bar handles and stylish built-in appliances, all while retaining that classic, country-style feel.
This cream kitchen from Davonport manages to look bang up-to-date and features a range of mod-cons, such as built in ovens and a wine cooler, yet still feels timeless.
11. Be inspired by the colours of nature
When selecting the right colours and tones for your farmhouse kitchen one of the best ideas is to look to the natural world for inspiration.
Shades of green are particularly well-suited to this style of kitchen and look fantastic when paired with bare wood finishes, cream units, stone or most types of wood flooring and a range of worktop materials.
This green bespoke kitchen, from Et Lorem, has been hand painted and features a handy curved, raised seating spot at one end of the island.
12. Go for a pretty pink look
After all that talk of letting nature be your guide, it is important to point out that farmhouse kitchens should all be highly individual spaces — an expression of the occupants' personalities.
For a soft, fanciful finish (that also happens to be very much on trend right now) consider pink. Paler shades tend to be easier to live with than hot pinks and look great when teamed with whites and creams, as well as bare wood.
This kitchen, from Smile Kitchens, utilises calming soft pinks to create a peaceful space. A large bare wood table and bench adds a natural feel.
13. Maximise space with clever storage
Although farmhouse kitchens were typically quite large open spaces, those after small kitchen ideas need not despair if this is a style they happen to have their eye on.
It is quite possible to create a farmhouse style kitchen in a more compact space by incorporating plenty of storage in the form of base units, wall shelves and hanging racks.
In this kitchen, by Collins Bespoke Kitchens, a combination of pale Shaker units, wall storage, a range style cooker and chunky Belfast sink all create a fresh, classic look — the Cotswold Drawer Pulls, Cotswold Mushroom Knobs and Cotswold Cupboard Latches in burnished brass finish from Armac Martin complete the look.
14. Supersize your kitchen island
A large kitchen island should be high on your list of priorities when designing this style of kitchen, providing a spot around which to prepare meals, entertain and to dine at. Including a central island will instantly give your kitchen a welcoming look and feel.
This design is from Davonport — the super-size island meets all the needs of the kitchen, featuring plenty of storage, built-in appliances and expanse of work surface and seating to one end. Explore kitchen island sizes that will suit your particular space as you don't want the space to feel cramped.
15. Provide a seating spot to garden gaze
Window seats look absolutely perfect in farmhouse kitchens, adding a sense of conviviality, warmth and inviting occupants and guests to relax in the space. The best window seat ideas can also really help to connect the room with the outdoors, inviting people to take a moment to stop and enjoy the view.
This kitchen is from the Hjerte Range, in Spruce Green, from Smile Kitchens. The forest green shade pairs perfectly with the brick flooring, rustic timber beams and bare wood sash window, into which a cosy window seat has been built in.
Get the Homebuilding & Renovating Newsletter
Bring your dream home to life with expert advice, how-to guides and design inspiration, direct to your inbox.
Natasha is Homebuilding & Renovating's Associate Content Editor and has been a member of the team for over two decades. An experienced journalist and renovation expert, she has written for a number of homes titles. Over the years Natasha has renovated and carried out a side extension to a Victorian terrace. She is currently living in the rural Edwardian cottage she renovated and extended on a largely DIY basis, living on site for the duration of the project. She is now looking for her next project — something which is proving far harder than she thought it would be.