Fitting a Kitchen: A How-to Guide
By Natasha Brinsmead published
Whether you're fitting a kitchen on a DIY basis or calling in the pros, this needn't be a stressful project, thanks to this how-to guide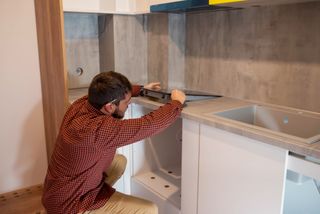 (Image credit: getty images)
Fitting a kitchen is a job that involves several key decisions and is a large part of the kitchen design process. It is important that you go into the process well informed as everything from timescales and budget to the final finish of your new kitchen are hinged on it.
Our guide explains the various routes you can take to kitchen fitting, as well as answering questions such as 'how much does it cost to fit a kitchen?' and 'how long will it take to fit a new kitchen?'
Is Fitting a Kitchen Yourself Difficult?
When it comes to fitting a kitchen, you will need to decide early on whether this is a job you are going to tackle yourself, or leave to a professional.
While fitting a kitchen is a job well within the capabilities of most people, not everyone has the time, tools, general DIY knowledge or, quite frankly, desire to. In this case, there are plenty of other options, including:
a fitter from – or recommended by – the company you are buying the kitchen from
a local, independent kitchen fitter
a tradesperson who includes kitchen fitting in their skills
a skilled joiner
It is likely that your joiner or builder will have the skills to fit your kitchen, but it is not unusual to find that a plumber or electrician will also have had experience in the field and might be able to do the work for you. Obviously those two trades are quite significantly involved in bringing a kitchen to life (with sinks, cookers, lighting and so on being key).
Whatever route you decide to take, ensure all the various tradespeople working on your project know who is doing what and when.
How Much Does Fitting a Kitchen Cost?
Kitchen fitting costs will vary depending on the size of the kitchen, as well as any factors that may make it trickier to fit, such as very uneven floors, hard to cut worktops and the like.
You should also be aware that most kitchen fitters and tradespeople will charge extra to take away an old kitchen, so factor this in and consider doing it yourself if you are being budget conscious.
As a guide, the average installation of a kitchen measuring around 13m2 is around £3,500. This includes the removal of the old units, the installation of the worktop and units, fitting new appliances, plastering and tiling and final decoration.
Do bear in mind that the above costs are not likely to include lighting, plumbing and electrics. Nor will they include structural changes to the layout.
You should also bear in mind that installation is only part of the cost of a new kitchen.
(MORE: How Much Does a New Kitchen Cost?)
How Long Does Fitting a Kitchen Take?
Again, this will depend on the size of the kitchen, who is carrying out the work and whether the kitchen fitting is part of a larger project.
However, a straightforward kitchen installation (i.e a kitchen replacement) can be expected to take between three days to a week.
How to Fit a Kitchen
Should you instead decide to fit your kitchen on a DIY basis then you would certainly not be alone, as this is a task often undertaken by self-builders, renovators and remodellers alike.
Before your new kitchen is fitted, you should carry out some preparation work including:
removing the old units
disconnecting the power and waste
levelling and tiling the floors (although some people choose to tile the floor after the kitchen is fitted)
plastering
it is also good if you can paint at least an initial coat on the walls and ceilings before the units are fitted.
Step-by-Step Kitchen Fitting
1. Remove old kitchen.
2. A spirit level will be used to mark on the walls where the top of the base units will be — remember to allow for the unit legs when working out heightThe base units are moved into place, starting in one corner.
3. Many base unit carcasses are supplied with adjustable legs. Rotate them until the height aligns with the mark on the wall; check that units are level.
4. Fix adjoining carcasses together. How this is done will depend on the kitchen, but usually units are first clamped, then screwed together through holes that are eventually hidden behind the door hinges.
5. Unless you are using a unit designed specifically for a corner, you will need to use a corner post when you turn a corner to avoid there being a gap.
6. The base units are then fixed to the wall using brackets — you will need to use wall plugs if you are fixing to masonry, but you can use plasterboard fixings if you are going straight into plasterboard.
7. Wall units, these are usually fixed to brackets that have been fixed to the wall. Again, use a spirit level to mark a horizontal line for the bottom edge of the wall units or any wall shelves, measuring up from the top of the base units and taking into account your worktop depth.
8. Fix wall brackets to the wall (most wall units need two, one in each top corner).
9. Hook the wall units to the brackets and make level.
10. Join adjoining wall units as per step three.
11. Fit doors and door fronts, along with plinths or kickboards.
12. Finally the worktop can be fitted. Laminate worktops are easy to cut and fit for a DIYer, but timber, stone and composites will all benefit from a professional touch.
Standard Kitchen Measurements
The following standard kitchen sizes will come in useful when fitting a kitchen:
The standard finished height of base units is 910mm, with 150mm for plinths, 720mm for base units and 40mm for worktops
Units are usually 600mm deep and have widths that are multiples of 100mm or 150mm
Most appliances are 600mm
Wall-mounted units are usually 300mm deep
Natasha is Homebuilding & Renovating's Associate Editor and has been a member of the team for over two decades. An experienced journalist and renovation expert, she has written for a number of homes titles. She has renovated a terrace and is at the end of the DIY renovation and extension of her Edwardian cottage. She is now looking for her next project.
Homebuilding & Renovating Newsletter
Get the latest news, reviews and product advice straight to your inbox.
Thank you for signing up to Homebuilding. You will receive a verification email shortly.
There was a problem. Please refresh the page and try again.