Best Home Security Systems: 5 Wireless Set-ups to Protect Your Home
The best home security systems are easy to set up, simple to operate and offer high quality monitoring for your home. We take a look at 5 of the leaders in the market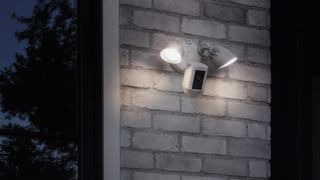 (Image credit: Ring)
Arming your house with the best home security system is a must if you're serious about protecting it from would-be burglars. Yet despite the risk intruders pose, fewer than a third of homes in the UK are kitted out with an alarm.
Historically, wired setups requiring professional installation were the norm. However, the recent influx of internet-enabled products has paved the way for a host of DIY innovations. Now, you can get your hands on myriad plugin-and-go solutions that allow you to lock your front door remotely, receive real-time updates when your security floodlights are triggered and even watch video footage of people entering and exiting your house from your smartphone.
Here, we examine some of the top wireless home security systems available right now to find you the perfect match for your property's needs.
Pros and Cons of a Wireless Home Security System
Some of the best home security systems are now wireless, with plenty of manufacturers producing expandable systems that can be added to as and when your home security needs change.
In comparison to traditional wired security systems, wireless set-ups have benefits such as:
Instant, DIY set-up
Fewer cables and wires
Ability to add extra accessories over time
Easily adaptable
Lower set up cost
However, there are some areas where there's still room to improve for wireless home security systems. The DIY installation, while a benefit in some regards, means you lose out on the security expertise of a professional installer, for example.
Wireless set-ups are not fool proof and you may find the following issues to contend with when it comes to these systems:
Can run out of battery or fail due to Wifi outage
Inconsistent video quality
Of course, the best home security systems take these limitations into account, with some faring better in these areas than other.
Best Home Security Systems
SimpliSafe Home Alarm System
A comprehensive security system with optional monitoring
Available extensions: Base Station, Keypad, SimpliCam, Entry Sensor, Motion Sensor, Weatherproof Siren, Glassbreak Sensor, Panic Button, Key Fob
Back up battery in case of power outage
Works with Amazon Alexa and Google Assistant
Optional monitoring with no contracts
Smart functionality reduces without paid monitoring subscription
Hidden costs, such as guard call out
There's no doubt that Simplisafe offers one of the most comprehensive security systems on the market. This easy to install system is ready to go straight out of the box, with a quick set-up to connect new accessories.
With great app functionality and quality video, it's one of the easier systems to get t to grips with, and Simplisafe has also designed around some of the potential drawbacks of a wireless security kit with power outage protection that includes a built-in back up battery and 4G connection in case your Wifi goes down.
Simplisafe also offers guest passcodes for remote access, for tradespeople, for example, notifications for when your system is disarmed, and even secret notifications for certain extensions that aren't raised as a notification on your mobile device.
However, Simplisafe is best suited to those who are also looking to invest in a monthly monitoring subscription with their home security system. Without an active Simplisafe monitoring plan, which starts from £12.99 per month, the smart functions on the system are quite drastically reduced. However, for those occasional users who want a system for when they're away from home, the non-contract monitoring service can be paused and cancelled easily.
Buy the SimpliSafe Wireless Home Alarm System Now
---
Yale Sync Smart Home Alarm
A great value security system with no hidden costs
Available extensions: Alarm, Key Fob, PIR Motion Detector, Door/Window Sensor, Indoor/Outdoor Camera, Smart Plugs
No monthly monitoring fee
Two-way CCTV
Pet-friendly
Connectivity with Yale door locks
Less product support
Requires modem connection
The great thing about Yale's Sync Home Security System is that it doesn't require subscription monitoring for full functionality of the app.
A 200m range means that you can likely use the same system for your home and garden, shed or garage.
Sync will connect to smart assistants such as Google Home and Amazon Alexa, and can also be paired with your Apple Watch. When using the latter, you can set up geo-fencing so that you're sent reminders to arm your system when you leave the house.
While this system is billed as easy to install, Yale's instructions sometimes lack detail, and there is less product support instantly available, which can make this process frustrating — something that you may also find when troubleshooting any issues with your system.
Buy the Yale Sync Smart Home Alarm Now
---
Netatmo Smart Alarm System
A sleek home security system with no subscription fees
Available extensions: Indoor and Outdoor Camera, Indoor Siren, Smart Door and Window Sensors, Smoke Alarm, Video Doorbell
Stylish design
Accessible video storage
Clever additional features such as face recognition
No back up battery
Alongside all the great features you'd expect from a home security system, the Netatmo Smart Alarm System has some interesting additional functions that will offer your home extra protection.
Armed with facial recognition technology, the camera will be able to distinguish between 'familiar' faces and strangers, meaning you don't need to get worrying alerts when it's just a member of your family heading home unexpectedly.
The system also has a range of pre-recorded sounds that can be played, such as vacuuming or a dog barking.
This system can automatically arm and disarm itself, and doesn't have any subscription fees. All video captured is saved to either an internal SD card, or backed up to a Dropbox account.
However, some reviewers find the system to be overly sensitive and the facial recognition lacks sophistication — require a number of weeks of training before it works properly.
While video storage is a plus, it also has limitations too. It will fill a free Dropbox account quickly with video, meaning you may need a higher storage subscription to handle the amount of video the camera produces.
Buy the Netatmo Smart Alarm System
---
An intuitive, user-friendly system from Amazon
Available extensions: Base Station, Keypad, Contact Sensors, Motion Detectors, Range Extender, Outdoor Siren, Indoor/Outdoor Camera, Floodlight, Video Doorbell
Easy to set up and use
Optional monitoring service
Only compatible with Amazon Alexa
Not all extensions available in the UK
Ring might be best known for video doorbells, but it's home security system is popular with buyers too. Easy to install and operate via app, it also has seamless integration with an Amazon Alexa smart assistant as a fellow Amazon product. However, this does mean it's not compatible with other assistant's such as Google Home.
While the Ring Alarm system can be operated by app without a monthly subscription, you can opt for an £8 per month or £80 per year fee for remote monitoring, meaning if you miss or can't check any notifications from the system yourself, the team at Ring will call you or your emergency contact to let you know what's happening in your home.
(MORE: Ring Alarm Review)
Buy the Ring Alarm (2nd Generation) Now
---
Eufy eufyCam 2C Pro
A camera offering high-quality imaging and a long battery life
Available extensions: Base Station, Indoor/Outdoor Cameras, Floodlights, Video Doorbell, Entry Sensor
180 day battery life
High definition capture
Two way audio
Limited internal storage
Eufy's security ecosystem has a great reputation, and the eufyCam is at the heart of it. High quality image and video capture means no grainy, CCTV-style monitoring, and unmatched night vision.
Two way audio means you can operate this system in the same way as a video doorbell if you need to let someone know you're not home.
A wireless device, Eufy states that charge will last up to 180 days or 6 months on a 5 hour charge, meaning you won't have to constantly take it down to charge, making it perfect for awkward positions to reach.
At present Eufy only has 16mb internal storage, though it's reported that the brand will soon be launching a USB dongle to expand this.
How to Choose a Home Security System
If you're dipping your toe into the world of home security systems for the first time, the huge array of starter bundles, add-on products and options for connectivity can be mind-boggling.
To keep things simple and effective, there's a few core factors to keep in mind when shopping around:
What Features do you Need in a Home Security System?
First off, assess exactly what your security needs are and whether the system provides the functionalities you require. Look at whether the kit has an external deterrent that will warn off would-be burglars before they attempt a break in.
Next, ascertain whether you want a system that will be able to communicate with you wherever you are in the world, and whether the new system you're considering will be compatible with any smart assistants you use, such as Siri, Alexa or Google Home.
If you're setting up a DIY system, your basic bundle should include the following:
camera
alarm
door locks
motion detectors
sensors that detect when windows or doors are opened
Other elements can be added later to create a more bespoke setup. "Many homeowners simply add sensors to cast a more robust net over their home. Adding in additional sensors or even third-party solutions such as a voice assistant are common ways to level up your security," says Chris Carney, CEO and founder of Abode.
You'll find that many kits are compatible with other pieces of smart tech, too. The Yale Sync Smart Alarm, for example, can be integrated with smart assistants including Google Assistant and Amazon Alexa, as well as Philips Hue lighting. This functionality allows you to sync lighting patterns with alarms for added security.
Adding Extra Accessories to a Wireless Home Security System
Additional items include a keypad, key fob, smoke alarm, smart plugs, water leak sensors, pet sensors and window contacts. These options mean that over time the system can be expanded to monitor other aspects of the home.
Video entry systems, such as Ring's Video Doorbell 3, provide instant alerts when visitors ring your doorbell, allowing you to see and speak to them using a phone, PC or tablet.
Smart locks and contactless keys, which come in two forms: Some feature dual functionality, allowing them to be used in the traditional way or by using a smartphone or fob to unlock; others forego conventional locks and keys entirely, moving everything to smart entry. Yale's Linus smart lock provides a good example of what's possible. It can be retrofitted to most existing multi-point locks and provides keyless entry by allowing you to lock and unlock your door using the Yale Access app. You can also grant guests virtual keys with access for specific days and receive notifications when the door is left ajar.
Indoor and outdoor cameras can detect intruders and respond by taking photographs and videos of them, as well as activating your siren alarm instantly. Some solutions can also be configured to avoid false alarms caused by pets roaming in the house or outdoors. Amazon's Blink Outdoor, for instance, is a battery-powered HD security camera that monitors your home using infrared night vision. For those that sign up to the Blink's subscription plan there is also the option to store video clips in the cloud.
Motion sensor lights are an essential component of your home security arsenal, the best offerings in this category are adjustable, allowing you to angle illumination to brighten up any shadowy spots around your home and garden. Another important quality to look for is a good range at which the light can pick up movement. Baxia Outdoor Solar Motion Sensor Lights are solar powered, doing away with the need for wires or batteries.
How Much Does a Wireless Home Security System Cost?
The beauty of a wireless security solution is that there's a product available for all budgets.
A couple of hundred pounds will see you with a decent wireless starter kit like Ring's five-piece alarm kit for £249.
Bear in mind that some wireless home security systems come with extra subscription costs for monitoring. As an example, Simplisafe's professional monitoring system, which offers a call from a real person if trouble is detected in your home and police notification when a break-in is confirmed, has an extra cost which starts at £12.99 per month.
Rebecca is an experienced homes and interiors writer with a passion for Victorian architecture. Her dream is to extend an 1800s house
Homebuilding & Renovating Newsletter
Get the latest news, reviews and product advice straight to your inbox.
Thank you for signing up to Homebuilding. You will receive a verification email shortly.
There was a problem. Please refresh the page and try again.