Best Kitchen Sinks: Styles to Suit Every Kitchen
What is the best kitchen sink? We weigh up the differences in materials and styles so you can make the right choice for your space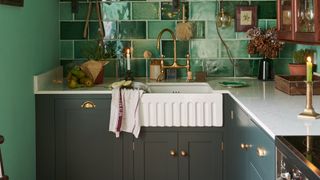 (Image credit: deVOL)
The kitchen sink is still a vital feature in any kitchen, even though most modern kitchens come with a dishwasher to handle the bulk. Used for washing vegetables, scrubbing pots and sometimes as a waste disposal unit, it's important to select a model that caters to your lifestyle, as well as looking good.
The kitchen sink you choose will depend on how you use your kitchen. If you don't cook a lot and rely on your dishwasher for most clean-up operations, it may be that a single bowl offers the perfect level of functionality. At the other end of the scale, busy family kitchens or those that belong to keen cooks might benefit from a more versatile setup that incorporates an additional bowl, waste disposal function and hot water tap. Materials, maintenance and installation are all key considerations, too.
(MORE: Kitchen design)
What is the Best Kitchen Sink Material?
Your first decision when choosing the best kitchen sink is material. These are the most commonly found kitchen sink materials, and their pros and cons.
Steel Kitchen Sinks
You can trust Homebuilding & Renovating. Our expert reviewers spend hours testing and comparing products and materials in order to help you choose the best for your home and garden. Find out more about how we test.
This practical choice is durable, long-lasting and easy to keep clean. It's important to check the gauge of a steel sink — that is, the number that denotes the thickness of the material. Smaller numbers indicate a thicker layer of steel. Ideally, you want to install a sink with a gauge of 18, though some high-end models come with a gauge of 16 — the lowest demarcation possible.
In terms of maintenance, stainless steel offers a low-upkeep solution. After using the sink, a quick rinse with soapy water will keep it clean on a day-to-day basis. Weekly cleans with a cream cleaner will help the metal maintain its attractive sheen.
Ceramic Kitchen Sinks
This traditional choice offers a timeless aesthetic. Though ceramic kitchen sinks are usually associated with Belfast and Butler designs, a selection of undermounted and inset models are now available. Fireclay ceramic is a popular option.
Wipe down with a soft cloth to clean but avoid abrasive cleaners that risk dulling the lustrous finish of your ceramic surface
Composite Kitchen Sinks
This more recent addition to the market comprises a blend of man-made and natural stone particles. Composite kitchen sinks can withstand high temperatures (up to 280°C), have anti-bacterial properties and are highly resistant to stains and scratches. Many manufacturers have their own patented composite blends. Those made with a high proportion of granite tend to be the best quality, with those that are high in quartz taking second place.
Composite kitchen sinks are low-maintenance — just be sure to quickly wash away brightly coloured vegetable juices and dyes to avoid staining.
Other Materials
There are plenty of other material you could look into for your kitchen sink, from natural stones such as marble, to other metals such as copper and brass. These are often available from bespoke kitchen providers and come with a premium for the luxe materials used.
Cast concrete sinks have also grown in popularity in recent years, allowing for the introduction of interesting colours and texture, even in a classic design like the butler sink.
Styles of Kitchen Sink
Is an Inset or Undermount Kitchen Sink Best?
The bowl of an inset kitchen sink (also called an overmount or sit-on sink) drops down into your kitchen worktop, with the rim overlapping and resting on the work surface. Inset kitchen sinks are self-supporting, easy to install, and suitable for all types of worktop.
On the downside, the raised edge can act as a trap for dust and dirt. Plus, if water is left to pool around the edges, the sealant can start to peel.
Undermounted kitchen sinks sit below the worktop. This allows for a streamlined aesthetic, but makes it more difficult to install. "The lack of lip makes cleaning and maintaining the appearance of an undermount sink a breeze," says George Holland, design expert at Victorian Plumbing. "If you choose to have one fitted, be sure to check your installer uses more than just silicone to secure it to the underside of your counter. We've seen several cases of undermounted kitchen sinks falling in due to poor installation."
What Design Details Should I Look for in a Kitchen Sink?
Sink depth
A deep bowl is a smart option if you often scrub large pots and pans. However, you don't want a sink so deep it takes forever to fill. Using a plastic washing up bowl is one way to overcome this issue, but some manufacturers advise against this in case dirt stuck to the base of the bowl leaves marks on your sink's surface.
With or without tap holes?
Inset designs typically come with one or multiple holes pre-drilled for taps. Be sure to check that these match the taps you want to install, or alternatively invest in a package that includes both a sink and taps to keep things easy.
Undermounted sinks and some Belfast sinks require a hole to be drilled into the work surface to accommodate taps — check there is enough space behind the sink to mount them.
Single bowl vs. double bowl
Available space is likely to be one of the biggest deciding factors here. Expansive worktops give you the freedom to incorporate second bowls, draining boards, automatic waste disposal units etc. "Double bowl sinks are perfect for bigger families, larger kitchens or those that are in high demand," says Elina Enqvist-Twomey, category manager from Grohe. Built-in draining boards are a common feature on stainless steel and composite sinks.
How Do I Fit a Kitchen Sink?
How to Measure up
"We always recommend using the actual sink rather than a template. For example, ceramic sinks are handmade and can vary by up to 2% either way. Some sit-on (inset) sinks also taper, so be sure to measure the physical sink before installing. With granite and stainless steel sinks, check the dimensions thoroughly before purchasing." Luke Shipway, product manager at Caple
Fitting an inset kitchen sink is feasible for a competent DIYer, but undermounted models need to be properly supported and fixed so it's wise to bring in a professional installer.
Fitting the new kitchen sink shouldn't take more than a few hours. Prices will vary depending on where you are in the country, but labour costs typically range between £100 and £150. "It's vital to get your measurements right and include your tap base aperture if it is set into the worktop," says Luke Shipway, product manager at Caple.
Check that your chosen sink has an undercoating applied to its base to protect the area of the worktop that has been cut from damp. With a solid granite countertop, water exposure won't make a huge difference, but a laminate worktop will expand if exposed to too much moisture. The undercoating also provides good sound insulation when washing bulky pots and pans, and it prevents condensation from forming on the underside of the sink.
Typically, your sink will be sealed into the worktop using a high-grade sealant to ensure a watertight fit. "Ordinarily, with inset sinks, a bead of silicone will be applied to the sink's underside," says George from Victorian Plumbing. "Once the sink has been set in place, a second line of silicone will be applied around its edge where it meets the countertop."
Get the Homebuilding & Renovating Newsletter
Bring your dream home to life with expert advice, how-to guides and design inspiration, direct to your inbox.
Rebecca began her journalism career writing for a luxury property magazine in Bangkok, before re-locating to London and becoming a features editor for a self build magazine. She is an experienced homes and interiors journalist and has written for many homes titles including Homebuilding & Renovating, Ideal Home and Period Living.
She has expertise on a wealth of topics — from oak frame homes to kitchen extensions. She has a passion for Victorian architecture; her dream is to extend an 1800s house.