Kitchen Sink Buyer's Guide
By Jacob Ingram
With many styles and materials to choose from, we take a look at what options you need to consider when buying a sink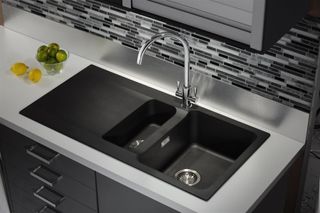 (Image credit: Franke)
Kitchen sinks make up a vital part of the kitchen work triangle, so functionality is something that you need to consider alongside style. The sink is also going to be used every day, and you won't necessarily be looking to replace it for a long time, so think carefully about the material and colour that you want.
Space is also a key factor that you will need to consider when choosing your kitchen. Fortunately, there are plenty of sinks on the market, so it shouldn't be too hard to find something that will fit into your style and your kitchen.
Material
Stainless Steel
Stainless steel is a practical choice as it is hardwearing, long lasting, and easy to clean. Sinks in stainless steel are often a cheaper alternative and can add contemporary flair to a worktop.
Composite
Composite sinks are manufactured in stone and are incredibly hardwearing. They can withstand high temperatures and are hygienic. The various stones used in their composition means that there are a lot of variations in colour and texture.
Ceramic
Ceramic is traditional and will suit any kitchen style but it is easy to damage and can become stained over time. However, if you are willing to care for it properly, they can be very long lasting.
Mounting
Inset
An inset sink will sit on a surface, supported by its frame, and can be compatible with any type of worktop. These are easy to fit as they can be dropped through the worktop and support themselves.
Under-mounted
Under-mounted sinks are much harder to fit and must be screwed into the bottom of the worktop. They are compatible with fewer worktop materials but will create a clean finish when paired with real wood or stone.
Faucets
Kitchen sinks come ready prepared for mounting to certain faucets. Make sure when choosing your taps, they match your sink, and vice versa.
Style
There are plenty of different styles on the market and the most important factor in choosing will probably be the available space in your kitchen. The bigger the space the more freedom there will be to add drainage boards, second and third basins, half basins and waste disposals. Built in drainage boards are common on both composite and stainless sinks; whilst ceramic draining boards are available they are likely to be damaged through frequent use.
Homebuilding & Renovating Newsletter
Get the latest news, reviews and product advice straight to your inbox.
Thank you for signing up to Homebuilding. You will receive a verification email shortly.
There was a problem. Please refresh the page and try again.