The Best Flooring For Kitchens: Which is Right For You?
By Natasha Brinsmead published
What is the best flooring for kitchens? We take you through the options so you can ensure you choose the very best products to suit your lifestyle and space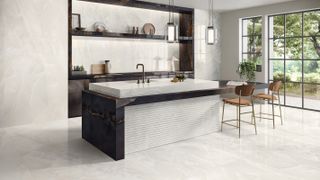 (Image credit: Hyperion Tiles)
As spaces that have to be super practical, choosing the best flooring for kitchens should be something that is top of your list of priorities.
Kitchens these days have to be more hardworking than ever — we expect them not only to provide all the features we need to carry out day-to-day tasks such as cooking and clearing up, but we also want them to be entertaining and dining spaces, somewhere the family can gather together and many of us have even taken to using them as home offices.
What all of this means is that it is now crucial that when it comes to your kitchen flooring ideas, you need to focus on products that are not only practical and durable, but also have tonnes of aesthetic appeal, as well as being comfortable to walk on.
Our guide to the best flooring for kitchens explains what your options will be and the pros and cons of each.
Assessing Which is The Best Flooring For Kitchens
As with all aspects of kitchen design, it really is important to sit down and think what you want from your kitchen flooring. This means asking yourself some questions to reveal what the best choice for you is likely to be. These include:
Will you be including a dining area in your kitchen design and if so will you want a different flooring type in this space?
What type of heating are you using? Do you plan to introduce underfloor heating, for instance?
What style of kitchen are you aiming for?
How much can you spend on your kitchen flooring?
Do you want to fit your flooring yourself?
Do you have pets?
How big is the space you are working with?
How much natural light does your kitchen get? Lighter coloured flooring will help to brighten a dark space.
The answers to these questions should help you form a better idea of the types of flooring that will best suit your needs. For example, if you are having underfloor heating, you will need to opt for a flooring that is suitable for this, or if you are going to have muddy-pawed pets traipsing in and out you may well want to avoid a bright white gloss tiled floor.
Wooden Flooring For Kitchens
The use of wooden floors in kitchens is a subject that leaves many people divided. While wood is undoubtedly a beautiful choice in terms of appearance, care does need to be take to ensure it can withstand the demands of this room.
The two main types of wood flooring are solid and engineered. Solid wooden floors, as the name suggests, are made of solid planks of timber, whereas engineered floors are made up of multiple layers of timber finished with a solid wood veneer.
So, which is best for kitchens? Most flooring insiders tend to advise against using solid wooden flooring in kitchens.
"This type of flooring is exactly what the name suggests. It's solid wood," says Josh Barber at Direct Wood Flooring (opens in new tab). "This means that it is susceptible to natural movement and distortion from exposure to heat and moisture."
For this reason, engineered wood flooring is often seen as a better option, giving the appearance of solid timber without the associated problems.
"Engineered wood is a good option when it comes to best flooring options for your kitchen, providing it's well maintained," says Josh Barber. "Though this flooring can be used in a kitchen, spillages must be cleaned up immediately to prevent altering the appearance of the floor — a ketchup stain doesn't always compliment even the highest quality wood flooring!"
In terms of costs, prices start at between £25-£30/m2.
Pros of Wood Floors in Kitchens:
Beautiful warm appearance
Huge range of shades and styles
Tongue-and-groove planks can be fitted on a DIY basis
Engineered wood is suitable for use over underfloor heating
Warm underfoot
Forgiving should glasses or crockery be dropped on it
Can be sanded and repaired should damage occur
Cons of wooden flooring:
Solid wood flooring may twist or warp due to moisture and heat fluctuations
Spills must be cleaned up immediately to prevent damage
Prone to staining
Can scratch easily
Using Vinyl Flooring For Kitchens
Vinyl floors are a highly practical choice for kitchens and have come on in leaps and bounds in recent years in terms of their durability and looks.
For many people considering vinyl, the choice comes down to standard vinyl and luxury vinyl tile flooring (LVT). LVT is thicker and more durable than standard vinyl and tends to give a more realistic effect if you are considering a product that is designed to replicate the look of materials such as wood or stone.
LVT tends to come supplied either as tiles or planks that click together and are fitted as a floating floor over underlay, or as glue down. Glue down planks or tiles are often best fitted by a professional.
"Both these types of LVT are durable, water-resistant and have the appearance of real wood or tile, as well as being compatible with underfloor heating," says Josh Barber. "When it comes to an all-rounder in the kitchen department, LVT is a perfect option."
Pros of using a vinyl floor in the kitchen:
Affordable (from as little as £20/m2 for standard vinyl and from £30/m2 for LVT)
Huge range of design options
Comfortable underfoot
Soft surface means items won't break easily if dropped
Quick to install
Low maintenance
Water resistant
Can be laid over wet underfloor heating systems (electric UFH is not recommended)
Cons of vinyl:
Some cheaper products can discolour over time
Glue down vinyl is hard to take up again
Can be damaged, dented and punctured by sharp objects
Laminate Kitchen Flooring
Laminate flooring is a popular choice for kitchens, being low maintenance, cost-effective and easy to lay on a DIY basis.
Laminate flooring is made up of a a photographic image of wood or stone placed on top of a core board made of compressed fibres; the material is covered in a melamine wear layer. It is easy to install, usually by means of a click system.
Laminate flooring (as well as some vinyl and wood flooring) comes with an 'AC rating' that relates to its strength and durability — the higher the number, the more durable the floor. 'AC' stands for Abrasion Coefficient. An AC1 rating indicates a laminate that is suitable for moderate traffic and so would be well suited to bedrooms or guest rooms, while an AC3 rating indicates it is suitable for areas of heavy traffic such as hallways. When it comes to kitchens, you really need a laminate that you can be sure will deal with moisture well — Direct Wood Flooring recommend going with an AC4 or AC5 rating.
Although laminate flooring won't mind a few drops of water hitting it now and again, any spills should be mopped up as soon as possible to avoid water damage. Look out for collections of both waterproof and water-resistant laminate flooring now available.
Pros of using laminate in a kitchen:
Cost effective, starting from as little as £6/m² for a basic option, up to £25/m² for high quality
Easy and quick to lay on a DIY basis
Easy to clean
Available in many designs
Can be installed over underfloor heating
Cons of laminate flooring:
Can't be sanded or refinished if damaged
Lacks the aesthetic appeal of timber and stone
Cheaper versions prone to water damage
The Best Tiles For Kitchen Floors
There are many different types of floor tiles that can be used as kitchen flooring. Although for many people the choice comes down to porcelain vs ceramic tiles, don't forget to take a look at natural stone too.
Porcelain tiles: Porcelain tiles are a brilliant choice for kitchens as they are very low maintenance and extremely hardwearing. They don't require sealing unlike natural stone, and they are easy to lay. They are perfect for using over underfloor heating, easy to clean, durable and available in a massive range of designs, shapes, sizes and colours. Porcelain tiles start at £20/m2.
Ceramic Tiles: Cheaper than porcelain (starting from around £10/m2), ceramic tiles are also a good option in kitchens, However, they are a little less durable than porcelain and can be prone to chips and cracks. A payoff for their lower price tag is that they tend not to be through-coloured meaning any chips will really show up.
Natural stone: Stone floor tiles are ideal in kitchens as they are extremely tough. They are perfect for use over underfloor heating and, providing they are properly sealed, offer good water and stain resistance. Choose a rustic, riven finish for classic kitchen styles or a honed, smooth surface for contemporary kitchens. Although some slate flooring starts from £20/m2, prices closer to £30/m2 can be expected for natural stone.
Pros of floor tiles in kitchens:
Perfect for using over underfloor heating
Low maintenance (natural stone will require re-sealing from time to time)
Good moisture resistance — no movement to worry about
Durable and long-lasting
Available to suit all budgets
Huge range of design options
Ceramic, porcelain and honed stone are all easy to keep clean
Cons of kitchen floor tiles:
Riven finishes can be hard to clean should dirt become lodged in the uneven surface
Some stones are cold underfoot
Unforgiving when glasses etc. are dropped
High gloss and pale finishes can show up dirt
Some natural stone is expensive
Can Cork Flooring Be Used in a Kitchen?
Cork flooring is actually an increasingly popular choice for kitchens. Although it is water-resistant, it is not waterproof which can lead to people thinking it wouldn't be suitable. However, providing it has been properly sealed or treated, cork can repel water effectively — in fact it can even be used as a bathroom flooring, providing care is taken.
Cork is also a great option in kitchens thanks to its antimicrobial and hypoallergenic properties, meaning it can repel allergens, including bacteria, insects such as dust mites, mould and even rodents. Finally, it can be used over underfloor heating and is soft underfoot.
Pros of cork flooring in the kitchen:
A sustainable option — depending on the source, it can be 100% natural and renewable
Water-resistant when sealed or treated
Suitable for use over underfloor heating
Antimicrobial
Can repaired if damaged
Good range of stylish designs
Can be fitted on a DIY basis
Soft to walk on and forgiving in terms of breakages
Cons of cork flooring:
A bit pricier than some of the other types of kitchen flooring, starting from £30/m2
Requires sealing and subsequent re-sealing
Polished Concrete Floors in Kitchens
Polished concrete flooring is a really practical and, subsequently, very popular option for kitchen floors. It works well over underfloor heating and has really good thermal properties.
Poured resin is actually often now being specified as an alternative to concrete due to the fact that is can be re-sanded and sealed should damage occur. It comes in a range of colours and finishes.
Pros of using poured concrete flooring in the kitchen:
Easy to clean
Low maintenance
Available in many colours and finishes (matt is better at hiding scratches and marks)
Perfect over underfloor heating
Cons of polished concrete:
Needs professional installation
Hard to repair should damage occur
Expensive — from £90/m2
Natasha is Homebuilding & Renovating's Associate Editor and has been a member of the team for over two decades. An experienced journalist and renovation expert, she has written for a number of homes titles. She has renovated a terrace and is at the end of the DIY renovation and extension of her Edwardian cottage. She is now looking for her next project.
Homebuilding & Renovating Newsletter
Get the latest news, reviews and product advice straight to your inbox.
Thank you for signing up to Homebuilding. You will receive a verification email shortly.
There was a problem. Please refresh the page and try again.